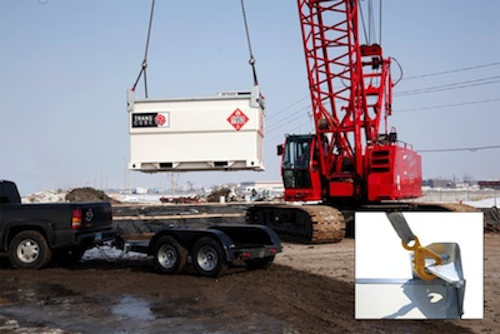 Milford, Conn.—In response to specific customer requests for equipment meeting stringent OSHA jobsite regulations, Transcube has introduced a newly engineered 5:1 lift safety factor to its line of transportable diesel fuel tanks. The new safety factor gives each tank's corner lifting lugs the capability to lift five times the fully loaded weight of a tank.

The new lift safety factor is an optional feature on Transcube's 05TCG, 10TCG and 20TCG models, which offer storage capacities of 132, 264 and 528 gallons, respectively. The tanks are designed with an inner fuel container and an outer wall that provides 110-percent integral secondary containment to eliminate the risk of spills and ground contamination, making them ideal for equipment and power rental fleets, fuel suppliers and end users working in construction, mining, agricultural and offshore applications.

The tanks are equipped to make handling and maneuverability simple regardless of jobsite logistics. Transcube's standard four-corner lifting eyes allow a tank to be lifted, raised or lowered by a crane while full of fuel, while the new lift safety factor provides the added safety assurance of heavy-duty lifting lugs that can lift fives times the weight of a fully loaded tank. The tanks also feature forklift pockets that are accessible on all four sides.

Internally baffled to prevent the surge of fuel during transport, Transcube tanks are UL 142 certified and have DOT approval for transportation of diesel fuel, unlike traditional fuel tanks that are not designed for traveling on the road. This gives the units the versatility to be deployed to remote locations while full of fuel and the ability to be taken from a site with fuel still inside.

All fill ports, pumps, fittings and connections are housed at the top of the tank within the secondary containment area. To eliminate the risk of accidental spillage, the tanks have no bottom or side exterior outlets of any kind.

For more information about Transcube or other fuel tanks, click here to go to Utility Products' Buyers Guide.