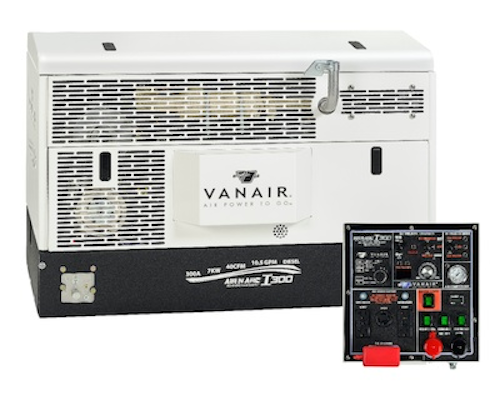 Michigan City, Ind.—Vanair's Air N Arc I300 power system is cited to be the first system in the world to offer six forms of power in a single 48" unit. Based on the technology of the Air N Arc 300 diesel system, it provides an integrated 40 cfm rotary screw compressor, 7kW AC generator, 300 amp welder, battery booster and battery charger, with the newly added power of a 10.5gpm hydraulic pump—all driven by a single engine.

Designed to provide full functionality with the truck engine off, mechanics can remain productive in all areas of their workday with enough power to run a crane. The I300 reduces chassis fuel consumption, noise, and engine maintenance while meeting anti-idling laws.

Small enough to fit behind the cab or on the side pack of the vehicle, the unit saves money, space and weight when compared to purchasing and installing individual components. With the I300, there is no need to purchase a separate welder, compressor or generator. The system ties directly into the vehicle's electrical system allowing the truck's battery to be charged to support work and safety lights and shares the diesel fuel source for maximum ease of use. The Air N Arc I300 was created for superior operator convenience. The exclusive Vanair Easy Access Remote Control Panel allows for ease of use by eliminating the need to jump in and out of the bed of the truck to operate the unit. The remote control for the crane is also tied into the unit for the ultimate in simplicity. The I300 offers the best warranty in the industry and is available with an optional hydraulic reservoir.

For more information about Vanair or other power systems, click here go to to Utility Products' Buyers Guide.