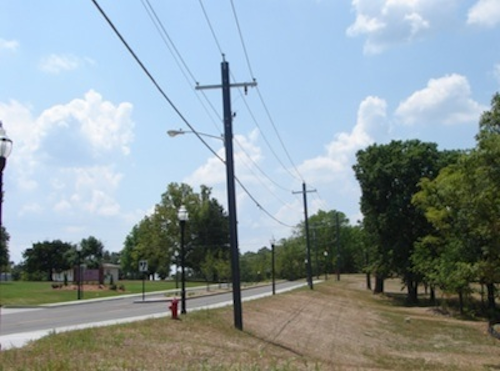 Utilities encounter many problems and challenges that cannot always be solved using existing methods or equipment. Successfully overcoming these obstacles requires outside-the-box thinking and a willingness to consider non-traditional avenues and options. An example of this is utilities' desire for a simple, lightweight and cost-effective system for installing utility poles in a narrow and difficult easement.
Recently, a large Midwest utility company asked Duratel to help them solve an easement problem. The utility was provided with a narrow easement to install poles on a new road-widening project. The utility was not afforded additional property to install anchors on angle or corner poles. The road had a slight curve, requiring many of the poles to have an installed anchor to hold the angle or have a self-sustaining pole that required no down guy.
The field supervisor on the job for the utility said, "Since we were faced with using a narrow easement, the composite poles were engineered to be self-sustaining, eliminating the need for a down guy that would have had to been placed off the easement. Any additional easement acquisition as a general rule comes with a significant dollar cost for the use on someone else's property. In addition, anchor easements are usually very difficult to get since homeowners typically do not like them on their property. We elected to use composite poles since they could hold an angle without guying, they are light and very easy to handle."
An additional benefit for this utility was that they also face a woodpecker problem and constantly have to replace wood poles. With the Duratel composite pole, the threat of woodpecker damage is eliminated. Many utilities and regulators are realizing that it's imprudent to replace wood poles with wood every few years and that there is a cost-effective solution with the use of composite poles. Duratel poles put an end to this expense and permanently stop the damage from termites and woodpeckers. The composite transmission and distribution poles manufactured by Duratel cannot be damaged or penetrated by termites and woodpeckers, and will last more than 80 years.
"We have always been an innovator in the utility pole business," said Peter Ceko, CEO of Duratel. "From the very beginning, our company has constantly sought out methods to improve the old ways of doing business in the utility sector, and even today we are looking forward to what we need to do to be competitive in this ever-changing market-place."
Duratel poles are produced with a uniform diameter and strength, eliminating the need for multiple class poles to be kept in inventory. One Duratel pole can be used for a variety of applications, saving time and reducing the need to stock and search through inventory for a particular pole class. Duratel products are engineered to endure extreme weather conditions and last longer than timber, concrete and steel. Duratel's 11-inch pole weighs as little as 300 pounds, making them more cost effective than any alternative material to install and transport. A similar size wood pole weighs more than 1,000 pounds.


About Duratel: Duratel is a manufacturer of reinforced, composite utility distribution, transmission and lighting pole products. Duratel's line of environmentally friendly products emphasize quality, value, reliability, safety and performance. Duratel is made in the USA.
For more information about Duratel or other poles, click here to go to Utility Products' Buyers Guide.