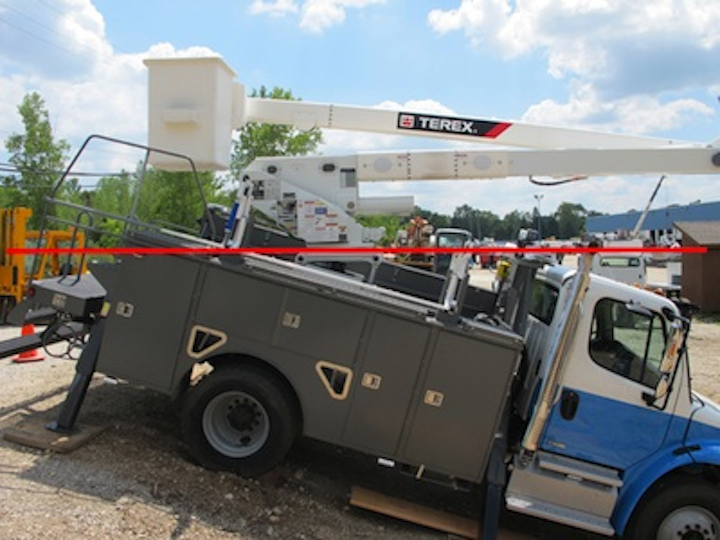 Watertown, S.D.—The new Terex Tru-Level Tilting Pedestal System for Terex SC and HRM Series aerial devices allows for operation on slopes up to 20 degrees to accommodate the need for "real world" truck positioning. This new Terex system decreases stress on the rotation gearbox when rotating "up the hill," decreases set-up time because it eliminates the need to "crib" the outriggers and does not limit boom operation or load charts.

Other benefits of our unique Tru-Level Tilting Pedestal System include that it keeps the work platform level longitudinally, it boasts safety and less fatigue for the operator having to maintain balance, the aerial device is able to operate in its designed configuration and the cylinders are rated to independently support the rated load.

Another aspect of the Terex Tru-Level Tilting Pedestal System is the anticipated increase in service life of the rotation system. When aerial devices operate on a slope, the rotation system often works harder, especially while rotating against the slope, compared to operating on level ground. This Terex system will save both service time and costs thanks to easier access to the collector block and rotation bearing bolts, as well as decreased stress on the rotation gearbox during uphill work.

"The Tru-Level Pedestal System allows operators to save time during the set-up process by being able to situate the truck on terrain that is outside of the recommended degree of slope without having to either 'dig out' or 'build up' for proper leveling," says Jon Promersberger, Terex project engineer. "And it's easy to use — operators simply need to park, set the truck and activate."

To effectively use an aerial device equipped with the Terex Tru-Level Pedestal System, operators need to position the front of the truck pointing directly downhill, and then set the parking brake and place wheel chocks on all wheels. Next, operators should release the parking brake to allow the chassis to roll into the wheel chocks and then reset the parking brake and engage the PTO. Note, operators must verify that they are operating on a side slope of five degrees or less. Once the slope is established, use the lower controls to raise the upper boom about two feet, and then tilt the Tru-Level pedestal to level position front to back (longitudinally) using the indicator mounted on the pedestal. Finally, operators will lower the upper boom to the basket rest or set platform for ground access, select the upper controls and then safely enter the basket and secure their safety harness.

The Terex Tru-Level Tilting Pedestal System is engineered with a high-strength steel bearing plate, heavy-duty hinge points, dual tilt cylinders and holding valves on each tilt cylinder for outstanding durability and performance.

For more information about Terex or other pedestal systems, click here to go to Utility Products' Buyers Guide.