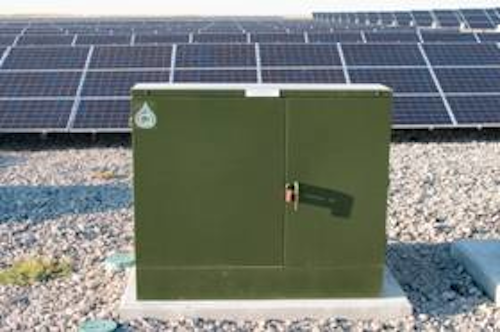 Waukesha, Wis.—Cooper Power Systems, a provider of power delivery, power quality, power reliability, and end-point automation, offers a full suite of products for solar applications including the Envirotran Solar transformer, customized to specific photovoltaic (PV) project requirements to yield greater efficiency and reliability, and reduce environmental impact. Key site attributes such as load profile, ambient temperature conditions, altitude, and system life are considered to optimize transformer performance and cost for each solar application.

Envirotran Solar transformers are filled exclusively with Envirotemp FR3 bio-based dielectric fluid, making this combination the environmentally-preferred step-up transformer for medium voltage solar power generation applications.

Cooper Power Systems Vacuum Fault Interrupter (VFI) underground distribution switchgear provides a safer, more reliable and cost-effective solution for connecting to the utility grid as well as sectionalizing and protecting the collector system. VFI switchgear includes switching, protection, metering, and communications all in a compact integrated package designed specifically for PV projects. Using VFI technology, Edison Idea Relays and deadfront construction, protection for the interconnection is achieved. A sealed insulation system utilizing biodegradable E200 fluid offers the advantage of low maintenance and an environmentally preferred alternative to SF6 gas.

"Cooper Power Systems is pleased that many in the solar industry have seen the benefits that our Envirotran Solar transformers and VFI underground distribution switchgear provide for their projects," said Mark Thurman, president, Cooper Power Systems, a division of Cooper Industries plc (NYSE: CBE). "By utilizing these environmentally friendly resources, customers are also extending the life of their systems, and lowering life cycle costs. We are proud to provide innovative, sustainable technologies to the renewable energy market."

Additionally, Cooper Power Systems offers a full suite of cable accessories, software, and additional products designed to increase system effectiveness in PV medium-voltage applications including CYME Power Engineering Software to improve system planning and optimization, SMP data concentrators, voltage regulators and power capacitors.
For more information about Cooper Power Systems or other transformers, click here to go to Utility Products' Buyers Guide.