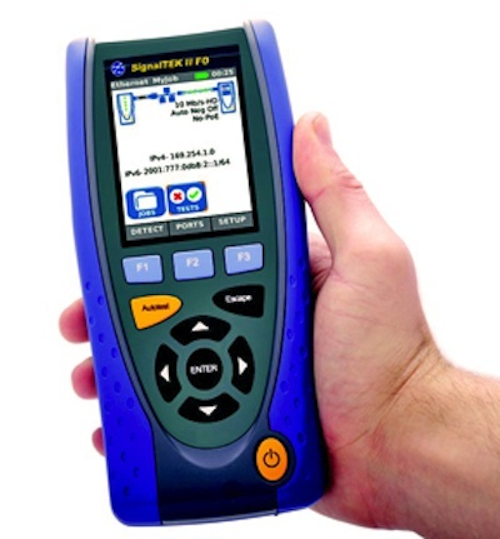 San Diego — IDEAL Industries' network testers identify and troubleshoot network problems to prevent downtime in mission-critical applications. The deployment of new networks and the need to upgrade existing communication infrastructure to emerging 40 Gigabit and 100 Gigabit Ethernet technologies are set to drive growth in the network tester marketplace. By identifying and troubleshooting transmission problems, these testers play a critical role in helping networks support data-intensive traffic such as IP video applications, cloud computing and mega-data centers.

IDEAL Industries Networks, the networking technology division of IDEAL INDUSTRIES, INC., has stepped up as a major player in this marketplace with innovative designs and value-added features, as well as by forging strategic relationships with cable and communications equipment manufacturers that ensure its testing devices are inline with future industry standards. Lending traction to the company's success is a string of new product introductions that have quickly earned it industry acclaim.

SignalTEK® II Cable and Network Qualifier
The IDEAL SignalTEK II multifunctional handheld cable qualifier is a cost-effective alternative to traditional cable certifiers. Perfect for small- to medium-sized LANs, it will validate that copper or fiber cabling is capable of supporting bandwidth-heavy VDV and IP-based video surveillance applications over 10/100 Megabit or Gigabit Ethernet. A bi-directional "pass/fail" test of a network's links based on IEEE 802.3ab determines within seconds whether the installed cable can support higher bandwidth applications. Additional active network troubleshooting capabilities of PoE and PoE+ maximize return on investment

NaviTEK II Verification Tool
The NaviTEK® II is the fastest, most cost-effective Ethernet Service and Cable Tester available to frontline technicians who must validate, troubleshoot and resolve challenges that cause slow network performance and downtime. In addition to validating that circuits can accurately pass data or IP traffic, the NaviTEK II will check the availability and capability of PoE and higher power PoE+ sources in real time, including telling the technician the source voltage, current and supported PoE/PoE+ standards. It supports IPv6 (Internet Protocol Version 6) and VLANs commonly deployed to address scalability, security, and network management. It has a full suite of capabilities, from advanced pin-by-pin wiremap and distance to fault measuring to built-in toning and a Smart Remote for more accurate results, all to assure confident identification, troubleshooting and resolution of virtually any cable-related problem.

LanXPLORER PRO In-Line Active and Passive Network Tester
Aimed at installers, IT administrators, network technicians, system integrators and cable installers, the LanXPLORER PRO cost-effectively meets the testing needs of professionals installing or maintaining IT systems in an enterprise, campus or industrial Ethernet environment. In addition to testing active LAN connections over copper and fiber, the LanXPLORER PRO can wirelessly connect to LANs via Wi-Fi (802.11 b, g and n), meaning the user doesn't need to make physical contact with the network. An advanced, best-in-class wire mapping function provides cable length and distance-to-fault information, and can test by pin and pair, displaying wiring faults such as opens, shorts and split pairs.

In addition, IDEAL offers a complete line of data communications products for installation, termination, testing and troubleshooting fiber and copper networks.

For more information about IDEAL Industries or other network testers, click here to go to Utility Products' Buyers Guide.