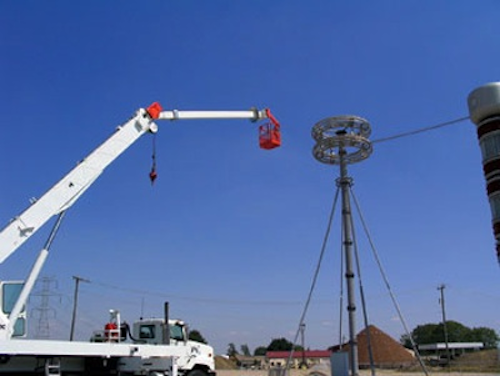 Responding to requests for work platforms capable of providing electrical insulation at voltages up to 765 kV, Diversified Products introduces the IWP-765kV Insulated Work Platform. Designed to enhance worker productivity and increase job functions performed with hydraulic telescoping cranes and digger derricks, the platform permits bare-hand work and de-energized line construction, and reduces lineman fatigue by eliminating the need to climb towers.

Featuring a tried-and-proven design, the IWP-765kV provides electrical insulation to personnel working on live transmission lines and equipment at voltages up to 765 kV. The insulated jib consists of a main structural fiberglass member, which is filament wound with computer-controlled, continuous-roving epoxy/anhydride resin. It's also sealed with bulkhead covers to minimize maintenance and protect from contaminants that may reduce insulation properties. A desiccant canister detects any moisture within the sealed jib and is visible from the ground when the jib is in a stowed or un-stowed position. In addition, a high-performance, sharp-edge corona ring reduces current leakage and is rated up to 765 kV.

Diversified Products
For more information about Diversified Products or other work platforms, click here to go to Utility Products' Buyers Guide.