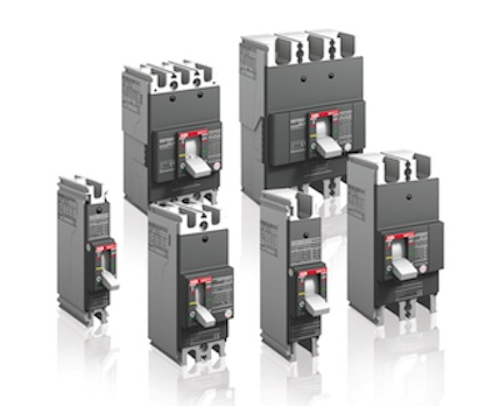 New Berlin, Wisc.—The ABB Low Voltage Products division has introduced the FORMULA UL family of molded case circuit breakers, dedicated to the most common, general use applications up to 240VAC. The FORMULA line comes in two frames, A1 and A2, which reach to 100A and 250A respectively, each available in one pole, two pole and three pole varieties, in a fixed version with front terminals standard. Developed to provide the ultimate in simplicity and quality, with a depth of just 2.36" and a smaller footprint FORMULA UL is one of the most compact molded case circuit breakers on the market up to 250A. The reduced dimensions make efficient use of the valuable space within switchboards and panels without compromising performance and reliability. With a carefully selected range of models within each frame and polarity, customers will be easily able to select the right breaker in the lower voltage range for their specific need, efficiently buying only the features they need. Designed to complement ABB's Tmax line for higher voltages (up to 3000A and 600V AC/DC), the introduction of the FORMULA UL family completes the ABB portfolio of UL 489 rated molded case circuit breakers.

"Our goal was to make the FORMULA line the most efficient, easy-to-select and put-into-use lower voltage breaker in the industry," said Erin Schneider, product manager of low voltage breakers at ABB. "With a compact, precise design and true one, two and three pole options up to 250A at 240VAC, end-users will be able spec and buy the exact breaker they need."

FORMULA's protection trip units are fixed thermal and magnetic (thermomagnetic) threshold values, allowing precise selection and easy commissioning for protection of networks in alternating current installations. A1 frames are rated from 15A to 100A, and A2 frames are rated from 125A to 250A, each with a maximum breaking capacity of 25kA at 240VAC. A complete range of accessories, including easy-to-install snap-on electronic accessories are available to match the exact needs of a wide breadth of applications.

Some of the prominent applications for which FORMULA breakers are designed include HVAC, lighting, telecom, critical power, panelboards, and commercial OEM applications. A complete line of IEC FORMULA breakers is also available for global requirements.

The FORMULA UL family is also IEC 60947-2 rated, and later in 2012 the line will expand to include breakers up to 250VDC.
For more information about ABB Low Voltage Products Div. or other circuit breakers, click here to go to Utility Products' Buyers Guide.