Pole pullers provide faster, safer solution for utility crews
The pole pullers provide a simplified solution that reduces the chance of equipment damage or worker injury
Jan 7th, 2010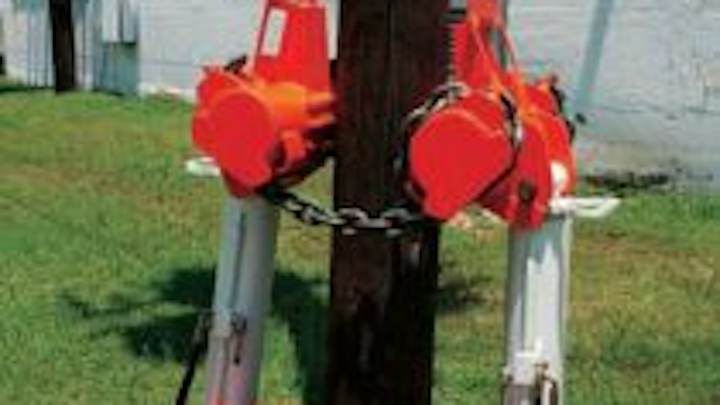 Diversified Products introduces two pole puller models, giving electric utility crews a faster and safer method for pole removal. The pole pullers provide a simplified solution that reduces the chance of equipment damage or worker injury associated with other pole pulling devices.
The XHD-60 pole puller delivers more than 120,000 pounds of pulling force and can handle poles up to 26" in diameter. The 1,500-lb unit utilizes two hydraulic cylinders, each featuring a cam action head with beveled teeth to effectively grip the pole. A set of chains holds the cam heads together during the pulling process. As the cylinders push upward, the cam heads rotate, the teeth dig into the pole and lift it. The cylinder stroke is 24", compared to 15" on other pullers–enabling crews to efficiently pull out a pole in fewer cycles. Additionally, the dual cylinder design causes less damage to poles than other pullers, allowing some poles to be re-used.
The HD-30 pole puller provides 60,000-lb of pulling force and can be used on poles up to 18" in diameter. The 700-lb puller uses two hydraulic cylinders, also with a cam action head and beveled teeth, and matches the 24" cylinder stroke offered by the XHD-60. Both models feature holding valves to prevent the cylinders from drifting down while under load.
Field-tested and approved by transmission and distribution maintenance professionals, the pole pullers are operated using the controls on a hydraulic power source such as a skid steer, crane or derrick. Each unit requires hydraulic flow of 5 to 15 gpm at 2,500 psi. In addition, the pullers feature multiple lifting points for easy positioning by crane or skid steer.