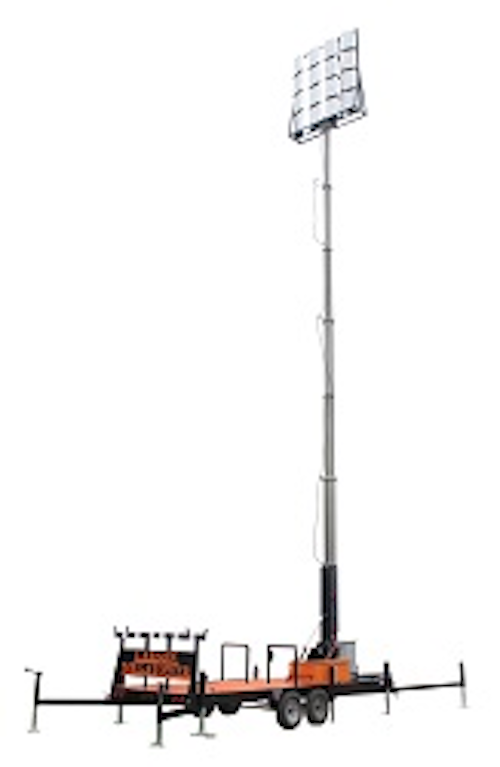 Safety lighting: At Larson Electronics, our goal is to make your job safer, easier, and more efficient through quality lighting systems. Whether it's an emergency rescue effort, a temporary road construction site, a mine, or a remote rig, we know your operation doesn't shut down just because the sun goes down. Our comprehensive line of stand-alone masts, towers, and light plants ensures that your worksite will remain productive through the night. Because each individual industry and task has specific space limitations and lighting specifications, this line covers the full spectrum of applications. Each lighting system is crafted to be both durable and operator friendly. Available with halogen, metal halide, high pressure sodium, and LED lamp configurations, this series ranges from smaller tripod and quadpod units to midsize masts and towers to our extra-large Megatower® systems.
Mast and tower units are ideal for construction applications and more. This line includes stationary and rotatable models and telescoping and fold over mast configurations with manual hand crank and electric winch options available. These units are offered as stand-alone fixtures and as skid and towable trailer mounted units as well as self-contained mobile light plant systems equipped with generators to power both the light system and tools. All light plants from Larson Electronics feature generators with at least 6 watts and a minimum fuel tank capacity of 30 gallons. We also offer self-contained light towers powered by solar panels.
The brawny 50' Megatower® series light plants are the ideal solution in areas requiring higher than normal elevation for effective light coverage, like drilling and excavation sites. Mounted to a 21' trailer, Megatower® units feature a 7-stage pneumatic mast in either telescoping or fold over configurations and are available as a light plant system equipped with an 11KW Kubota diesel generator that has a 150 gallon fuel capacity. All Megatower® units are equipped with a cold weather package, making them suitable for subzero climates.
While heavy duty and able to withstand unforgiving environments and rugged abuse, our mast, tower, and Megatower® lighting systems are designed to collapse to the most compact form possible for transport and storage as well as to safely deploy and move from one location to the next with ease.
At Larson Electronics, we do more than meet your lighting needs. We also provide replacement, retrofit, and upgrade parts as well as industrial grade power accessories. Our craftsmen can custom build any lighting system and/or accessories to fit the unique demands of your operation.
For more information about Larson Electronics or other products, click here to go to Utility Products' website.