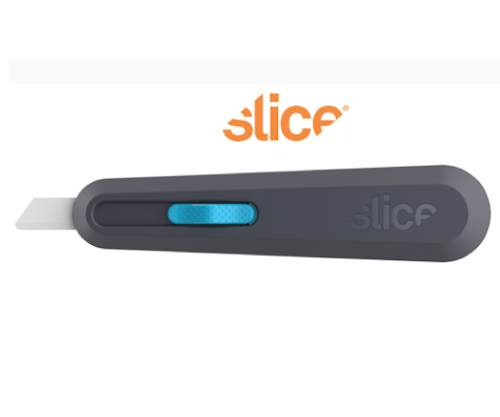 Utility supplies: Slice's 10558 Smart-Retracting Utility Knife introduces a fresh approach to ergonomic thinking in the safety cutting industry. Retracting utility knives have sliders that, when pushed, expose the blade for cutting. The contradictory actions of pushing the slider while pulling the knife during the cut cause unnecessary strain. Slice asked: Why not pull both the slider and the knife?
Testing by United States Ergonomics confirms that the Slice 10558 Utility Knife with Ergo-Pull™ reduces forearm and upper arm muscle effort, compared with standard metal-bladed utility knife. These results were consistent regardless of the orientation of cutting (horizontal or upright). Ergo-Pull™ results in a measurable boost to worker comfort, especially during repetitive cutting tasks. Less muscle effort means fewer repetitive strain injuries, and that's good news for occupational health and safety.

About Slice
Since 2008, Slice, Inc. has been rethinking safe cutting. By leveraging the properties of advanced ceramics, Slice created the world's first finger-friendly® cutting edge. This remarkable technology allows users to cut materials effectively but reduces the danger of laceration injuries.
For more information about Slice or other products, click here to go to Utility Products' website.