Work light: M18 Utility Bucket Light
Safety lighting: Milwaukee Tool's utility bucket light, The M18 Utility Bucket Light for power utility linemen, offers versatility with its three light modes, dual light head design that allows the user to spot and flood with one light, or its extreme weather and high voltage durability built for use in harsh conditions and environments

Nov 29th, 2017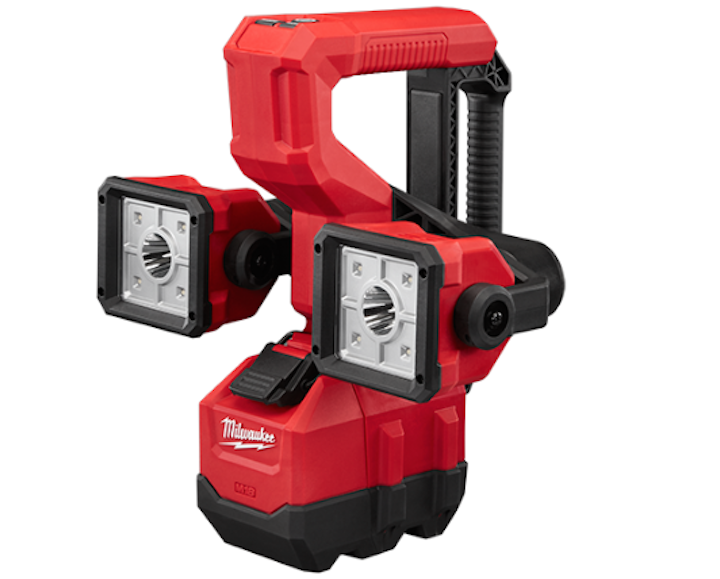 Work light: Milwaukee Tool's utility bucket light, The M18™ Utility Bucket Light for power utility linemen, offers versatility with its three light modes, dual light head design that allows the user to spot and flood with one light, or its extreme weather and high voltage durability built for use in harsh conditions and environments. Its patented spring-loaded bucket clamp fits all size bucket lips and allows the user to move the light around the bucket effortlessly.
The M18 Utility Bucket Light can run up to 4 hours on flood mode and spot/flood mode with an M18 REDLITHIUM High Demand 9.0 Battery and up to 6 hours on spot mode. Its high-quality LEDs never need to be replaced and are backed by a limited lifetime warranty.
FEATURES
• 2500 Lumens with 500 yard beam distance
• Dual Light head design with 180 degrees of vertical and horizontal head rotation
• 3 output modes: Spot, Flood, Spot/Flood
• Patented spring loaded bucket clamp for all bucket sizes
• IP56 for extreme weather and high voltage Spot mode: 6hrs with M18 High Demand 9.0 Battery
• Spot/Flood mode: 4hrs with M18 High Demand 9.0 Battery
• Flood mode: 4hrs with M18 High Demand 9.0 Battery
• Low Battery indicator alerts users when the battery is nearing end of charge
• High Definition output with true color, even beam and natural light
• Limited Lifetime LED warranty
For more information about Milwaukee Tool or other products, click here to go to Utility Products' website. Or visit our Industry News and Equipment Showcase e-newsletters.