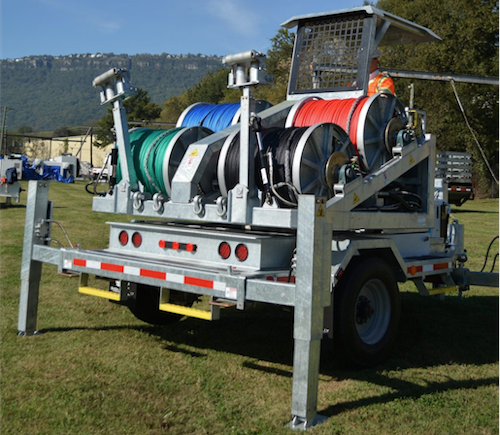 Construction equipment: Sherman + Reilly, a Textron Inc. company, a manufacturer of power line stringing and installation equipment, recently introduced the PLW-200X four drum turret pilot line winder. The all new PLW-200X offers customers an ergonomic operator's station, 360° turret rotation, braking system with electric over hydraulic activation and a galvanized finish option. The design team at Sherman + Reilly turned customer feedback into action with the added safety and efficiency in the new PLW-200X.
"We are thrilled with the initial response to this new piece of equipment. Customers have already started placing orders and that is a direct result of our design process starting with direct customer feedback," said Ryan Berg, Director of Product Management. "The PLW- 200X offers customers the perfect balance of added features at little to no additional cost compared to earlier models."
The Sherman + Reilly PLW-200X features an optimized operator's station with a new ergonomic layout. Equipped with real-time self-diagnostics and CANbus technology, the operator can access all major controls from the seated operator station. The four-drum turret is capable of rotating 360° degrees for optimal structure approach to drive efficiency on the jobsite. The braking system, with electric over hydraulic activation, allows for controlled articulation of braking pressure distributed to each of the pilot line drums. The PLW-200X also offers a new galvanized finish for a more durable and weather resistant finish, the first of its kind for Sherman + Reilly equipment. The equipment also features newly positioned tie off points to allow for quicker line/phase change over and securing of drum-specific pilot lines.
All Sherman + Reilly equipment is backed by a one year warranty and a dedicated Sherman + Reilly service team so customers can trust the experts in underground and aerial power line stringing and installation equipment.
About Sherman + Reilly, Inc.
Sherman + Reilly, Inc. has been a leading manufacturer of tools and equipment for underground and aerial transmission, and distribution of electrical power and communications systems, including a complete line of bundle blocks, pullers, tensioners and reel trailers since 1927.
About Textron Inc.
Textron Inc. is a multi-industry company that leverages its global network of aircraft, defense, industrial and finance businesses to provide customers with innovative solutions and services. Textron is known around the world for its powerful brands such as Bell Helicopter, Cessna, Beechcraft, Hawker, Jacobsen, Kautex, Lycoming, E-Z-GO, Greenlee, Textron Off Road, Arctic Cat, Textron Systems, and TRU Simulation + Training.
For more information about Sherman + Reilly, Textron, or other products, click here to go to Utility Products' website. Or visit our Industry News and Equipment Showcase e-newsletters.