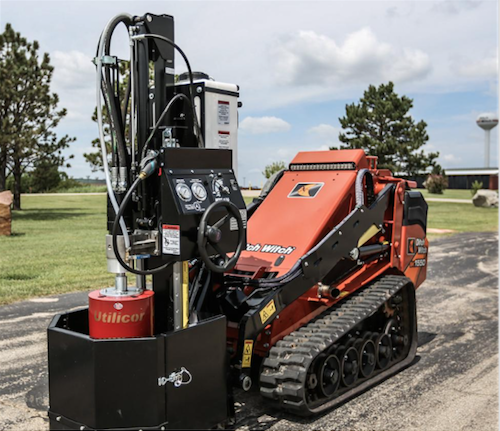 Utility vehicles: Public works managers across the nation have welcomed the use of keyhole coring: a less-costly, safer and less-disruptive approach to underground roadway and sidewalk utility repairs than traditional, large excavation techniques. Today, Ditch Witch®, a Charles Machine Works Company, announced its partnership with Utilicor Technologies, Inc. to bring the benefits of advanced keyhole technology and reinstatement to contractors, municipalities and utilities globally.

Utility contractors need not bring heavy and physically demanding equipment like jackhammers and backhoes for every utility maintenance project that requires asphalt or concrete repairs. Instead, they can operate a nimble, construction-grade Ditch Witch mini skid steer fitted with the new Utilicor MTC100 coring attachment to perform repairs, without rerouting traffic or exposing large areas of open excavation.

"Our partnership with coring technology leader, Utilicor, gives our organization a strong point of entry into the coring market," said Randy Rupp, Ditch Witch vice president of product strategy. "The new MTC100 coring attachment will complement our portfolio of mini skid steers and vacuum excavation equipment for work under paved surfaces, and it gives cities and utilities a quick, money-saving advantage."

The MTC100 was developed in partnership with Utilicor as the first product entry into the coring market for the Ditch Witch organization. Designed to work exclusively with the SK-line of mini skid steer units (the SK800, SK1050 and SK1550), the MTC100 can quickly and accurately cut up to an 18-in diameter hole and 22-in depth, minimizing surface disruption. Vacuum systems are then used to excavate down to the utility for maintenance that can be performed from the road surface using special long-handled tools. Once the underground work has been completed, the original core is bonded back into the pavement as a permanent pavement repair for minimal surface disruption – no patching or repaving required.

Coring techniques offer significant cost and time savings. Today, keyhole coring technologies are approximately 50 percent less costly than traditional excavation repairs and disposal removal. And, roads can be reopened to traffic within 30 minutes of repair completion.

In addition to the MTC100 coring attachment, Utilicor provides the market-leading reinstatement material Utilibond™. Capable of supporting up to 50,000 lbs in just 30 minutes, this specially engineered pavement-bonding compound, results in a permanent pavement repair that reduces public inconvenience, requires no additional paving materials and is field-proven to be effective for more than 10 years.

Contractors continually seek better solutions for their customers. To help combat customer challenges, the Ditch Witch organization is constantly adapting and looking to be at the forefront of innovative equipment and jobsite solutions, such as keyhole coring technology.

About the Ditch Witch® Organization
Ditch Witch, a Charles Machine Works Company, invented the underground utility construction industry, and today it designs, manufactures and markets the most complete line of directional drills, drill pipe, HDD tooling, vacuum excavators, trenchers, chain, teeth and sprockets, mini-skid steers and vibratory plows. Handcrafted in the USA, its products are supported by the Ditch Witch dealer network with over 175 locations worldwide.

About Utilicor Technologies Inc.
Utilicor Technologies Inc. is the leading proponent and developer of the rapidly expanding process of keyhole coring and reinstatement technology that allows utilities and their contractors to quickly and cost-effectively access and repair or maintain underground infrastructure buried under pavement from the surface of the road in a safe and environmentally friendly way, and is the manufacturer of the most complete line of truck-mounted, trailer-mounted, skid steer-mounted and self-propelled pavement coring equipment and the industry standard Utilibond™ permanent core bonding material and other related products designed for the implementation of that technology.
For more information about Ditch Witch, Utilicor Technologies or other products, click here to go to Utility Products' website. Or visit our Industry News and Equipment Showcase e-newsletters.