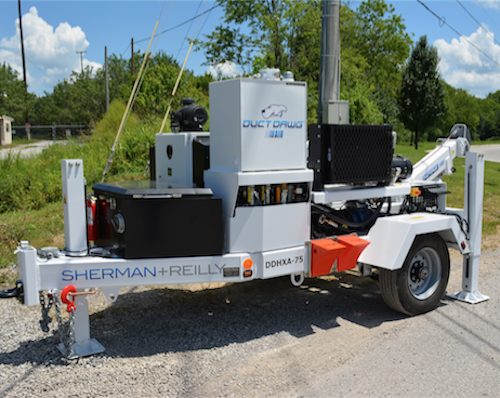 Construction equipment: Sherman + Reilly, a Textron Inc. company and manufacturer of power line stringing and installation equipment, continues to expand on the successful Duct Dawg series with the launch of the new Duct Dawg Air DDHXA-75/100 underground puller featuring BOSS Air System's air compressor. Deliveries of the first Duct Dawg Air units are underway and the company continues to see strong demand from the market.
"We are excited to be expanding the Duct Dawg series, launched just last year, focused on simplified underground jobsite setup, technology-driven efficiencies and an optimized compact design with smooth operations," said Ryan Berg, Director of Product Management. "With the added air compressor, the Duct Dawg Air allows customers to purchase one piece of equipment to tackle multiple underground installation jobs."
The Duct Dawg Air underground puller is ideally suited for utilities and contractors alike, providing a multi-functional, safe and efficient machine for underground installation. The Duct Dawg Air underground puller is capable of pulling 7,500 or 10,000 pounds, depending on the customer's needs.
The Duct Dawg Air underground puller features a compact, under 16-foot footprint with a fully articulating, self-supported, 3-axis boom. The durable, wireless remote control provides maneuverability and added safety allowing the operator to control the machine from anywhere around the Duct Dawg Air underground puller. The hydraulically driven, twin capstan bullwheels and new 3-speed gearbox provides for a smooth operation. The new CANbus technology provides accurate, real-time display readouts of the machine system status including stringing data and digital line tensions.
About Sherman + Reilly
Sherman + Reilly has been a leading manufacturer of tools and equipment for underground and aerial transmission, and distribution of electrical power and communications systems, including a complete line of bundle blocks, pullers, tensioners and reel trailers since 1927.
About Textron Inc.
Textron Inc. is a multi-industry company that leverages its global network of aircraft, defense, industrial and finance businesses to provide customers with innovative solutions and services. Textron is known around the world for its powerful brands such as Bell Helicopter, Cessna, Beechcraft, Hawker, Jacobsen, Kautex, Lycoming, E-Z-GO, Greenlee, Textron Off Road, Arctic Cat, Textron Systems, and TRU Simulation + Training.
For more information about Sherman + Reilly,Textron or other products, click here to go to Utility Products' website. Or visit our Industry News and Equipment Showcase e-newsletters.