Construction equipment: Compact center mounted platform
Safety products: Reach-All's CraneMate, with a 6' x 600 lb. platform capacity, has a package weigh of 570 lbs., and is a compact center mounted platform for use to mount to the tip of larger boom truck's swing jib or use on smaller 8-10 ton boom trucks "per factory capacity."

Sep 14th, 2017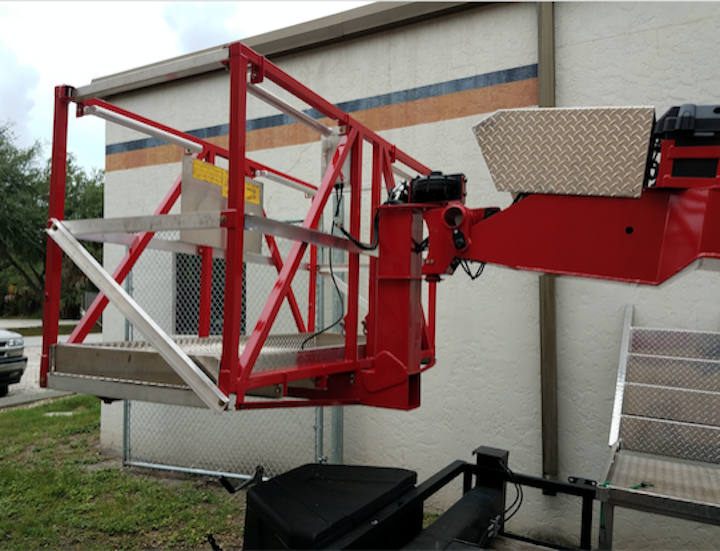 Construction equipment: Reach-All LLC's CraneMate, with a 6' x 600 lb. platform capacity, has a package weigh of 570 lbs., and is a compact center mounted platform for use to mount to the tip of larger boom truck's swing jib or use on smaller 8-10 ton boom trucks "per factory capacity."
Self-contained hydraulic-powered auto leveling provides safety of personnel and stability of payloads. The platform will level regardless of the location of the payload inside the platform and independently of where it is rotationally positioned. 180-degree full platform rotation with proportional controls enable excellent positioning of platform to work area and prevents workers from bunching up at one corner of the platform and stretching unsafely to those hard-to-reach areas.
When combined into one package, auto hydraulic leveling and 180-degree hydraulic rotation enables one or two workers to safely position the loaded platform alongside and safely remove objects from the work area into the platform. Once loaded, the crane and platform can be repositioned to a new location or to the ground without being tilted out of level. The "stow and go" feature allows the platform to be attached and positioned to crane tip for safe road travel.
Summed up, it allows you to do more work in less time and saves days of expensive travel time by reducing a typical two- or three-day job to one day – "owner's testimony available."
For more information about Reach-All or other products, click here to go to Utility Products' website. Or visit our Industry News and Equipment Showcase e-newsletters.