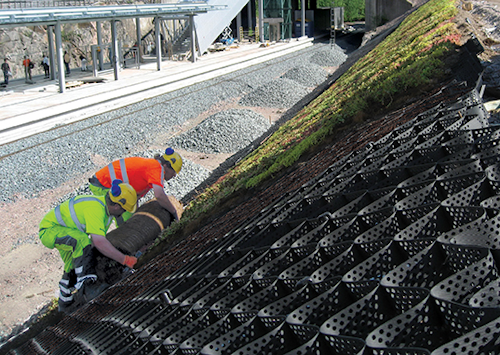 Line maintenance: Presto's GEOWEB® 3D system is a proven solution for soil stability problems in a variety of site construction applications including steep slope erosion control, vegetated shorelines & channels, and naturally-vegetated retaining walls. The more challenging the problem, the more likely the GEOWEB solution will be applied to keep soil confined and stable.
Sustainable, Vegetated GEOWEB Slopes for Controlling Erosion
The HDPE GEOWEB system has a long, proven history of stabilizing steep slopes prone to erosion problems where material strength and performance are critical. Through confinement of infill, the 3D system's cellular structure stabilizes the upper soil layer on embankments to resist sliding, prevent severe erosion caused by surface runoff, and allow steeper slopes to be built.
Each interconnected cell creates a stable growth environment for vegetation and an eco-zone protected from erosive forces. Slopes can be designed with special vegetation type, flowering plants, or even vegetation suitable for arid climates. Presto provides a complete design solution with integral accessories for strength and performance.
GEOWEB Vegetated Channels Resist Higher Flows, Mitigate Flooding
Vegetated stormwater channels have limited resistance to moderate-high flows and shear forces even for short durations—unless the soils and vegetation can be stabilized. Presto's GEOWEB system offers the stabilization for channels with continuous low-flows—as well as moderate-high flow, intermittent channels. With higher permeability than rip rap, they are also ideal for environmental low-impact design (LID, GI)—allowing natural stormwater infiltration and creating low-maintenance, grassed stormwater conveyances.
With an overlying Turf Reinforcement Mat (TRM), GEOWEB single-layered channels can withstand velocities as high as 30 ft/s (9m/s) when fully vegetated. This essentially doubles performance resistance to shear stress and velocities for TRMs and Erosion Control Blankets (ECBs).
Multi-layered GEOWEB® channels support vegetation in the outer fascia and can withstand high flows for short durations. They tolerate reasonable differential settlement—so they perform well in soft-soil environments. Their relatively small horizontal footprint also allows for steeper embankments for additional flood storage.
For more information about Presto or other products, click here to go to Utility Products' website. Or visit our Industry News and Equipment Showcase e-newsletters.