Energy meters: Energy and power quality meters certified by the California Independent System Operator (CAISO)
Power measurement: Schneider Electric's PowerLogic ION7400 and ION7650 intelligent meters are approved by California Independent System Operator.
Jun 16th, 2017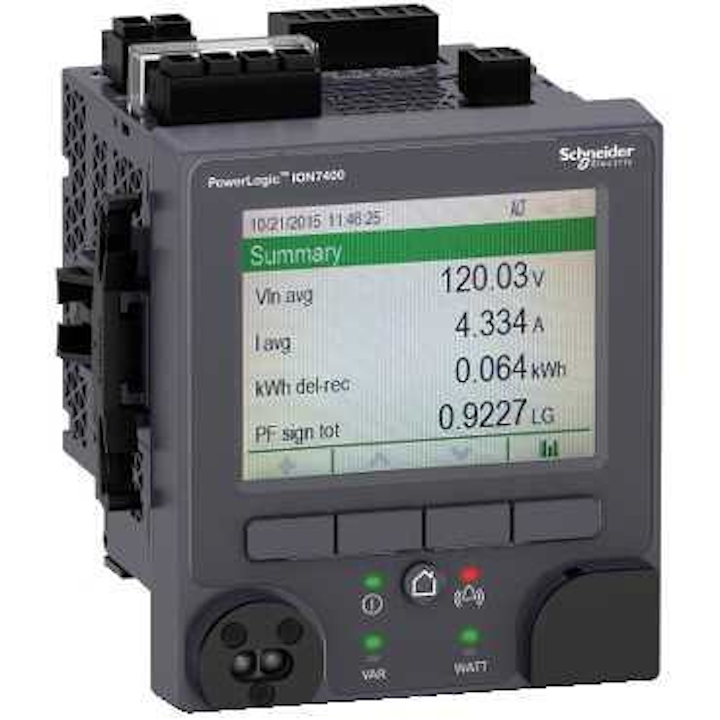 Energy meters: Schneider Electric, a provider of energy management and automation, announced that its PowerLogic™ ION7400 and PowerLogic ION7650 series energy and power quality meters have been certified by the California Independent System Operator (CAISO) as compliant to ISO standards for use in ISO metered entity applications. Both meters have completed rigorous California ISO certification testing and are approved for use in load control, generation and transmission grid metering applications. The ION7400 and ION7650 now join the ION8650 on the CAISO approved list of meters. CAISO requires approved meters be used for CAISO metered entities in California to ensure data accuracy and reliability.

Engineered on a compact, modular and flexible platform, the ION7400 and ION7650 meters have the versatility to meet any metering application required at CAISO points of interconnection. In addition to flexibility that enables the meters to seamlessly integrate with data retrieval systems, they provide industry leading revenue management (ANSI C12.20 Class 0.2) and network management (IEC 62053-22, Class 0.2S) data, and comply with IEC 61557-12 regulations. The meters integrate seamlessly with StruxureWare™ Power Monitoring Expert (PME) analysis software or existing utility SCADA systems, and can compensate for line loss, power and instrument transformer inaccuracies. The meters can pinpoint disturbances by determining if they occurred upstream or downstream using patented disturbance direction detection (DDD).

"The ION meters' patented programming architecture has given CAISO market participants a flexible solution and measurement capabilities that eliminate the need for additional meters to be installed, therefore greatly reducing the cost at each location," said Paul Golden, director utility metering for Schneider Electric. "The ION meters are just another example of how we're innovating at every level by providing industry leading revenue accuracy and an intuitive interface that gives users the ability to leverage both standard and advanced features."

The ION7400 three phase power and energy meter provides significant capabilities, including Class 0.2 revenue metering accuracy, Class S power quality, a utility-focused full color display and multi-protocol, multi-port communications. The ION7650 is a high-performance energy and power quality meter ideal for utility networks, mains or critical loads.

The meters also make use of Schneider Electric's patented ION technology platform that provides useful preconfigured functions out of the box. The platform can be used to adapt and creatively scale the meter's functionality to meet nearly any requirement – now and in the future.
For more information about Schneider Electric or other products, click here to go to Utility Products' website. Or visit our Industry News and Equipment Showcase e-newsletters.