Work light: LED flashlight provides operators with portable way to illuminate hazardous locations
Safety lighting: Larson Electronics releases "BlackJack" -- a new rechargeable explosion proof LED flashlight.
Jun 26th, 2017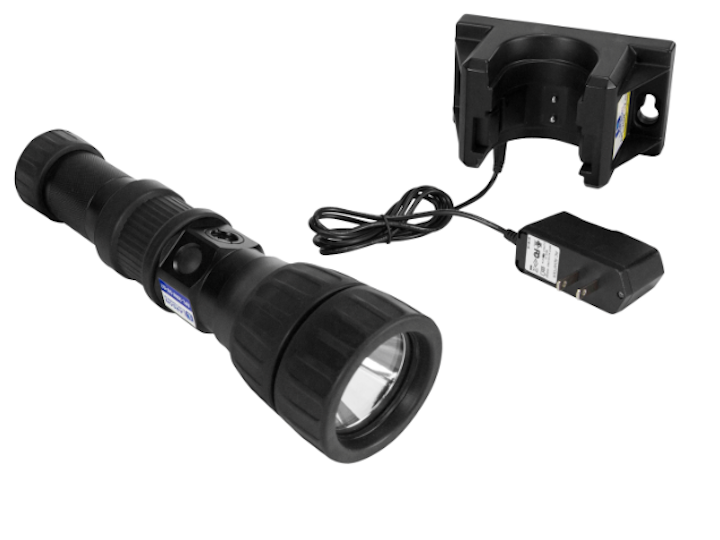 Work light: Larson Electronics has released a new intrinsically safe rechargeable explosion proof LED flashlight (EPL-20W-G2) to be added to its expanding catalog of products. This ATEX/IECEx-rated LED flashlight provides operators with a portable way to illuminate hazardous locations.
This Class I Division 2, Class II Division 1 explosion proof LED flashlight comes with two options for illumination. The main light head features a 7-watt spotlight that is capable of emitting 700 lumens of cool white light at 5,000k. A secondary light located at the side of the luminary emits 200 lumens of cool white light in a flood beam configuration. Both lighting options can be operated simultaneously or separately, depending on preference. For extra beam control, this LED flashlight posses the ability to be dimmed by holding down and releasing the power button at the desired setting.
This LED flashlight comes with several safety features to help it hold up in rugged, unpredictable hazardous locations. Operators may activate an SOS strobe by double-clicking on the power button or press the spot light power button 3 times quickly to initial a deterrent/disorient strobe, with a frequency of 20 Hz. Press power button once to stop . For protection against rough handling and dropping, this explosion proof luminary also comes with rubber bump guards around the light head, center and end of the housing. This dimmable flashlight is powered by a 2,600mA battery that is rechargeable via a docking station. The power cell is removable, but not required.
Charging time to full capacity is 3.75 hours, while runtime in a fully charged state is 5 hours. The explosion proof LED flashlight features an operational lifespan of 30,000+ hours. Voltage options include 120V AC, 240V AC, or 12-24V AC. Applications include, but are not limited to: Hazardous locations, aerospace, chemical processing plants, refineries, oil and gas, mining, construction, gas facilities, agricultural sites, fire fighting, inspections, security and so on.
"We've added all of the best qualities into this new heavy-duty luminary," said Rob Bresnahan, CEO of Larson Electronics LLC."In addition to being extremely durable with its hazardous location rating, this explosion proof flashlight also features an SOS strobe that can be activated in emergency situations, further adding to its amazing potential."
About Larson Electronics LLC: Larson Electronics LLC is a manufacturer of industrial lighting equipment and accessories. The company offers an extensive catalog of industry-grade lighting and power distribution products for the following sectors: manufacturing, construction, food processing, oil and gas, military, marine and automobile. Customers can benefit from the company's hands-on, customized approach to lighting solutions. Larson Electronics provides expedited service for quotes, customer support and shipments.
For more information about Larson Electronics or other products, click here to go to Utility Products' website. Or visit our Industry News and Equipment Showcase e-newsletters.