Stored energy: SMA to host Utility-Scale Storage & PV Forum with Siemens Energy Management
Energy management: Forum will address value of storage, utility-scale solutions and new Sunny Central Storage.
Jun 15th, 2017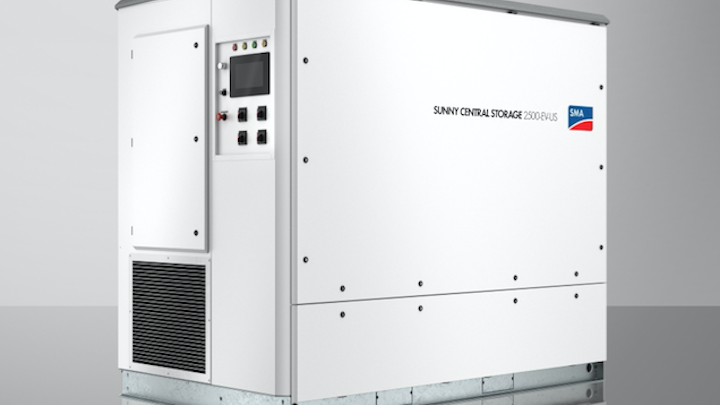 Stored energy: SMA America has announced a special event for solar professionals, particularly those focused on utility-scale storage and solar, that will highlight cutting-edge solutions for utility-scale projects. The Utility-scale Storage & PV Forum will take place July 12, 2017, at the Hotel Zetta in San Francisco.
The forum will address challenges and solutions for high-penetration PV networks as well as the value and uses cases for storage, and will highlight SMA's new large-scale storage solution, the Sunny Central Storage 2500-EV-US. The program will include a wide-range of expertise presented from SMA and Siemens Energy Management Solutions.
"There is a great need for utility-scale solutions with integrated storage in today's evolving solar market," said John Susa, executive vice president of sales for SMA America. "We value the opportunity to discuss these topics with our customers and stakeholders, and we hope they'll attend this forum and come away with additional knowledge and a better understanding of opportunities in the current landscape."
The Sunny Central Storage 2500-EV-US is SMA's power conversion system for large-scale battery storage systems. These systems enable the integration of large amounts of intermittent renewable energy into the utility grid while maintaining grid stability. Sunny Central Storage is compatible with different types of leading battery technologies.
The forum will begin at 8:30 a.m. and run until 1:30 p.m. In addition to educational sessions, the event will provide valuable industry networking. Seats are limited, and early registration is encouraged. To register, visit https://SMAPVStorageForum.eventbrite.com.
About SMA
The SMA Group with sales of around €1 billion in 2016 is the global market leader for solar inverters, a key component of all PV plants. SMA offers a wide range of products and solutions that allow for high energy yields for residential and commercial PV systems and large-scale PV power plants. To increase PV self-consumption efficiently, SMA system technology can easily be combined with different battery technologies. Intelligent energy management solutions, comprehensive services and operational management of PV power plants round off SMA's range. The company is headquartered in Niestetal, near Kassel, Germany, is represented in 20 countries and has more than 3,000 employees worldwide, including 500 working in Development. SMA's multi-award-winning technology is protected by approximately 900 patents and utility models. Since 2008, the Group's parent company, SMA Solar Technology AG, has been listed on the Prime Standard of the Frankfurt Stock Exchange (S92) and is currently the only company in the solar industry that is listed in the TecDAX index.
For more information about SMA or other products, click here to go to Utility Products' website. Or visit our Industry News and Equipment Showcase e-newsletters.