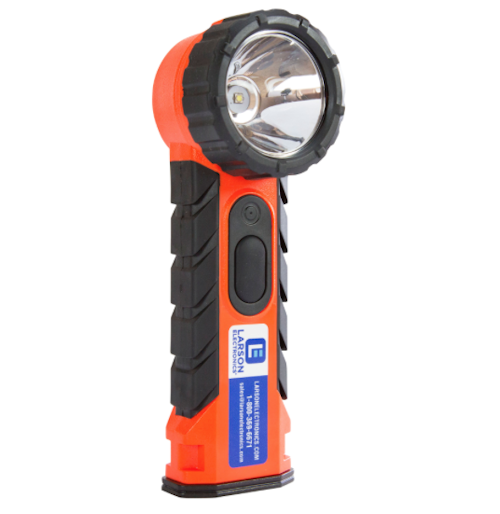 Work light: Larson Electronics LLC, a leading industrial lighting company, announced the release of a new intrinsically safe right angle LED flashlight to be added to its expanding catalog of products this week. This flashlight has been designed for use in hazardous locations where compact, but powerful lighting is needed.
This intrinsically safe LED flashlight (EXPRA-07-LED) offers bright illumination in hazardous locations. In low beam mode, this luminary emits 135 lumens of white light reaching 590' with a runtime of 13 hours. In high beam mode, this flashlight emits 279 lumens of light reaching 820' with a runtime of 6.5 hours. Features on this LED flashlight include an air-free heat sink design that helps to improve heat dissipation during operation, while simultaneously reducing the possibility of malfunction from overheating. A valve design prevents the buildup of hydrogen gas (Group B).
This compact, portable luminary has been designed for Class I, Divisions 1 and 2 and Class II, Divisions 1 and 2 hazardous environments and is ATEX/IECEx approved. This right-angle light also carries an IP54 rating with a T4 temperature code. It is battery-powered and runs on 4 AA batteries for 6.5-13 hours of runtime (depending on mode).
"Not every job is the same; some call for large, heavy-duty equipment and lighting while others only need a small, compact lighting solution," said Rob Bresnahan, CEO of Larson Electronics LLC." These intrinsically safe right-angle LED flashlights offer operators a smaller, yet just as powerful, lighting solution that they can bring with them into confined spaces, or even clip to their belt for the ultimate convenience."
For more information about Larson Electronics or other products, click here to go to Utility Products' website. Or visit our Industry News and Equipment Showcase e-newsletters.