Energy management: SecureConnect Remote Operator
Power management: CBS ArcSafe SecureConnect Remote Operator for CENTERLINE 2100 Motor Control Centers remote racking system
Oct 16th, 2017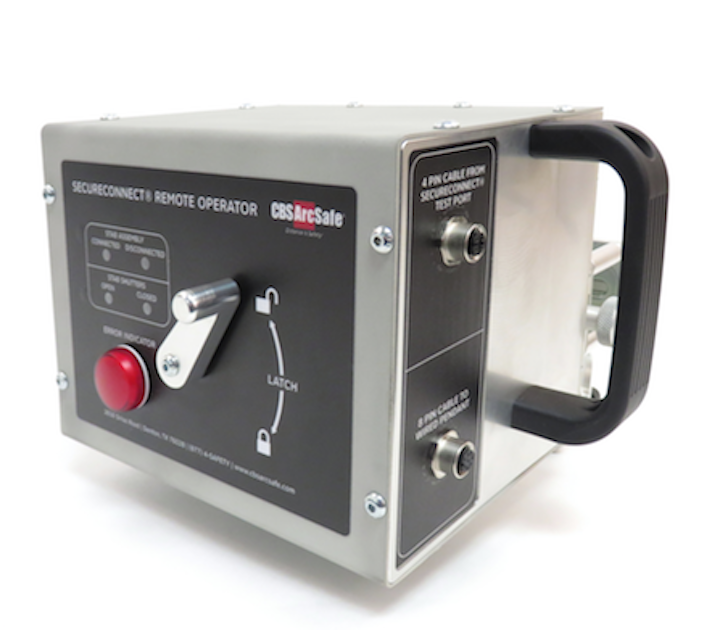 Energy management: CBS ArcSafe® offers the SecureConnect™ Remote Operator for Allen-Bradley® CENTERLINE® 2100 Motor Control Centers (MCCs) remote racking system. Designed in cooperation with Rockwell Automation, the 13-lb. SecureConnect Remote Operator allows technicians to remotely disconnect an individual plug-in SecureConnect unit from the CENTERLINE® 2100 MCC vertical power bus while the enclosure door is closed and while standing up to 300 feet away. Prior to the introduction of the SecureConnect Remote Operator unit, technicians manually operated the SecureConnect while standing in front of an MCC. While the enclosure door provides some protection, however, distance is safety when it comes to avoiding arc-flash injuries. The new SecureConnect Remote Operator allows the technician to operate the CBS ArcSafe SecureConnect Remote Operator optional safety system from up to 50 feet via wired tether or up to 300 feet using CBS ArcSafe's wireless pendant.

The SecureConnect Remote Operator system is compatible with Allen-Bradley CENTERLINE® 2100 MCCs with the SecureConnect option. The SecureConnect Remote Operator system's input voltage is rated at 120–240 V AC/50–60 Hz.

Installation and operation of the SecureConnect Remote Operator system is quick, simple, and does not require any modifications to the existing electrical equipment. This new remote operator is the latest addition to CBS ArcSafe's line of remote racking and switching solutions for circuit breakers, switchgear, and motor controls, which includes the RRS-2 BE universal remote racking system designed specifically for motor control applications.

About CBS ArcSafe®
CBS ArcSafe, Inc., offers the electrical industry's largest inventory of remote racking and switching solutions for low- and medium-voltage switchgear that do not require modification to existing equipment for operation. All our equipment is manufactured in the United States at our Denton, Texas, manufacturing facility. CBS ArcSafe offers 24/7/365 emergency support and is happy to develop custom remote racking and switching solutions for customers.
For more information about CBS ArcSafe or other products, click here to go to Utility Products' website. Or visit our Industry News and Equipment Showcase e-newsletters.