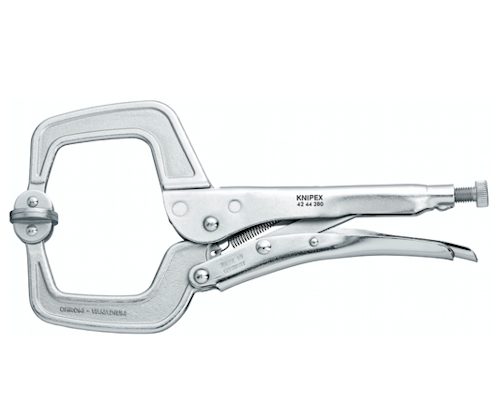 Utility supplies: KNIPEX Tools introduced its series of Gripping Pliers. The series features Universal, Long-Nose and Welding Gripping Pliers.

The 10" Universal Gripping Pliers feature a pivoting bottom jaw that automatically adjusts to any workpiece in the field, including square, round, hex and flat materials. The pliers also feature toggle lever action for a high clamping pressure grip, making the pliers ideal for secure, one-handed operation.

The 8" Long-Nose Gripping Pliers are bright zinc-plated and feature narrow, long jaws at a slim width of 1/4". The pliers are specially designed for areas difficult to reach. The Long-Nose Grip Pliers also feature a non-serrated gripping area for pinching off hoses.

The KNIPEX 11" Welding Gripping Pliers feature moveable jaws with clamps for cumbersome workpieces and sections with high ridges up to 1 1/2". The maximum gripping capacity of the pliers is 3 17/32".

All KNIPEX Gripping Pliers have a heavy-duty design with an adjustment screw and release lever for ease of use. The pliers feature one-hand operation and a toggle lever action for high clamping pressure. The body of the Gripping Pliers is made from high-strength rolled steel and the gripping jaws are forged out of chrome vanadium electric steel.

"The heavy-duty KNIPEX Gripping Pliers series are designed to deliver powerful results, no matter the angle or workpiece," said Todd Shumate, president, KNIPEX Tools. "With their heavy-duty design, unique jaws and extensive gripping abilities, all three pliers will make a great addition to any tool box."

About KNIPEX Tools
KNIPEX Tools LP is the North American sales and marketing organization of KNIPEX‐Werk. KNIPEX‐Werk, Wuppertal, Germany, is a professional quality pliers manufacturer known worldwide, producing up to 55,000 pliers per day. The company concentrates its efforts on being the best pliers manufacturer in terms of quality, innovation and efficiency and its pliers satisfy the highest expectations in terms of performance, ergonomics and service life.
For more information about KNIPEX Tools or other products, click here to go to Utility Products' website. Or visit our Industry News and Equipment Showcase e-newsletters.