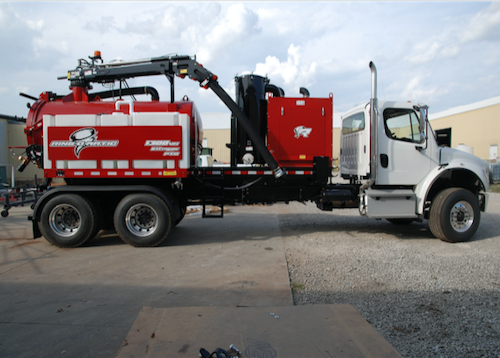 Construction equipment: Attendees of the 2017 ICUEE were first to witness Ring-O-Matic's unveiling of its largest-capacity PTO-driven vacuum-excavator system. The 1300 VXT Extreme/PTO is the ideal vacuum-excavator solution for utility construction, horizontal directional drilling support and mud management, vacuum excavation and daylighting operations preferring a single-engine configuration.
The mechanical PTO option offers the benefits of single-engine emissions compliance and single-engine maintenance and a shorter chassis rig with 1,300-gallon spoil capacity.
A wide array of Ring-O-Matic options makes it possible to custom-order the 1300 VXT to match any operation's requirements. The standard unit comes mounted on a double-axle, 60,000-pound Freightliner carrier featuring a 1700 cfm blower and a 6-inch, fully hydraulic boom.
Ring-O-Matic also displayed its 350 VXT HiCFM Air-Equipped and compact FT150 vac-ex units at the ICUEE exposition. Designed for carriers in the 26,000 pound GVW class or smaller, the 350 VXT is based on the traditional dedicated-engine design suited to most operations.
With its 150-gallon spoils tank, the FT150 gives rental agencies and startup contractors an economical, versatile hydro-excavator to use on jobsites too small for typical vac-ex rigs such as the tight confines of many urban residential properties. The FT150 mounts easily in the bed of a pickup or on a trailer. It can also be mounted to a skid-steer via an attachment plate. All three configurations were on display during ICUEE.
For more information about Ring-O-Matic or other products, click here to go to Utility Products' website. Or visit our Industry News and Equipment Showcase e-newsletters.