Utility supplies: Impact auger bits, 3-in-1 distribution and transmission utility sockets, and more
Utility tools: Milwaukee Tool launches new line of accessories engineered specifically for power utility.
Jul 19th, 2017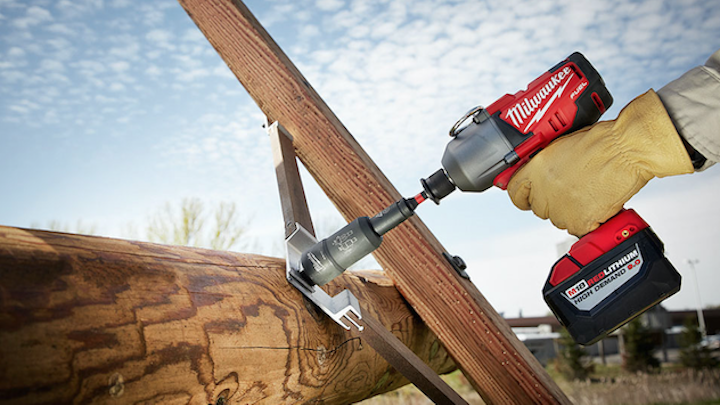 Utility supplies: Milwaukee Tool introduces Shockwave™ Lineman's Accessories, including Impact Auger Bits, 3-in-1 Distribution and Transmission Utility Sockets, and a 7/16" Hex to ½" Square Impact Socket Adapter. Engineered specifically for the challenges of the construction and maintenance of utility lines, the new accessories offer superior speed, durability and efficiency.
Working in all weather conditions both on the ground and in the air, linemen face a unique set of challenges different from many other professionals. Recent innovation in accessories for drilling and fastening into wood or steel utility poles has been limited at best," said James Grow, Group Marketing Manager for Milwaukee Tool. "With our new line of Shockwave™ Lineman's accessories, we set out to change this trend. Our solutions not only provide a more reliable and fast way to work, but also offer the durability benefits made famous by Milwaukee's Shockwave™ technology– the ability to absorb peak torque and prevent breaking."
Shockwave™ Lineman's Impact Auger Bits
Engineered for the power utility lineman to drill cleaner, faster holes in a utility pole, the new Shockwave™ Lineman's Impact Auger Bits feature a single spur design that scores the hole for a cleaner finish. An aggressive feed screw and cutting edge pull the bit through the material for faster drilling, while the optimized wide flute geometry ejects chips faster. A reinforced anti-friction PTFE coating makes for overall smoother drilling and removal of the auger.
While traditional ship augers have a robust design intended for nail durability in dimensional lumber, often when used in power utility poles they tend to drill slow, rough holes and bog down. To address this frustration, the new Milwaukee® Lineman's Impact Auger is optimized for use in a 7/16" impact wrench to drill fast, effortless holes in dense, treated utility poles. The augers come in both 18" and 24" lengths, in all key lineman's sizes.
Shockwave™ Lineman's 3-in-1 Distribution Utility Socket & 3-in-1 Transmission Utility Socket
The new Shockwave™ Lineman's 3-in-1 Distribution Utility Socket and Shockwave™ Lineman's 3-in-1 Transmission Utility Socket deliver more secure, efficient fastening. Current utility socket solutions are either difficult to operate or are not safely secured to the adapter – huge concerns in an industry that prioritizes safety and efficiency, especially when working off the ground. A Push-and-Twist Barrel Lock allows the user to make easy, secure one-handed size changes, even while wearing gloves. The 3-in-1 square design eliminates the need to remove the socket from the adapter while in the air, decreasing the chance of a drop hazard. Both sockets are built with interior debris shields for protection against rust and corrosion.
Shockwave™ Lineman's 7/16" Hex to ½" Square Impact Socket Adapter
The new Shockwave™ Lineman's 7/16" Hex to ½" Square Impact Socket Adapter was designed to be the most durable socket adapter for the lineman and to offer better retention. Today's existing solutions lack durability and have weak retention to the socket. The optimized Shockzone™ of the new Milwaukee® impact socket adapter makes it the most durable on the market, and the pin detent design allows it to securely hold the socket. In addition, Custom Alloy76™ Steel maximizes resistance to wear and shock.
These new Shockwave™ Lineman's Accessories are the first in a growing line of accessory solutions Milwaukee® will introduce for power utility. Also joining this line are new High Speed Steel and Carbide-Tipped Annular Cutters engineered to drill faster holes and provide longer life in mild steel and hard metal applications.
From the power plant, through transmission and distribution, it is Milwaukee's goal to improve reliability and productivity for linemen. With a base of tools on the M18™ system already used by linemen, game-changing utility crimpers and cutters, and the new Shockwave™ Lineman's Accessory solutions, Milwaukee is committed to making this goal a reality.
About Milwaukee Tool
Since the company began in 1924, Milwaukee Tool has led the industry in both durability and performance by providing the best in professional, heavy-duty tools and accessories. With an unwavering commitment to the trades, Milwaukee continues to lead with a focus on providing innovative, trade-specific solutions. Whether it is through their leadership in LITHIUM-ION technology, as seen in the M12™, M18™ & M28™ Systems, time-saving accessories or innovative hand tool products, Milwaukee is dedicated to delivering a steady stream of advanced solutions for the trades that offer increased productivity and unmatched durability.
For more information about Milwaukee Tool or other products, click here to go to Utility Products' website. Or visit our Industry News and Equipment Showcase e-newsletters.