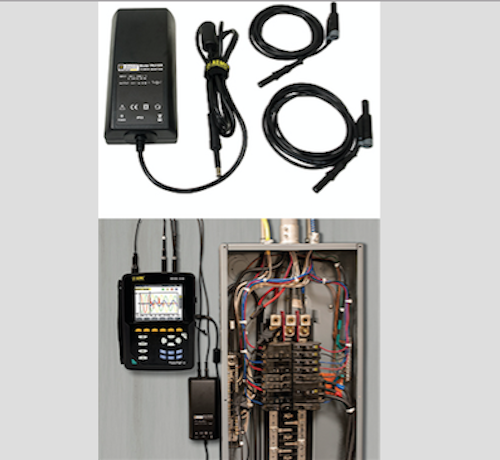 Energy management: The New Phase Power Adapter can provide power to AEMC's PowerPad® Models 8333 and 8336 power analyzers from phase measurements up to 1000VAC. This Power Adapter eliminates the need to power from an electrical outlet.
For a low cost, this accessory gives you the option to get power from one of the inputs you are measuring instead of running an extension cord to an electrical outlet (if available). It saves you time and money allowing a quick and easy setup as well as eliminating a potential safety hazard with long extension cords.
Features:
• Input voltage range: 110V to 1000V from phase-to-neutral or phase-to-phase
• No line cord required
• Overload tolerance: +10% continuous, +15% temporary
• Frequency range: DC to 440Hz
• Stacking voltage leads – 6ft (2m) (included)
Application:
• Industrial environment friendly, ideal for use in three phase electrical environments where no electrical outlets are accessible
Phase Power Adapter - Cat. #2140.77
For more information about AEMC or other products, click here to go to Utility Products' Buyers Guide.