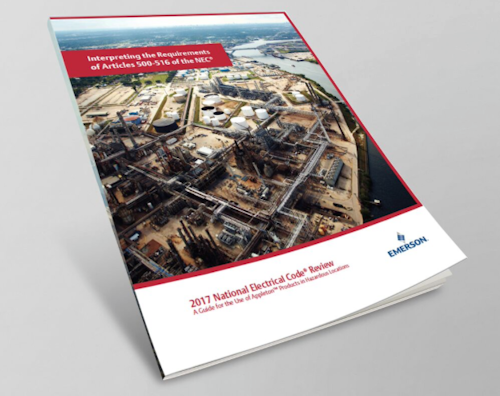 Safety products: The NEC® Code Review: Use of Appleton™ Products in Hazardous Locations guide will assist electricians, engineers and code officials in interpreting the updated requirements of Article 500-516 outlining design and installation requirements for electrical equipment in classified locations, to assist in minimizing fire and explosive hazards.
An essential read for professionals specifying equipment in areas such as utilities, petrochemical plants, oil refineries and mines, the 196-page guide contains the full text of the Articles along with color-coded commentary to help facilities avoid violations, keep installations safe, and comply efficiently. The Code Review acquaints viewers with the NEC system of organizing locations into Classes, Divisions and Groups, along with providing an overview of hazardous location lighting, an introduction to Articles 505 and 506, and the various standards organizations.
About Emerson
Emerson (NYSE:EMR), headquartered in St. Louis, Missouri (USA), is a global technology and engineering company providing innovative solutions for customers in industrial, commercial, and residential markets. Our Emerson Automation Solutions business helps process, hybrid, and discrete manufacturers maximize production, protect personnel and the environment while optimizing their energy and operating costs. Our Emerson Commercial and Residential Solutions business helps ensure human comfort and health, protect food quality and safety, advance energy efficiency, and create sustainable infrastructure.
For more information about Emerson or other products, click here to go to Utility Products' website.