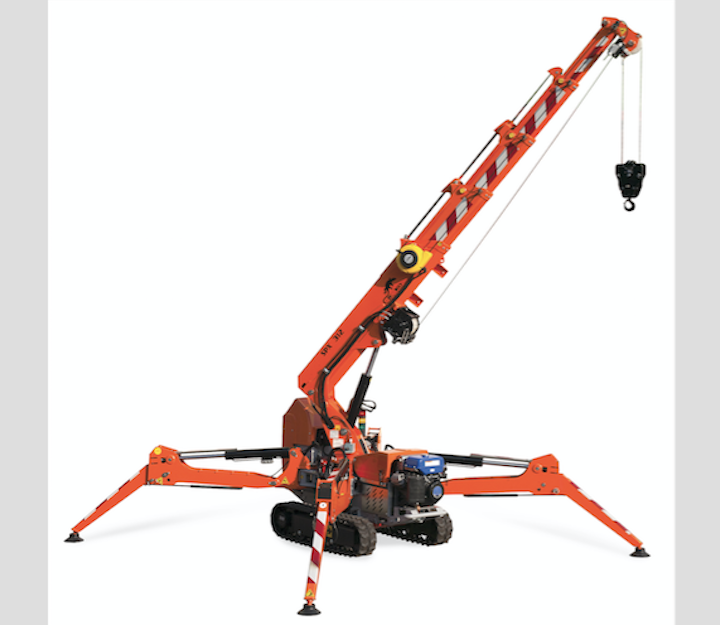 Construction equipment: The Jekko SPX312 minicrane features a maximum boom extension of nearly 25' and lifting capacity of 2,640 pounds. Just like all Jekko minicranes, the SPX312 features precise maneuvering capabilities in confined -- even interior -- jobsites and a state-of-the-art, man-machine interface.
The SPX 312 operates well in sensitive areas like utilities, water treatment plants and refineries. It offers a larger display that shows allowable work areas based on outrigger setup, and provides the operator with the ability to set precise perimeter limitations. The 312 can take programmed data of load position, lifting load, and allowable working area, to create a "virtual wall" to protect the areas surrounding the crane's operating area.
In addition, the SPX 312 be driven directly to a specific task site inside a facility, lift or move a load of a few thousand pounds, and be removed with minimal disruption to the work area. All Jekko minicranes are available in fully electric models that are quiet, as well as exhaust- and leak-free for interior use. The 312 exerts minimal pressure -- approximately 17 psi -- via its outriggers, making them even more beneficial in work areas with sensitive interior or exterior footing.
JekkoUSA is the exclusive U.S. distributor of Jekko minicranes, compact crawler cranes designed to offer maximum lifting capabilities, precision control and safety in limited or confined work areas. JekkoUSA has 65 certified service locations across all 50 states.
For more information about JekkoUSA or other products, click here to go to Utility Products' website.