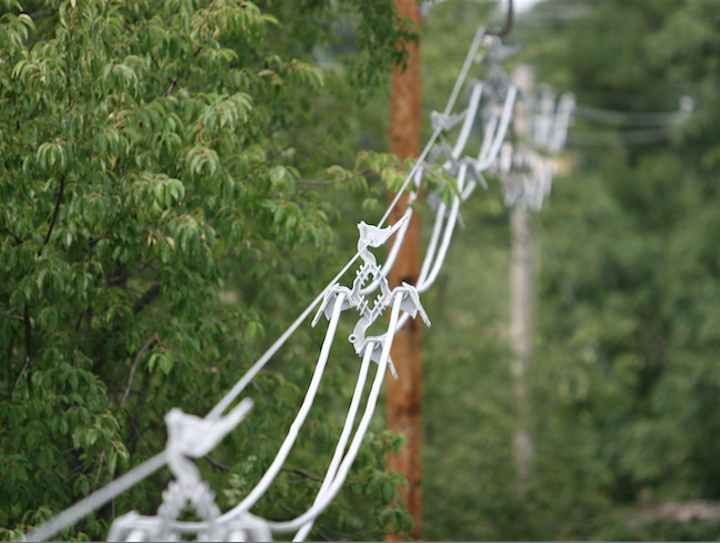 Power distribution: At DistribuTech 2018, Marmon Utility showcased their Hendrix Aerial Cable Systems (ACS) and their full line of high quality aerial cable products and services that enhance grid reliability, improving SIADI and SAIFI metrics.
Representatives from Hendrix ACS provided expertise on the benefits of their aerial cable systems for distribution circuits, and their 69kV transmission cable system for increased reliability and reduced vegetation management in urban, suburban and rural areas.
Where reliability is critical, Hendrix ACS are ideal for challenging 15kV to 69kV overhead conductor installations including substation exits, underbuilds, long spans, narrow right-of-ways, environmentally sensitive areas and heavily wooded applications. Hendrix ACS is designed for strength, featuring three covered conductors supported by a heavy gauge messenger wire, and it is ideal for power systems exposed to harsh conditions. The covered conductors of Hendrix are also ideal for fire mitigation, as they're less apt to spark if a pole happens to come down in a storm or fire.
Hendrix works with customers to maximize system reliability and installation efficiency. Engineers at Hendrix consult with utilities to custom-design installations on the most challenging sites; provide project management services from initiation of the project to testing when the circuit is energized; handle material procurement, shipping, kitting and labeling of optimized cable lengths; coordinate installation even in remote locations; and develop preventive maintenance programs that keep power systems functioning reliably for years.
About Marmon Utility
Marmon Utility is a solutions provider to the electrical power industry. Through its two business divisions – Kerite and Hendrix – Marmon Utility offers a portfolio of products and engineering services that include high voltage and medium voltage power cable, aerial cable systems, and molded polyethylene insulator products. Headquartered in Milford, NH, Marmon Utility is a Berkshire Hathaway company.
Hendrix Aerial Cable Systems
Hendrix designs, manufactures, installs, and services Aerial Cable Systems for domestic and international utilities. Hendrix Aerial Cable Systems provide a solution for utilities seeking to reduce outages, harden systems, protect wildlife, and increase the reliability of problem circuits. Headquartered in New Hampshire, Hendrix is a business division of Marmon Utility, a Berkshire Hathaway company.
For more information about Hendrix or other products, click here to go to Utility Products' website.