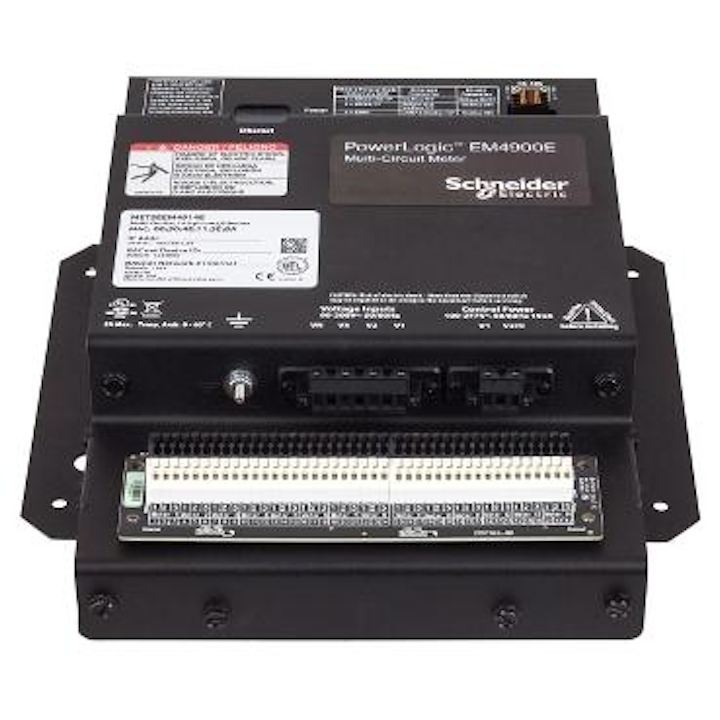 Energy management: Schneider Electric, a provider of digital transformation of energy management and automation, announced its new EM4900 series Multi-Circuit Power Meter, which monitors multiple independent loads via a single device and lowers the equipment and installation costs of metering systems. The EM4900 series meters make it easy to add multiple revenue-grade metering points without having to purchase, mount, wire and commission individual energy meters. In addition, Schneider Electric has also enhanced features for its iEM3000 series meters to help facilities become more energy efficient and are now fully compliant with energy codes that require resettable historical peak demand.

• EM4900 series meters allow building owners to add up to 28 three-phase meters by installing one device, minimizing cost and space per meter
• New features for iEM3000 series meters help facilities become more energy efficient, and reduce installation and commissioning costs
"Today's building operators know how much energy their buildings consume, but they struggle to understand exactly where energy is being used to know how to further reduce consumption," said Denis Arnaud, global offer manager, Schneider Electric. "The EM4900 series ensures life is on by extending energy management effectiveness by monitoring more load points per device and providing a more detailed view of where energy is used so facility managers can make smarter decisions that drive energy savings."

The EM4900 series meters are ideal for a wide variety of large building and multi-tenant environments including hotels, hospital and university campuses, airports, large office complexes, retail malls and industrial buildings. The meters are installed as a single, compact device with common voltage inputs and communication interface that can measure the current, voltage, power and energy consumption of up to 14 three-phase circuits with a single board or 28 three-phase circuits with a two-board configuration. In addition, Total Harmonic Distortion (THD) monitoring provides opportunities to augment the energy efficiency and reduce early wear and tear of the electrical equipment. EM4900 series meters can be mounted directly in the panel being monitored or in one enclosure and require less physical space than individual meters.

When installed, the EM4900 series meter easily integrates within connected products of
Schneider Electric's EcoStruxure platform to provide building and energy managers with data that can improve energy efficiency up to 20 percent. All EM4900 models are equipped with industry-standard Modbus protocol for simple integration with Electric Power Monitoring Systems (EPMS). Models with BACnet protocol additionally provide a simple means to integrate with Building Management Systems (BMS).

Additional features of the EM4900 series meters include:
• Flexibility to select four- eight- 14- or 28-meter models, which optimizes the cost per meter for any installation
• Two form factors to support a range of application needs, including an open board and an integrated Ethernet model with partial enclosure
• High reliability with ANSI Class 0.5 percent accuracy
• THD percentage for line-to-line and line-to-neutral voltage and current

The iEM3000 meters have been enhanced to include new features on four models, including the iEM3455, iEM3465, iEM3555 and iEM3565. With an efficient design, native support for a variety of protocols and seamless integration into networks, the IEM3000 meters reduce installation and commissioning costs. Users can choose either fixed block or sliding block mode demand calculation with selectable interval. In addition, these iEM3000 meters are now fully compliant with energy codes that require resettable historical peak demand, allowing historical peak demand to be manually reset through the front panel display or through communications.

For more information about Schneider Electric or other products, click here to go to Utility Products' website.