Energy management: Mobile communications solution increases read rates, decreases drive time
Power management: Sensus FlexNet EasyLink mobile communications solution provides new flexibility in AMR for electric, water and gas and utilities. System simultaneously reads Sensus FlexNet SmartPoints and ERTs.
Jan 25th, 2018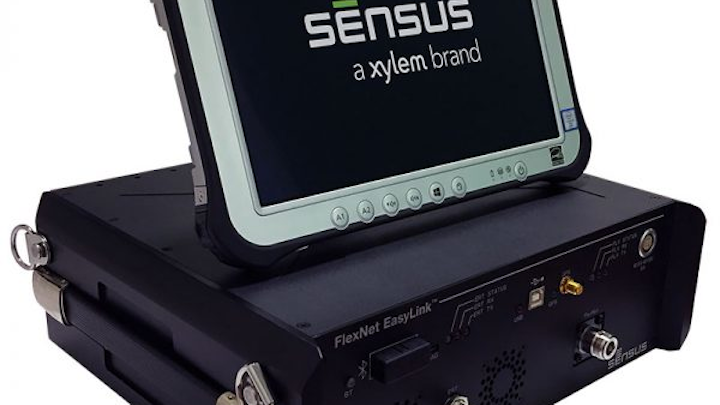 Energy management: Sensus FlexNet EasyLink™ Mobile Communications is a new solution for utilities that will increase read rates and decrease drive time. The portable, radio-based device easily acquires data from electric, gas and water meters. It is a simple, cost-effective way to simultaneously read Sensus SmartPoint® modules and ERT radios. Whether utilities want to continue drive-by, automated reading solutions or have flexible migration paths to advanced metering infrastructure (AMI), Easylink is a perfect solution.

"With more than 60 million encoder receiver transmitters (ERTs) deployed for drive-by, automated meter reading (AMR), utilities have a choice: continue replacing the legacy assets to maintain the status quo or completely replace their entire system with AMI all at once," said Sensus Vice President of Global Electric Marketing Greg Myers. "EasyLink provides an effective alternative to upgrading ERT technology without stranding utility assets."

The EasyLink solution is fast, flexible and future-proof. Utilities can replace failed or aging ERTs with SmartPoints and continue to drive the same routes using the EasyLink solution to read both types of devices. The technology also enables utilities to easily migrate to advanced metering infrastructure (AMI).

The one-box, portable technology consists of:

• FlexNet EasyLink Reader: a portable, radio-based device to read multiple meters that is compatible with various meters and billing systems
• FlexNet EasyLink Workbook Application: an on-screen map that allows users to view routes and status via real-time data
• FlexNet EasyLink Workspace Application: a comprehensive software program that produces customized management reports and integrates with billing systems

The FlexNet® communication network communicates via dedicated, FCC-licensed spectrum, ensuring secure and reliable data transmissions. The network supports the EasyLink applications so utilities can capture and analyze more data for optimal operational efficiency.

"EasyLink is a smart solution for utilities looking for greater performance," said Sensus Vice President of Communications Solutions Marketing Randolph Wheatley. "With the higher transmission power of FlexNet, SmartPoints can be read at greater distances, leading to further efficiencies for smart utilities."

Get the facts about the EasyLink solution. To see a demonstration, visit Sensus at booth 2342 during the January 23-25 DistribuTECH Conference in San Antonio, Texas.

About Sensus
Sensus helps a wide range of public service providers—from utilities to cities to industrial complexes and campuses—do more with their infrastructure to improve quality of life in their communities. We enable our customers to reach farther through the application of technology and data-driven insights that deliver efficiency and responsiveness. We partner with them to anticipate and respond to evolving business needs with innovation in sensing and communications technologies, data analytics and services.
About Xylem
Xylem (XYL) is a leading global water technology company committed to developing innovative technology solutions to the world's water challenges. The Company's products and services move, treat, analyze, monitor and return water to the environment in public utility, industrial, residential and commercial building services, and agricultural settings. With its October 2016 acquisition of Sensus, Xylem added smart metering, network technologies and advanced data analytics to its portfolio of solutions. The Company's nearly 16,000 employees bring broad applications expertise with a strong focus on identifying comprehensive, sustainable solutions.
For more information about Sensus or other products, click here to go to Utility Products' website.