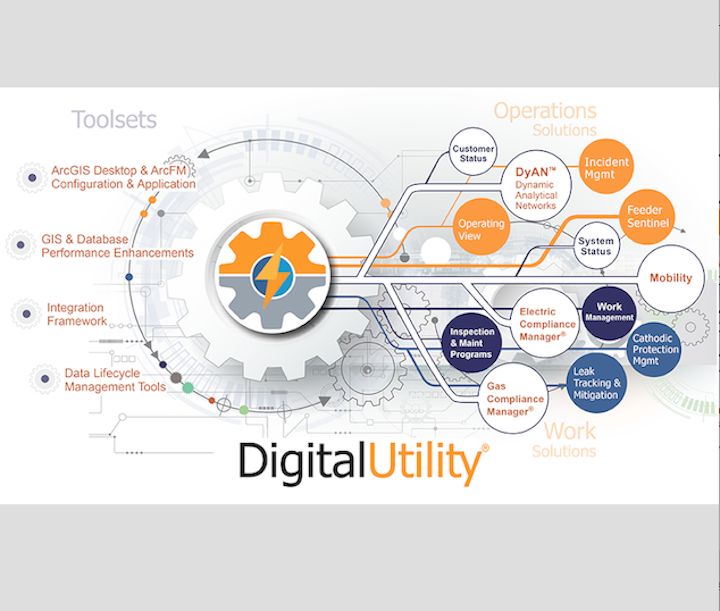 Energy management: Schneider Electric and UDC announce plans to strengthen their historic partnership. Accordingly, Schneider Electric has become a certified reseller of UDC's Digital Utility® framework solutions including Compliance Manager® and the DyAN™ solution which offers dynamic analytics for operations.

The Schneider Electric and UDC solutions for electric and gas utilities enable designing, as-builting, planned maintenance of utility assets, publishing and maintaining compliance. UDC's Compliance Manager seamlessly integrates the network data and provides configurable planned maintenance programs which enables regulatory compliance, helping to save time and money for large, medium and small utilities. As the exclusive reseller of Compliance Manager, Schneider Electric will position Compliance Manger as the visual compliance management application that takes over where the ArcFM Solution leaves off in the asset lifecycle workflow. UDC and Schneider Electric will coordinate on-solution implementation and integration services with UDC providing any ongoing maintenance for licensed Digital Utility® customers.

The Digital Utility® suite of solutions expands on the capabilities of Esri® ArcGIS® and Schneider Electric's ArcFM™ solution, leveraging functionality developed in a broad range of utility clients and addressing the distinctive needs of utilities for supporting compliance, operations and reliability. "Our partnership allows both Schneider Electric and UDC gas and electric clients to leverage GIS across the Enterprise," said UDC executive vice president Bill Nantell. "Through the combination of our technologies and expertise, utility compliance functions are able to meet the increasing standards of the PUC in response to severe weather and natural disasters. In addition, operations data can be more readily interpreted and understood by adding a spatial component to the mission critical functions of the business."

"The utility industry is rapidly evolving and central to its transformation is the ability to gather, interpret and share the best GIS data," said Jay Stinson, general manager at Schneider Electric. "Together, our solutions deliver broader visibility into gas and electric operations and equip them with the tools they need to work smarter, respond faster and meet both regulatory and customer expectations. We're pleased to strengthen our alliance with UDC."

Schneider Electric is a global specialist in energy management and automation and leader in Geographic Information System (GIS) solutions for utilities and communication providers. An extension of the Esri ArcGIS platform, Schneider Electric's ArcFM Solution enables electric, gas, water, wastewater and telecom utilities to edit, model, maintain and manage facility and land base information while making use of a single integrated environment to manage and map multiple assets. ArcFM allows the utility to view and maintain data using their own company-wide business rules, including applications to configure their data models and tools for collaboration. Schneider Electric's recently released ArcFM Editor XI is the first Esri partner solution to be built on the Utility Network.

UDC is a digital transformation leader providing a complete set of GIS services to its gas and electric utility clients from solution architecture and design, implementation, application development and deployment to system integration, consulting and program support. A Schneider Electric ArcFM Business Partner since 2010, UDC offers comprehensive support of Schneider products and technology and assists to fully deploy the products making them work to the greatest capacity for users and their business. Utilizing Schneider's ArcFM solution, UDC develops tools for improving the quality of their client's data.

UDC and Schneider look forward to growing and strengthening our partnership and together broadening the group of GIS users within utilities and increasing support for their programs.

About Schneider Electric
Schneider Electric is the global specialist in energy management and automation. With revenues of ~$30 billion in FY2015, our 160,000+ employees serve customers in over 100 countries, helping them to manage their energy and process in ways that are safe, reliable, efficient and sustainable. From the simplest of switches to complex operational systems, our technology, software and services improve the way our customers manage and automate their operations. Our connected technologies reshape industries, transform cities and enrich lives. At Schneider Electric, we call this Life Is On.

About UDC
UDC is a spatially focused company centered on automating gas and electric utilities. We provide a full set of GIS services and solutions from design, consulting and architecture to implementation, application development, deployment and system integration.
For more information about UDC's Digital Utility® or other products, click here to go to Utility Products' website.