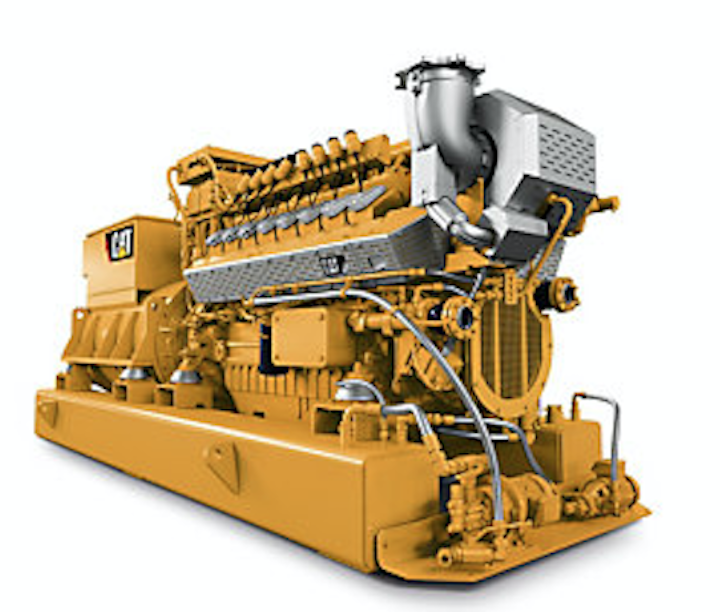 Energy management: Caterpillar Inc. has announced the release of the new Cat® CG132B, the first natural gas generator set in its class engineered to meet an electrical efficiency of 43.5 percent. Rated for continuous power at 400, 600 and 800 kW for both 50 and 60 Hz, this generator set is now available for public utility, agricultural biogas, landfill, sewage plant, and mining applications, along with industrial and/or commercial facilities.
With an updated package design, the CG132B introduces state-of-the-art components to increase overall plant efficiency. A flanged generator set concept includes a vibration-decoupled base frame to lower installation costs while improving reliability. The turbocharger is now water cooled and features a wider combustion air temperature window.
"The new CG132B was designed to increase efficiency and meet the evolving challenges of the power plant industry," said Christian Oertel, product support manager. "The modified combustion chamber decreases knock sensitivity and pollutant emissions while also reducing service requirements."
Oil change intervals have significantly improved due to enhanced oil management. Operation hours (oh) until the first major overhaul have been increased from 64.000 oh to 80.000 oh for natural gas applications allowing for more economical operation.
In addition, the CG132B features Caterpillar's fully digitized Total Plant and Energy Management (TPEM) system. Responsible for controlling all power plant data within an advanced hardware and software solution, this new system eliminates the need for multiple controls. It also features a user-friendly 15-inch touchscreen, which provides a wide range of data concerning the status of the power plant. The data is saved for up to one year, enabling shorter maintenance times through systematic planning. The TPEM system meets the latest ISO 27001 standards.
"TPEM software provides comprehensive digital control over efficiency and performance. With complex applications and custom circuitry, modern energy plants require automation and closed-loop control with maximum operating security and seamless communication," said Michael Dressler, product line manager.
For more information about Caterpillar or other products, click here to go to Utility Products' website.