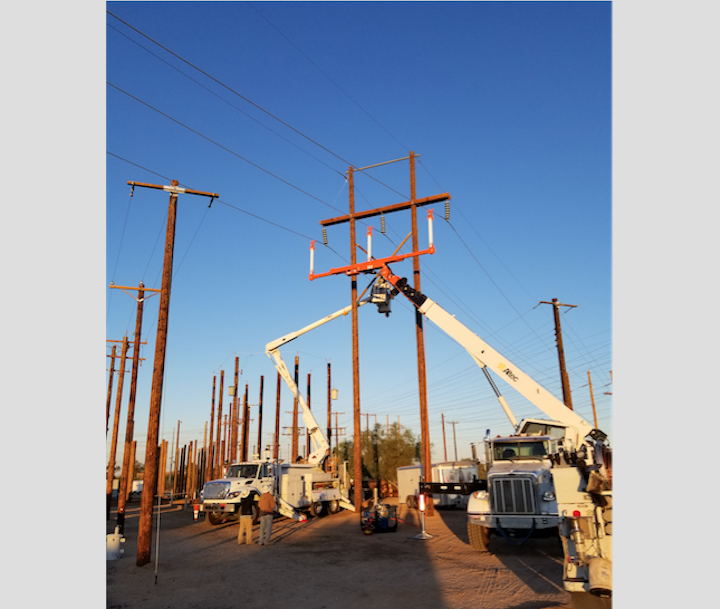 Construction equipment: LineWise will be conducting a demonstration of its TLL-1300 Triple Line Lifter on May 31, 2018 in a location east of Cincinnati. Demonstrations will be ongoing from 9:00 a.m. to 5:00 p.m., illustrating the product's unique abilities to simplify and shorten the process of supporting three phases of energized conductors, often doing the same job in 50-percent less time than traditional methods. The exact location of the event will be determined the week of the demo.
Attendees will get a firsthand look at many of the TLL-1300's features in action, such as the remote-controlled hydraulic articulation and hydraulic extension and retraction of the outside phases. Using the remote control, the unit can switch from a horizontal to vertical configuration, and the spacing between insulators can be adjusted from 6.5 feet to 14.5 feet to capture the outer conductors.
Constructed of high-strength steel, the maximum capacity for the TLL-1300 is 1,300 pounds per conductor, or 3,900 pounds overall. The unit features holding valves on all cylinders and a manual override control valve. It can be powered by a separate ground-level hydraulic power unit featuring a 10-horsepower diesel engine or by utilizing the crane or boom truck's hydraulics instead.
Those interested in attending the demonstration and/or learning more about the product should call 254-757-1177 or e-mail Noah Gutierrez at noahg@diversifiedproduct.com.
LineWise is a division of Diversified Products. The company designs, engineers and manufactures a full line of utility products, including line lifters, insulated work platforms, phase lifters, transmission temporary conductor supports and the Buddy Bushing transmission hardware reinforcement system.
For more information about LineWise or other products, click here to go to Utility Products' website.