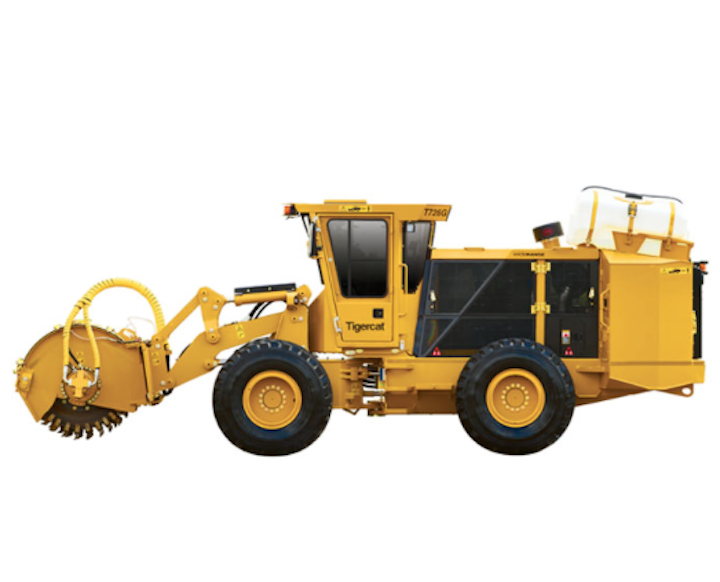 Construction equipment: The Tigercat T726G street trencher is specially designed to cut asphalt and steel-reinforced concrete road surfaces. The attachment trenches below grade, pulverizing the material and backfilling in one pass.
Access under-road utilities quickly and efficiently with the Tigercat T726G street trencher.
With a single machine and one operator, the Tigercat T726G street trencher combines several distinct operations into a single step. As the pavement is cut, the drum simultaneously trenches below grade and crushes the surface material into a mixture suitable for backfill.
No disposal costs
All costs associated with hauling and disposing of large chunks asphalt or concrete are eliminated, along with dump trucks and excavators on site.
No backfill required
Because the machine backfills the trench as it cuts, traffic is able to cross the job site sooner and without the need for additional materials such as steel plating. No additional backfill is required.
Tigercat build quality
Street trenching is a demanding, high duty cycle application. The Tigercat carrier is specially designed to handle the task — with the required power for high productivity and the durability to withstand the associated forces and vibration.
Tigercat power. Tigercat support.
The T726G street trencher is Tier 4f powered. Tier 4f conforms to the latest emissions standards in North America and Europe. Best of all, Tigercat FPT engines are fully supported by Tigercat and the Tigercat dealer network.
Contact StreetWorksUS, the North American distributor of the T726G street trencher.
Key Benefits
• Tigercat FPT C87 engine with Tier 4f emissions compliance – clean, powerful and efficient; fully supported by Tigercat
• High capacity cross-flow cooling – automatic variable speed for improved fuel efficiency; automatic reversing cycle to purge dust and debris
• Industry leading operator's station. Large and well finished with excellent visibility and a refined climate control system.
• Extremely durable design and construction with heavy duty front chassis and boom system and strong, well-guarded cylinders
• Super-durable, long-life center section is constructed with thick steel plate, large diameter pins and tapered roller bearings
• Clear access to engine, hydraulic components, filters and other service points for painless maintenance routines
For more information about Tigercat or other products, click here to go to Utility Products' website.