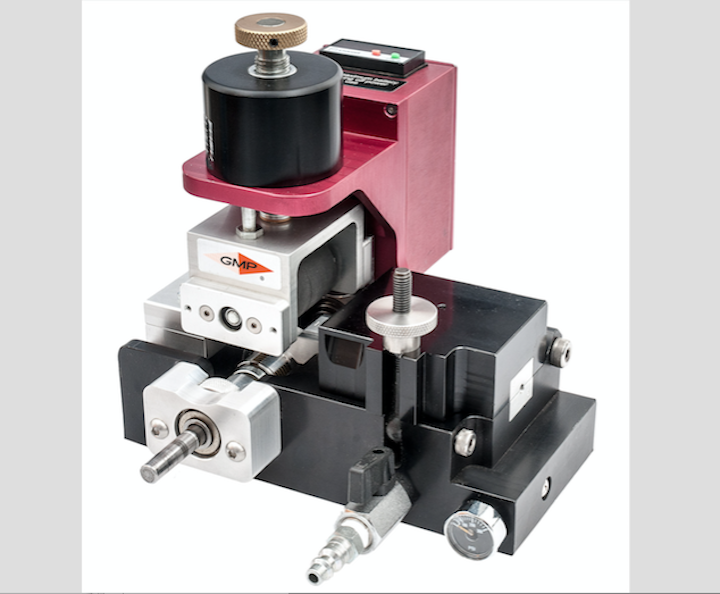 General Machine Products (KT), LLC, a subsidiary of Klein Tools, introduces the Gentle Air Micro Fiber Cable Blower (P/N 89916) to its growing line of fiber optic cable blowing equipment. Engineered to install micro fiber cable into pre-installed 4 to 7 mm (.15 to .27 in.) diameter microduct, the Gentle Air Micro Cable Blower (Gentle Air) will place 1.0 to 3.0 mm (.03 to .11 in.) diameter cable at speeds up to 90 m/min (300 ft/min) per minute. This, along with its low maintenance and high durability makes the Gentle Air an excellent value.
Powered by a conventional, cordless drill (not included), a drive roller with precision clutch introduces the micro fiber cable into the microduct's opening. The clutch feature enables the operator to select a custom torque range (zero to infinity). From there, compressed air propels the cable throughout the length of the microduct to its destination.
Ideal for smaller jobs where traditional, larger blowing machines are unsuitable, the Gentle Air's versatility, compact size and portable maneuverability make it perfectly suited for both interior and exterior fiber cable placement applications.
Other Features Include:
• Electronic monitoring system provides digital read-outs of speed and distance
• Lightweight, precision machined, and durable construction
• Integral air valve and pressure gauge
• Can be operated by a single person
• Backed by GMP's 80-years of engineering integrity and defect-free products and services
More information about the Gentle Air Micro Cable Blower is available online at: https://www.gmptools.com/gentle-air-blowin-fiber-machine/, by calling 215-357-5500, or by email sales@GMPtools.com.
About General Machine Products (KT), LLC
For more than 80 years, General Machine Products (KT), LLC (GMP), a subsidiary of Klein Tools, is recognized as a premier global supplier of a wide range of products for the telecommunications, power utility and cable television industries, and the contractors who serve them. Product applications include the placement of fiber optic, copper conductor, and coaxial cable both aerially and underground.
GMP aerial cable lashing machines, Adams® continuous duty winches and fiber optic cable pullers are accepted as the industry standard. The complete line of GMP's 1,100+ products also includes cable reels and aerial blocks, cable cutters, unique RJ plug pressing tools, fiber optic cable blowing equipment, and other specially-designed tools for the data, telecommunications, and power utility markets.
The facility features a 100,000-square-foot manufacturing area located in Trevose, PA, in suburban Philadelphia. The plant is equipped with a full complement of technologically advanced machine tools manned by a well-trained team of craftspeople.
For more information about General Machine Products (KT), LLC (GMP) or other products, click here to go to Utility Products' website.