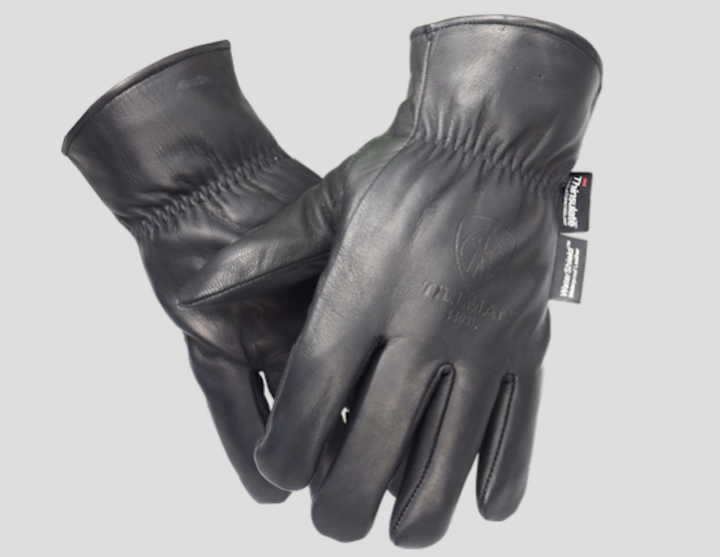 Work gloves: Tillman's new 1403 winter driver's glove features supple, yet durable, top grain Goatskin for unsurpassed dexterity with that broken in feeling right off the shelf. To help keep your hands dry, WaterShield™, a molecular coating, has been impregnated into the leather for outstanding water and liquid resistance.
Lightweight yet warm, 100 Gram Thinsulate C40 insulation for cold temperatures keeps your hands warm and toasty in any winter activity. A shirred elastic wrist holds the gloves in place, keeping snow and debris out of the glove.
The Tillman 1403 is available in four sizes, M-2XL, and are ideal for many industries including construction, maintenance, municipal services, manufacturing and anywhere it's cold.
About John Tillman Co.
In 1928, the John Tillman Co. was formed to provide personal protection solutions for welders and other industrial workers. Founded in the Southern California "oil district" of Signal Hill, Tillman quickly rose to be known as the top manufacturer of quality welding gloves and leather protective garments. Tillman's product line has grown from a handful of welder's gloves in 1928 to over 1,000 items. Tillman's core product lines include welding gloves (Stick, MIG, TIG), Drivers, Work, TrueFit (mechanics style), Specialty and High Heat gloves, Clothing (leather, lightweight flame retardant, high heat), Welding Blankets, Curtains/Screens, and Accessories. John Tillman Co. is headquartered in Compton CA.
For more information about John Tillman Co. or other products, click here to go to Utility Products' website.