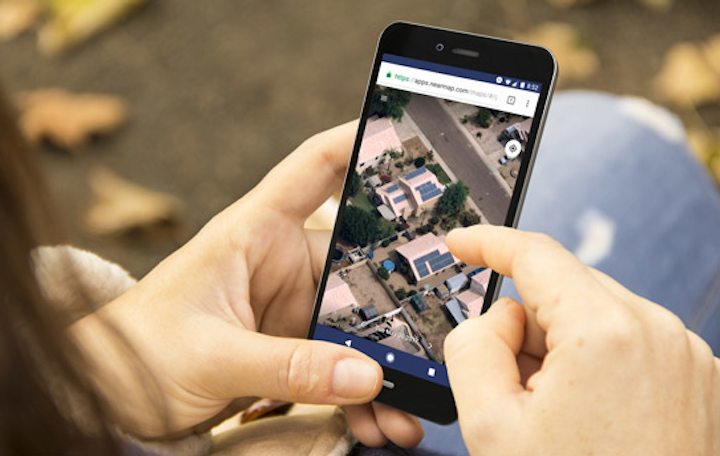 Utility tools: Nearmap, a location content provider specializing in high-resolution aerial maps, launched new forms of location content—Nearmap Panorama and Nearmap Oblique—available through a new MapBrowser™ interface.
Nearmap has long provided vertical imagery, allowing contractors, engineers, architects, governments, utility and telecom professionals to unlock opportunities that consistently improve decision-making and transform the way they work. It now extends its location content to include new aerial geospatial data services—Nearmap Panorama and Nearmap Oblique imagery.
Nearmap Panorama is unique since it enables users to view perspective maps in all cardinal directions for small or large areas in uninterrupted fashion. Users do not need to jump from one image to another and, in the process, lose context. They can easily navigate, pan and zoom across any size geography, quickly analyze perspective maps and make faster decisions that impact government and commercial operations—all within an instantly accessible, 100 percent cloud-based environment.
Nearmap Obliques enable users to interactively inspect and measure the height of features, such as buildings and terrain, from all cardinal directions. Nearmap Oblique images are also accessed through the new MapBrowser.
This imagery is applicable in many industries. For example, utility operators are responsible for endless miles of high tension wire, buried assets and other critical nodes. They are managing this and reducing utility risk with Nearmap Panorama and Nearmap Oblique imagery. They also:
• Reduce onsite visits: Inspection crews can remotely scan hundreds of miles in a fraction of the time, without the risk. High-resolution overhead maps help to ensure transmission continuity, detect broken insulators and inspect tower integrity. More importantly, remote infrastructure surveys help actively deploy crews when and where they're most needed.
• Track location assets: With current, detailed aerial photography, utility companies and public works can effectively track large utility inventories. Mapping location assets reduces downtime through better PM scheduling, and leads to faster service dispatch and deployment.
• Data layers: GIS output quality can be severely limited by poor satellite imagery. High-resolution aerial imagery provides crystal clear precision for data layers used for location planning, construction management, line routing and easement.
"Our customers need location content aligned with their requirements," said Natasha Ridley, product manager for MapBrowser. "With Nearmap Panorama and Oblique, organizations optimize their operations, saving time and money. Users can quickly select a north, south, east or west orientation, measure heights of structures and better plan changes."
Users working within MapBrowser can switch from Nearmap Vertical to Nearmap Panorama or Nearmap Oblique location content. "We've added new features that our customers are going to be very excited about," said Ridley. "For example, now users can export our imagery with measurements added. The saved image provides the whole picture, which is very useful in proposal development and communicating specific aspects of the aerial maps essential in planning and operations."
About Nearmap
Nearmap brings the real world to you. We capture, manage and deliver the most current location content in the world, allowing businesses and governments to explore their environment easily. With Nearmap, organizations unlock opportunities that consistently inform decision-making and profoundly transform the way they work. Our high-resolution, frequently updated aerial imagery is 3-inch GSD, better than satellite imagery. Delivered within days of capture, Nearmap shows changes over time. Users save time and money, reduce site visits, and efficiently plan with current, clear imagery.
Nearmap is delivered through a refreshingly easy-to-use interface called MapBrowser™ or accessed via Esri® and Autodesk products.
For more information about Nearmap or other products, click here to go to Utility Products' website.