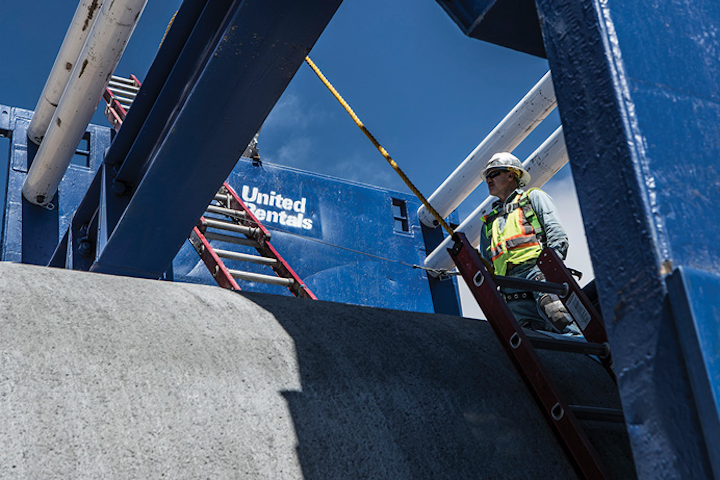 Five questions that will help guide your decision
By Chad Lindsley
The trench and excavation work that takes place in utility projects represents some of the most dangerous jobs in construction. The work often takes place in congested areas, on public roads or at building sites. A cubic yard of soil weighs as much as a car, so a trench collapse can kill in minutes. According to data from the Bureau of Labor Statistics, between 2011 and 2016 there were 130 fatalities occurring in trenching and excavation operations.
Protective equipment to improve worker safety and productivity has become notably better with advancements in both manufactured systems using tabulated data and site-specific engineered solutions. Lighter-duty shields with high-arch clearance, cut-outs and guide frames give utilities and contractors more options to manage the quality, production and safety of their projects.
The Occupational Safety and Health Administration (OSHA) requires companies to install protective systems whenever they are excavating at a depth of five feet or more. With four types of viable, OSHA-approved protective solutions available (sloping, benching, shoring and shielding), utilities and contractors must understand how to choose the most effective system for a jobsite.
As companies evaluate their projects, here are five questions that can provide a guide in selecting the right trench protection system.
1. Why are you excavating?
Answering this question helps determine the size of the protective system that a company might want to use. When organizations are installing a large system, such as an electrical vault, they will likely choose a different protective system than a team installing a long, linear run of gas pipe or water main. Also, if a company is installing a large, pre-cast structure that it wants to crane in and set down in the excavation while also protecting workers, having a large amount of clear span is required to do work. For instance, a company would not want to have multiple cross-braces in the trench because they would be in the way when the pre-cast structure is installed.
2. What's the size of the excavation?
The width, depth and length of the excavation will impact the size of the protective system that is needed. For shallower installations, companies will typically use lightweight aluminum trench boxes, modular trench boxes or lightweight vertical hydraulic shoring. Deeper excavations will require heavy-duty steel trench boxes, slide rail systems, bracing with a beam, plate or sheeting, or hydraulic bracing.
3. Are there any adjacent structures, surface encumbrances, groundwater issues or overhead obstructions?
Some shoring systems are installed using a crane or an excavator, so if there is an overhead obstruction, a company might not be able to set up that type of system. For a shallow excavation, a project team might choose a lightweight aluminum protection system that could be installed by hand. For deeper or larger excavations, companies might have to move the obstruction in order to install a trench protection system.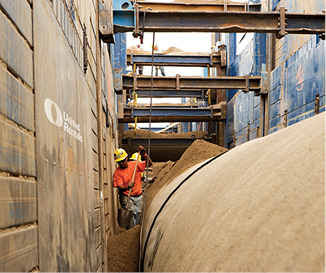 When digging or excavating near a building, a positive shoring system not only protects workers but also prevents any ground movement that could affect adjacent buildings.
4. What types of soils are you working in?
OSHA classifies soils as either stable rock or Type A, Type B or Type C soil, based on the soil strength and stability. Knowing the type of soil is essential when it comes to the depth ratings for various types of protective equipment. For example, an organization might have a steel trench box that in Type B soil is rated to 20 feet in the ground but in Type C soil, because it is a poorer soil, it might only be rated to 16 feet. So, knowing the soil determines what a company can and cannot do with shielding and shoring equipment.
5. What type of working area do you have on the jobsite?
The use of sloping or benching systems often requires a mass excavation of dirt. That means a project team will need an appropriate-sized area in which to store the dirt. This situation can be problematic if a company is working in a downtown environment with buildings and roads around the jobsite. That may mean sloping and benching protective systems won't work because there is not enough room. If a company is digging or excavating near a building, it will want a positive shoring system not only to protect the workers, which is most important, but also to prevent any ground movement that could affect the adjacent buildings.
Looking Beyond Equipment
In addition to equipment, the "people aspect" of a trench protective system plays a critical role in project success. When looking at personnel, two areas stand out: the role of a competent person and safety training.
Per OSHA, every excavation requires a competent person, one who has been trained to inspect trenches and identify existing and predictable hazards or dangerous working conditions in the surrounding area. Inspections must cover every aspect of excavation, safety and shoring equipment, and details such as soil type, work in adjacent areas, the possibility of vibrations and weather conditions.
Pre-work hazard inspections also include ensuring workers have the appropriate protective equipment. The competent person must have the authority to remove employees from dangerous areas and deploy corrective measures if necessary.
Regarding training, the challenges of jobsite safety and productivity are something companies face every day. Lectures with minimal classroom engagement are not enough. Companies need to look to dedicated resources that offer quality safety training along with support outside the classroom — including jobsite consultation, engineered designs and safety equipment.
Courses such as excavation safety for competent person instruction, confined space entry training, fall protection, site-specific regulatory compliance and operator certifications for equipment can truly support an organization's ability to maintain worker safety while also boosting project productivity.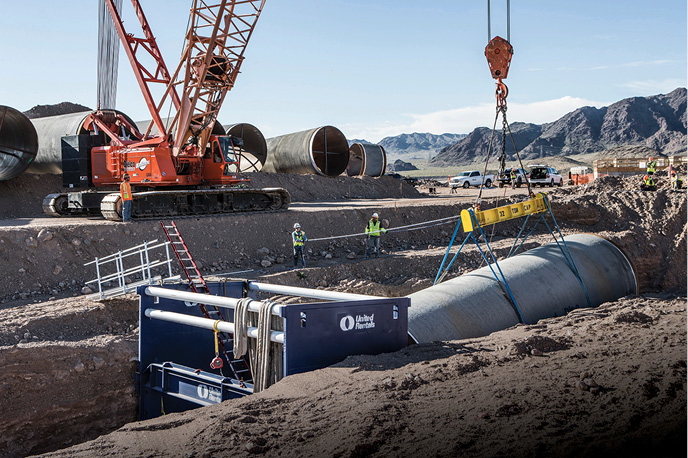 The width, depth and length of an excavation will impact the size of the protective system that is needed.
Ensuring Project Safety and Productivity
As utilities and contractors work to set in place the right trench protection system for a jobsite, it is important to consider third-party resources that can address areas that are beyond their typical scope of performance or experience. These resources can help companies fill gaps in a range of areas including specialty equipment, classroom training, pre-bid analysis on protective system solutions, on-site consultation, and engineering designs that can be applied successfully on a project.
The ultimate trench protection goals for organizations are ensuring safety and productivity. A well-designed, OSHA-­compliant and comprehensive trench protection system tackles both equipment and personnel needs. With these requirements addressed, utilities and contractors will not only provide safe jobsites but also enable personnel to be productive in delivering quality work on time and within budget. UP
The Author: Chad Lindsley is a region product development manager at United Rentals® Trench Safety, representing the Trench Safety Division with national account customers. Visit www.unitedrentals.com to learn more.