3 Things Utility Leaders Should Know About Fall Protection
By Chad D. Lingerfelt
Despite the increased focus on safety and safety standards in recent years, workplace injuries are ubiquitous across American work sites. According to the National Safety Council (NSC), a worker is injured on the job every seven seconds. That means by the time you finish reading this article, approximately 30-40 people will have been injured on average. Installation, maintenance and building repairs are all activities that the NSC includes in its top five list of injury-prone occupations.
What's more, many detrimental workplace injuries are related to one specific type of accident: falls. According to the Bureau of Labor Statistics, there were 697 fatal falls from a higher level to a lower level among commercial and residential contractors in 2016. The prevalence of fall-related injuries may stem from a lack of knowledge or adherence to safety practices by workplace environment and utility company leaders, who are often responsible for ensuring secure working practices.
OSHA and Fall Protection
As a utility leader, you are most likely familiar with regulations from the Occupational Safety and Health Administration (OSHA) that define safety concerns for workers. This year OSHA has prioritized fall protection through two points in its Top 10 Standards: List: #1 – Fall Protection and Construction, and List #8 – Fall Protection and Training Requirements.
More than just guidelines or best practices, these standards are not to be taken lightly. As of January 23, 2019, OSHA's penalty for noncompliance costs employers more than $13,000 for serious violations. Employers may be obligated to pay more than $13,000 per day for failure to adhere to a requirement, and about $132,000 for a willful or repeated violation. However, these fines are nothing compared to the loss of life of a professional due to a lack of effective fall protection.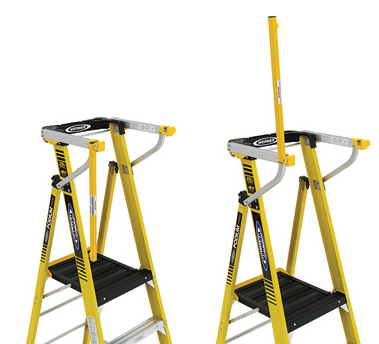 Werner Ladder's AC63 Podium Gate is an attachable ladder accessory that completely encloses the user at the top of the ladder, providing 360 degrees of support and contact when standing on the top step.
While navigating fall protection requirements can often seem complicated and overwhelming, utility leaders can help prevent serious accidents and OSHA fines by understanding and communicating three basic points to employees:
1. When to use fall protection
2. Understanding fixed ladders and fall protection
3. Additional ladder safety accessories
When to Use Fall Protection
First, utility professionals should understand what constitutes a fall protection system. Typically it includes a harness, lanyard, anchor, connecting device, retractable or vertical lifeline and corresponding accessories, all secured correctly. OSHA requires that employers ensure all pieces of personal fall protection systems are protected from being cut, abraded, melted or otherwise damaged, as even minor damage to a fall protection system can result in equipment malfunction.
While every environment is different, there are some risky situations that always require fall protection. For example, fall protection is essential when a utility worker is standing near either of the following work site scenarios:
• An unprotected edge — any side or edge (except at entrances to points of access) of a walking work surface where there is no wall or guardrail system of at least 39 inches.
• A hoist area — where a worker is raised or lifted by mechanical means. This could be classified as interior or exterior and requires the use of fall protection when a worker must lean through an access opening.
Fixed Ladders and Fall Protection
Many people assume that ladders replace the need for fall protection systems; this is not the case. While there are many scenarios in which fall protection could be paired with ladder use for enhanced safety, the use of a fixed ladder over 24 feet always necessitates the use of a fall protection system.
Safety requirements surrounding fixed ladders, which are vertical ladders permanently attached to a structure, building or piece of equipment, have recently been updated by OSHA. The administration recently phased in a safety requirement stating that any fixed ladder installed on or after November 19, 2018, must be equipped with a personal fall arrest or ladder safety system. It also prohibits the use of cages and wells after the phase-in deadline. Utility professionals should be aware of this update and ensure that they are using appropriate fall protection when climbing fixed ladders.
Fall protection can be used with a fixed ladder by extending from the individual who is climbing vertically up the ladder's height and secured to a tie off point on the building (see Fig. 1).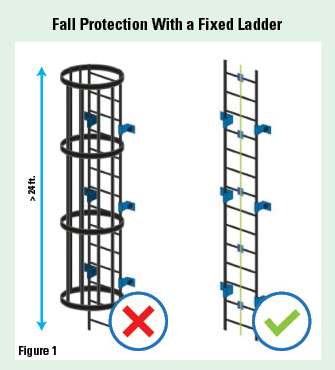 Additional Ladder Safety Accessories
Finally, it's helpful to consider alternative forms of protecting utility workers from potential falls. There are many instances when a professional will need to reach a certain height to perform the work at hand but may not have access to tie off a fall protection system. Guardrails, found on ladder styles like the Werner Podium Ladder, and attachable accessories, such as gates and stabilizers, are options for enhancing worker safety without traditional fall protection systems.
Guardrails are typically built into the construction of a podium-style ladder, providing users with more stability as they work. They're designed to help users access the full reach of the ladder while maintaining a point of contact for support. If a user is working on a podium ladder with a guardrail, an attachable gate can also be added as an accessory that completely encloses the user at the top of the ladder, providing 360 degrees of support and contact when standing on the top step.
Stabilizers for uneven ground can be outfitted to the foot of a ladder and at the top of extension ladders. Stabilizers can be added for a wider contact point with the object the ladder is leaning against.
While guardrails and attachable ladder safety accessories do provide extra security from falls, it's important to remember that they're not treated the same as fall protection systems under OSHA's requirements and should not replace these systems when they are explicitly required.
To provide the best and safest equipment, utility leaders should be attentive to the safety requirements that apply to the work taking place on site. Knowing when workers must be provided with fall protection is vital to improving health conditions, complying with OSHA regulations and prioritizing safety for your company's culture. UP
The Author: Chad D. Lingerfelt is the national safety training manager at WernerCo. In this role, he oversees all of Werner Ladder's fall protection and ladder safety training. For the past 32 years, Chad has worked in the safety field, making sure everyone goes home at the end of the day. To learn more about fall protection for each job type, visit www.wernerco.com.