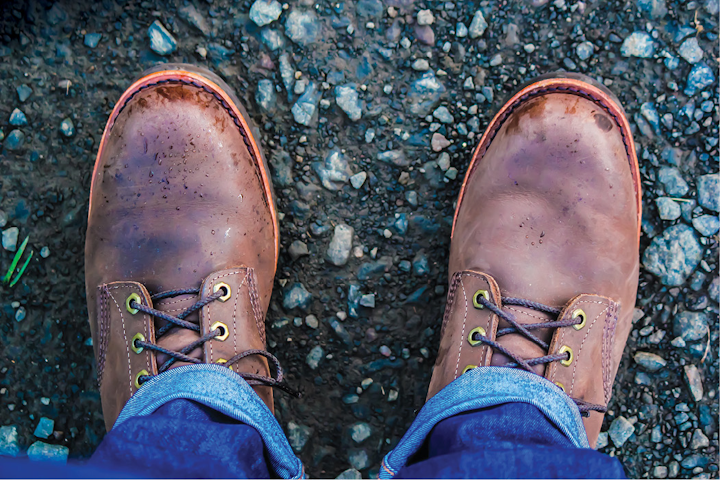 Photo courtesy of outdoorlessons/Pixabay CC0.
How to know if your footwear has enough slip resistance
for your workplace
By Karoly Ban Matei
Safety footwear is an important part of your day-to-day personal protective equipment (PPE). You depend on it not only to protect you from the impact of heavy objects but also to provide you with enough stability so you can move around without slipping and falling.
For years, OSHA has listed slips, trips, and falls as the most frequent causes of workplace accidents. Safety footwear with good anti-slip properties can, therefore, substantially decrease your risk of injury. But first, you need to make sure you're selecting the right kind.
Assess the Hazards
Selecting the right footwear starts with the hazard assessment process. What are the tasks that can result in slips and what qualities should your footwear have to prevent those incidents?
What footwear works best will depend on where you work (agriculture, construction, hospitality, mining, emergency) and what type of slip hazards you face (mud, oil, wet floors, cooking oil, water).
Look for Verified Slip Resistance
Many manufacturers will claim that their safety footwear is slip-resistant, but we shouldn't put our trust in their products unless that claim has been verified by a proven testing method.
One of the most common testing methods is the Brungraber Mark II, incorporated in the ASTM F1677-96 MARK II non-slip testing standard. Shoes that meet this standard have been adequately tested and will have proven slip resistance.
You should inquire with the manufacturer or the sales representative about the materials and methods used to determine the slip resistance. These tests are usually run on different materials (such as concrete, tile, and so on) on dry, wet, or hi-soil oily/ wet conditions, resulting in a coefficient of friction (COF) between 0.0 and 1. Ideally the safety shoe should have a high COF (over 0.5) tested in conditions fairly similar to the ones in your workplace. For example, a safety boot with a hi-soil oily/wet COF of 0.6 would be a good choice if you're working outdoors in muddy conditions.
Though these tests are rigorous and trustworthy, the testing is generally geared towards dry, wet, or oily conditions. That would be satisfactory for most safety footwear used indoors or used outdoors outside of the winter season. Most reputable manufacturers have developed their own cold/freezing weather technology that depends mostly on abrasive materials embedded in the sole's material, which provides boot adherence on ice and snow.
Know Your Needs and Get the Right Footwear
To make sure the footwear you're considering has appropriate slip resistance for your workplace, you need to know that it meets specific standards and that its COF has been tested against conditions close to the ones on your worksite. Preferably, you will also get a safety shoe or boot that has been built by a reputable company that takes testing seriously. UP
Editor's Note: This adapted article was reprinted with permission from Safeopedia and Saf-T-Gard. The original, Selecting the Correct Footwear to Prevent Slips, Trips, and Falls, can be viewed online at www.safeopedia.com.
The Author: Karoly Ban Matei has worked at a senior level (both as an employee and a contractor) for organizations in the construction and manufacturing industries. He has a passion for developing and improving health and safety programs.
About Saf-T-Gard: Saf-T-Gard manufactures shoes and boots, overshoes and overboots, dielectric footwear and foot protection accessories in myriad colors, heights, materials, sole patterns, toe styles, sizes and finishing features. To learn more, visit www.saftgard.com.
About Safeopedia: Safeopedia supports and celebrates safety professionals and the work they do by providing easy access to occupational health and safety information, and by reinforcing safe work practices. Visit www.safeopedia.com to learn more.