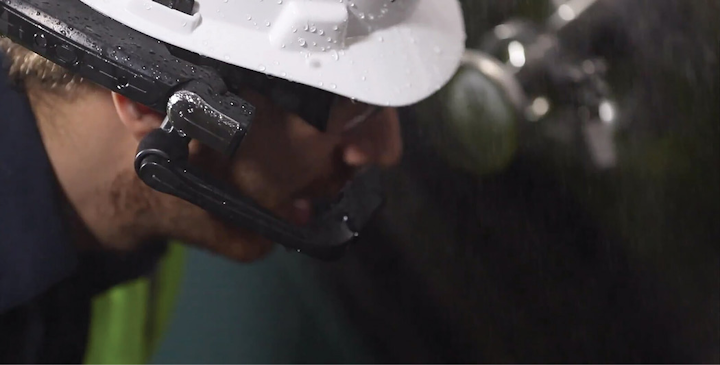 By Matt Firlik
It was a dark and stormy night…
While many thrillers begin like this, the last thing you want during a power outage is danger and mystery. While your customers wait out the storm, your team is doing everything they can to get the power up and running again quickly and safely. That's no small feat when you have multiple teams working simultaneously across the region.
How much time does it take for your team to restore power? What are you doing to fix it faster? The right tool could increase productivity while maintaining or even elevating your already-high safety standards.
There are a lot of mobile solutions out there that attempt to put the right data into the hands of your workers. But that approach highlights a threat to their safety. If your workers are holding a mobile device, then they can't use their hands to do their jobs. Consider the distracted driver laws in many states across the country. We know it's risky to use mobile devices on the road, but it's even worse to use them on a job site.
As soon as one of your workers looks down at a tablet or phone, he stops looking at his work. Worse, now his hands are busy with a device when he should be busy restoring power.
There's an easy way to fix this: with your voice. Voice-operated wearable computers give your frontline workers all the advantages of mobile devices while eliminating the threats to situational awareness they can cause. Here's how a new class of industrial wearables is improving safety for utility workers around the world.
Reduce Your Dependence on Paper
Utility workers have a lot to keep track of — rules and regulations, lockout/tagout procedures, safety instructions — and it's far more information than anyone can manage on their own.
But let's be realistic. While many teams are indeed using mobile devices, far more workers are still using paper-based logs and manuals. And if they have to decide between holding onto their safety equipment or a binder with paper instructions, guess which one they'll choose? The last thing your workers need while they're trying to restore power is a huge binder occupying their hands and slowing them down.
Wearable devices like RealWear HMT-1 can eliminate the need for paper binders because workers can call up any document they might need with a few simple voice commands. The HMT-1 is waterproof and drop-proof up to 2 meters, and it can support practically any file that workers might need to do their job.
Workers using a voice-operated computer like HMT-1 are able to access the information they need at the moment they need it, without reducing their situational awareness. In fact, Burns & McDonnell predicts that at least 50 percent of field workers will adopt this technology in the future.
Remember that dark and stormy night we mentioned earlier? RealWear HMT-1 can respond to voice commands with 98 percent accuracy even when ambient noise reaches 95 dB. A simple voice command from the wearer can turn the flashlight on, illuminating the workspace instantly.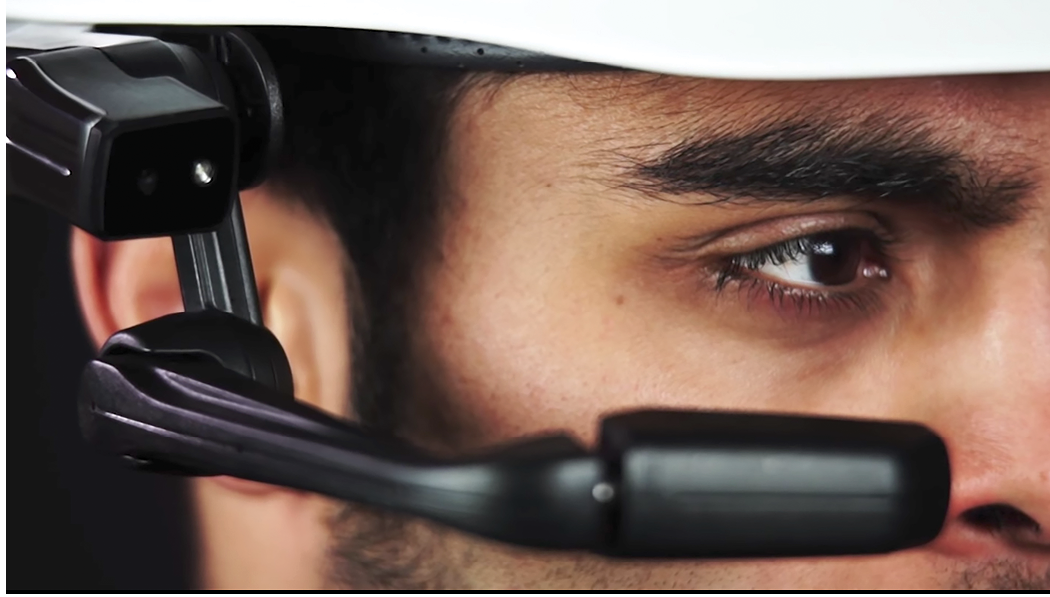 HMT-1 lets workers access all the information they need, at the moment they need it.
Help Everywhere You Need It
We've all been there: a storm rolls in and within minutes you get reports of downed trees across your service area. Your workers fan out across the region, and some of them wind up in isolated, remote locations. But suppose that when they arrive, a few of them run into situations they've never faced before. How can you coach them to do the right thing from afar?
With HMT-1, workers can initiate a live video call with you or anyone else in your company through a few simple voice commands. Now your subject matter experts can act like remote mentors. They can see what your workers see, and they can guide your workers in real time, no matter where they are across the globe.
Voice-operated computers can also help with day-to-day challenges. When Verizon, Duke Energy, and the Electric Power Research Institute (EPRI) tested HMT-1 in a field trial, it was their goal to speed up the post-storm damage assessment process.
They developed an augmented reality application to deliver a hands-free experience on the HMT-1, one that would act as a step-by-step guide for engineers in the field.
The results demonstrated huge implications for worker safety and productivity. Damage assessment time was reduced by 3 to 6 hours and data accuracy improved by 50 percent. Meanwhile, the hands-free interaction increased worker safety in stormy conditions.
With HMT-1, each of your experienced workers can coach multiple workers on site at the same time. And with easy-to-access digital workflows, your workers will always know what to do next. That's how you save time and money while making sure everyone stays safe.
RealWear HMT-1 is rugged enough for the worst conditions, yet flexible enough for your workers to wear it throughout their shift. Lightweight, PPE-compatible, and with a battery that can last up to 10 hours between charges, tools like HMT-1 can help minimize the risks your workers encounter every day. UP
The Author: Matt Firlik is the vice president of marketing for RealWear, a leader in the industrial wearables space. He has over 15 years of experience delivering solutions to a wide range of industries, including manufacturing, oil and gas, and utilities. To learn more, visit www.realwear.com.