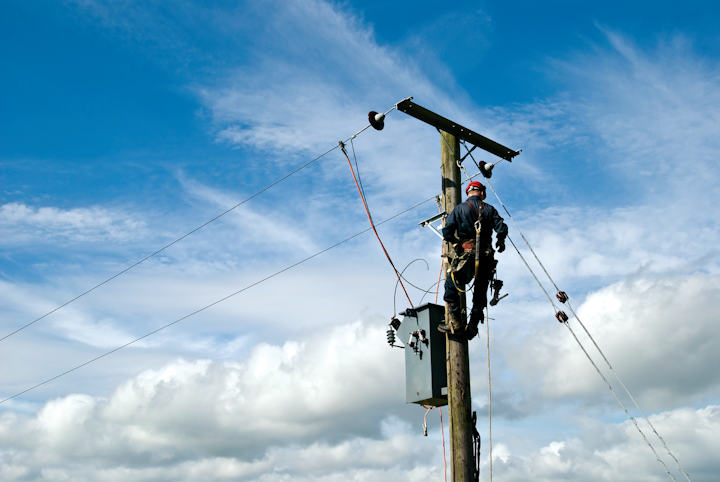 Utility companies today aren't just responsible for providing energy to their customers; they also have to operate in a responsible manner while protecting their employees, the public, and the environment.
Since the first commercial utility company was established by Thomas Edison in 1882, working in the industry has been classified as a dangerous and strenuous profession. Workers have traditionally faced dangers such as high voltage, great heights, toxic chemicals, fire hazards, and extreme temperatures.
A study from safety consulting firm DEKRA Organizational Safety and Reliability showed workers in the utility industry are at an increased risk of serious injuries and fatalities (SIFs) compared to other industry workers. Further, the study found that workers in utilities had a SIF exposure rate of 32 percent, compared with 25 percent for all industry workers. As the industry continues to evolve, workers are now being confronted with new safety considerations.
The Evolution of the Utilities Industry 
Today, utility companies around the globe face increased competition, limited government subsidies, stricter CO2 regulations, customer turnover, and technological disruption. To compete in this complex landscape, companies aren't just shifting towards renewable sources of energy; they are also upgrading infrastructure towards more efficient generation, transmission, and distribution systems so their operation is optimized and the grid has a smaller footprint. However, this progression comes at the cost of the introduction of new hazards in the workplace. Even though equipment manufacturers are increasingly introducing design elements in their equipment to prevent injury, new technologies with higher performance requirements present complex challenges. For example, new high-efficiency equipment is designed with lower internal resistances that can lead to faults with higher energy.
All these factors are bringing new complexities to the industry. And with new complexities, personal protective equipment (PPE) must adapt to address safety concerns and ensure workers are safe on the job.
The New Safety Equation
As workers today are faced with new dangers on the job via evolving energy sources, PPE must also adapt to these dangers to keep workers safe.
There are now emerging concerns around chemical and fire hazards stemming from the increasing use of batteries for energy storage. Workers are more aware of chemical hazards such as health risks from polychlorinated biphenyls (PCB) and sulfur biproducts from SF6 switchgear. The evolving landscape poses unique hazards for people working around such equipment. Hands, skin, and even underlying clothing could need protection from a range of previously unknown threats. There are an array of offerings and specialized tools offered by PPE manufacturers to help identify the right protection.
To address today's safety concerns, PPE is now manufactured to protect against multiple threats simultaneously. For example, PPE that has been traditionally used to protect workers against arc flash hazards is now also required to provide flash fire protection. Workers are now much more aware of the differences between hazards and how one additional second of exposure can significantly increase the risk of body burns.
An additional trend that is coming to light in the utility industry is the need for PPE to be comfortable as well as durable. What starts out as manageable PPE at the beginning of a shift can become torturously irritating, extremely hot, and difficult to deal with after 8, 10, or 12 hours on the job. Safety managers and utilities workers are now seeking high-performance protective apparel that is increasingly composed of lighter-weight, high-strength materials that offer the highest levels of protection and durability while also being comfortable to wear.
Comfort is subjective and different for each person. This means a one-size-fits-all approach won't work. Apparel and gloves must be designed to protect while also allowing dexterity to complete specific tasks. If gloves are too thick, a hood is too heavy or apparel is too uncomfortable to wear, employees could partially or completely remove the protective clothing and in turn become more susceptible to injuries. While safety may have trumped comfort in the past, it is now time to rethink how companies view the safety of workers and ensure comfort is factored into the safety equation.
A Manager's Safety Checklist
Today's safety managers have a lot on their plates and PPE is only one aspect of their roles and responsibilities. However, given that PPE is the last line of defense that could mean the difference between sustaining injury and safely going home at night, there are a few key items managers should include on their "safety checklist."
First, managers should be aware of industry standards related to safety and ensure their workers' PPE meets or exceeds these standards. The National Electrical Safety Code® (NESC®) is the standard most preferred by safety mangers at utility companies. It sets the ground rules and guidelines for practical safeguarding of utility workers and the public during the installation, operation and maintenance of electric supply, communication lines and associated equipment. Additionally, the NFPA 70E, Standard for Electrical Safety in the Workplace, is another standard that helps companies and employees avoid workplace injuries and fatalities due to shock, electrocution, arc flash, and arc blast. Both these standards use calculation methods from IEEE 1584, IEEE Guide for Performing Arc-Flash Hazard Calculations, to determine available incident energy to which workers could be exposed during their work on or near electrical equipment.
Another important consideration is the lifespan of each type of PPE. Managers need to be mindful of the degradation of each type of protective apparel. While this is a point that is usually overlooked for a focus on a more serviceable approach, it is important to note that the strength and agility of some PPE can degrade after continuous washing. Not all PPE loses integrity after washing so it's important to consider when looking for the right protective apparel for your workers.
Whether PPE is washed and cleaned on-site or by workers at home, employers are responsible for ensuring it meets industry standards of protection. This can be challenging without testing the garments as the efficacy of flame-resistant (FR) treatments is not visible to the naked eye and can wear away due to improper home laundering.
Costs associated with implementing a program to ensure PPE is effective are often overlooked when choosing protection. Enlisting the support of trusted and well-established technology material manufacturers can provide more possibilities and peace of mind relating to the performance of PPE in use. Many larger material manufacturers have global testing capabilities to address end user needs by checking the performance and durability of PPE. There are also various external labs that can offer similar services.
Conclusion
While the move to renewable, more efficient, and cleaner energy sources is beneficial to the longevity of the environment and the planet's sustainability needs, it is creating new risks and dangers to the men and women who build and maintain the utility infrastructure. Their safety is very important to ensuring these energy sources can be used by our communities.
More importantly, we owe it to the workers to help ensure they are safe so they can return home to what really matters in life: family and friends. Equipping today's workers with the latest and strongest PPE is their first step home at the end of their shift. It also ensures we're best positioned to capitalize on clean energy sources that will benefit our children (and their children) for years to come. UP
The Author: Aasim Atiq, global application development lead for utilities and mining at DuPont, coordinates global application development of PPE for arc-flash thermal, mechanical and chemical protection for the utilities and mining industries.