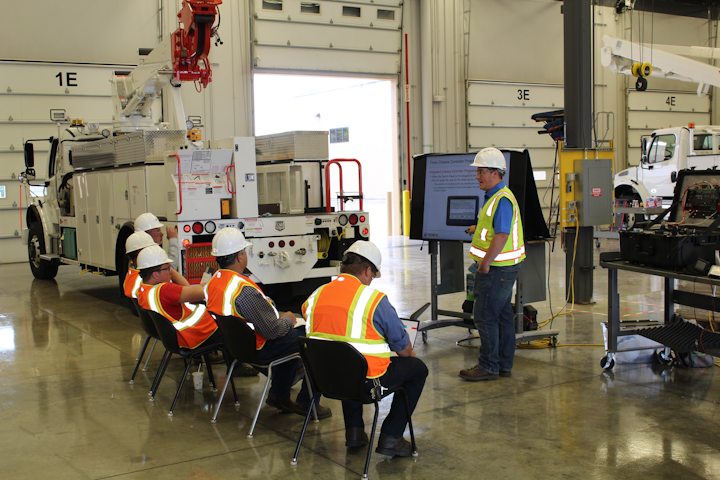 Terex Utilities has a rich history of contributing to the improvement of the industry, not just through technology and equipment innovations but also through its commitment to workforce safety.
Once a year, the company holds its hands-on training event for fleet managers, fleet engineers, safety managers, line workers, and others. The program provides essential training on the operation and application of Terex Utilities' digger derricks, Hi-Ranger aerial devices, and auger drills. Activities focus on proper operations.
"Whether your job is behind a desk or in energized 345 kV lines, this program provides valuable training on applications, jobsite requirements, work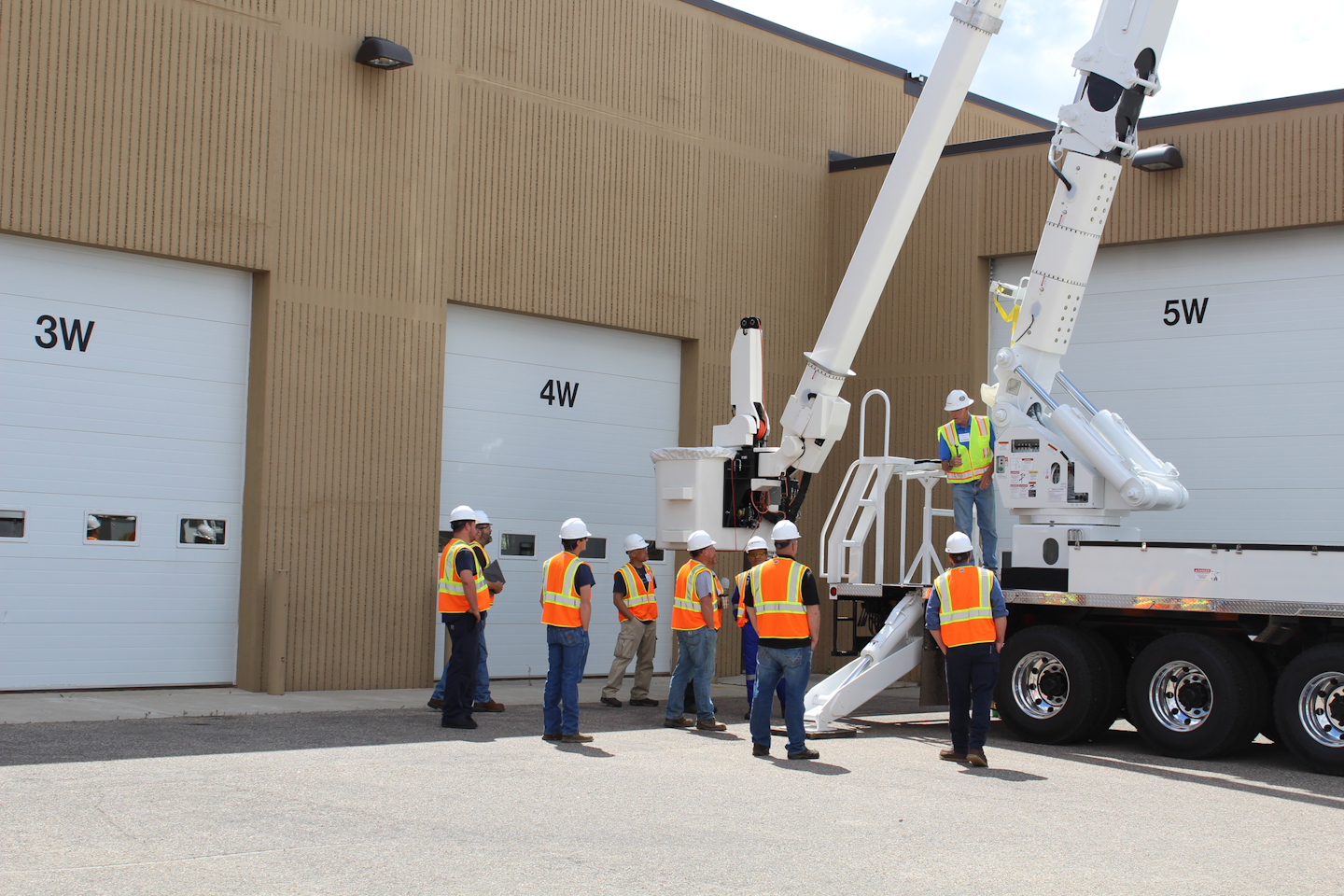 Clint Davis, Terex national service technician, trains participants on the Hi-Ranger Non-Overcenter TM series at the Terex Service School in June. Credit: Terex Utilitiesmethods, and safety procedures," said Jason Julius, technical support and training development, Terex Utilities. In August, 31 people operated equipment and performed actual tasks such as digging holes, setting poles, and changing out a transformer under the supervision of Terex trainers.
Meanwhile, the company's Edge online training curriculum offers a convenient, self-paced training tool for operators seeking to document their understanding of aerial device and digger derrick operation. The training curriculum is used by technical schools, utility contractors, electric utilities, and individual operators.
The company also supports National Commission for the Certification of Crane Operators (NCCCO) certifications for drill rig operators and digger derrick operators available through the NCCCO. Subject matter experts from Terex Utilities have helped to develop both certification programs.
"Certification is a good thing. It helps our customers establish minimum safe operational standards," said Jim Olson, product safety engineer. "Digger derricks, aerial devices, and auger drills are only tools. Safety while using those tools requires training to accomplish the tasks assigned; plus proper inspection, maintenance, and operation of these tools."
The Edge training materials are not manufacturer specific, so information is applicable to all operators of aerial devices and digger derricks.
Electrical Production Services, a power and technology systems contractor serving the upper Midwest, began using Terex Edge training for aerial devices as a prerequisite for hands-on training in the field, said Eric Thoreson, project manager and estimator. "It provides us with a flexible method to deliver consistent, documentable training to employees on short notice and at varied hours," he added.
The Guadalupe Valley Electric Cooperative serves 85,000 customers in south central Texas. Its fleet of nearly 200 vehicles includes 17 Terex aerial devices and digger derricks. "We began using the Terex online training when we needed to keep up with our Department of Labor Apprenticeship program," said Hannah Hoffman, assistant to the executive manager of operations.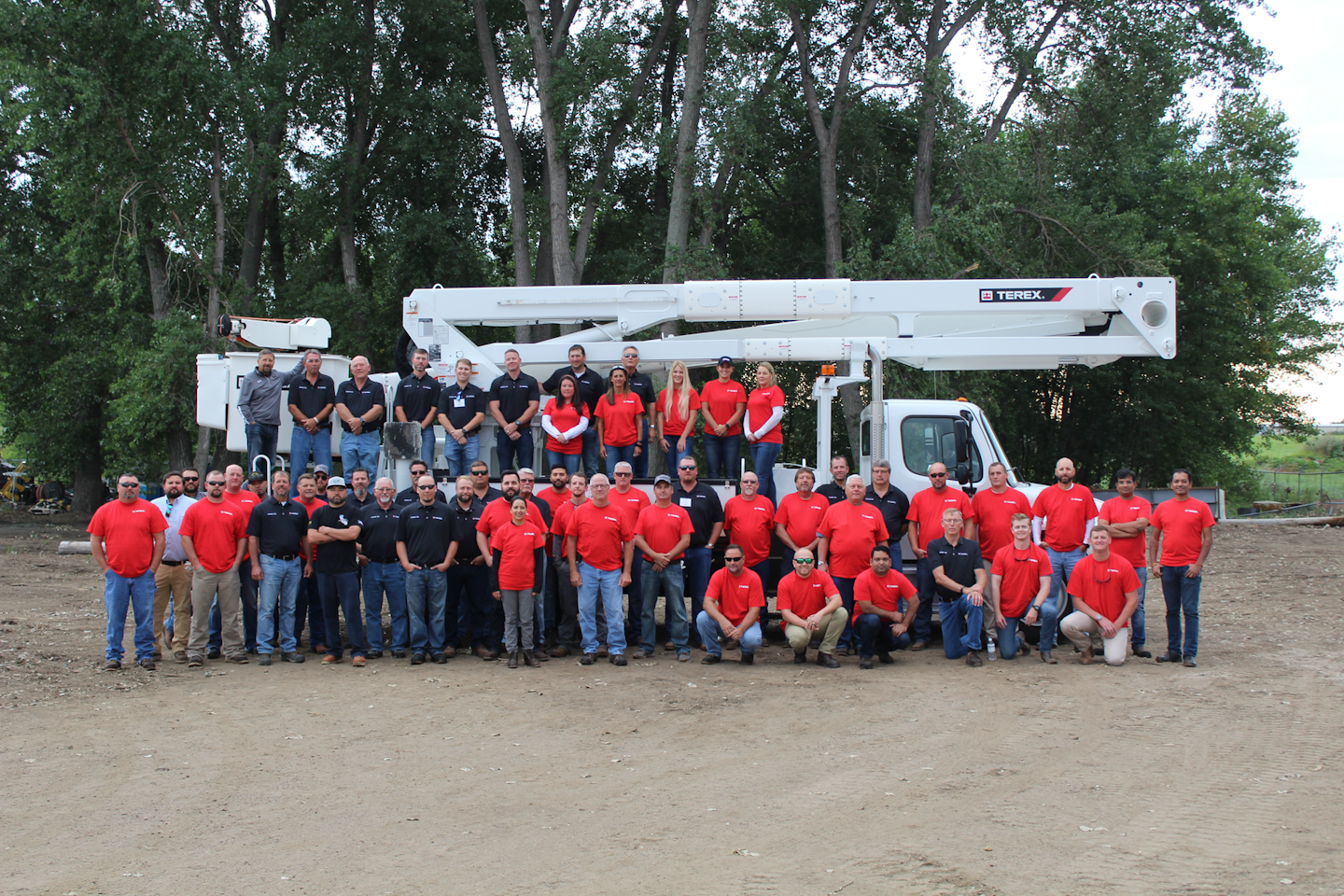 Fleet managers, fleet engineers, safety managers, line workers, and others attended the 2019 Hands-On Training Event.The electric co-op enrolled nearly two-thirds of its employees in the Terex Edge aerial device and digger derrick training. "With time constraints being one of our biggest challenges, it was the best option to fill our requirements for the DOL Apprenticeship. Employees were able to complete the training during off time, while submitting weekly reports and completing daily tasks needed," Hoffman said.
"With the November 2018 OSHA requirement for digger derrick and crane operators to be certified, there is renewed interest in our digger derrick Edge training module, which can be used as a preparation for NCCCO Digger Derrick Operator Certification," said Julius.
"Operators of digger derricks are exempt from this requirement only when the digger derrick is used in electric power generation, transmission and distribution, and telecommunications applications. If a digger derrick is used for other lifting work applications, then digger derrick operators must be certified," he explained.
When asked what prompted Terex Utilities to get involved in the NCCCO Digger Derrick certification task force, Olson explained: "About 10 years ago, there was a lot of confusion in the market as OSHA was writing 1926 subpart CC Cranes and Derricks in Construction. They were also making Crane Operator Certification requirements for construction and its application to or exemptions for operators of digger derricks. Terex Utilities proactively approached the NCCCO in 2010 to consider writing a certification program specifically for digger derrick operators." (To be clear, there is still some confusion now that the crane rule has finally gone into effect. If you are a utility doing Subpart V work for powerline construction and maintenance, you are exempt from the certification requirements, however, if you are operating a digger derrick for work defined by OSHA as a construction activity, such as water/gas line construction, light poles, or erecting signs, then you are not exempt.)
More recently, Terex Utilities participated in development of a similar program for drill rig operators. Although OSHA does not currently require operators of drill rigs to be certified, employers must ensure operators are trained and qualified. Until now no independent mechanism has existed for operators to demonstrate knowledge, skills, and abilities for operation of this equipment.
Dale Putman, Terex Utilities product manager, served on the Foundation Drill Rig Operator task force. "Although, the program is still quite new, the general feedback regarding it is positive. Certification helps individuals gain a level of skill that improves their day-to-day drill rig operations," he said.
Putman continued: "Terex supports safe operations, whether that's in our own factory or for our customers in the field. Spending time developing this certification program isn't about selling equipment or making money. We care about the users' company and their people regardless of the brand of equipment owned. Investing time and subject matter expertise in certification and standards development is just another example of how Terex does its best to provide solutions for users."
Richard Gunderman, director of aftermarket operations, added, "Technical support, whether service schools, online training, operator certification, or access to safety alerts or product advisories, are central to supporting our customers throughout the life of their equipment." UP
SIDEBAR:
Training for Service Personnel
Every year, Terex Utilities offers multiple dates for its Service School, which features classroom and hands-on training for maintenance, troubleshooting, and inspection of hydraulics and related components. Equipment technicians from Australia, India, Indonesia, Canada, and the United States received hands-on service training at the 35th Annual Terex Utilities Service School held in June at Lake Area Technical Institute.
During the three-day event in Watertown, S.D., 48 participants rotated through their choice of 18 stations. Stations included training on specific aerial devices, digger derricks, and auger drill models, components, maintenance, and troubleshooting. "Participants are able to customize their chosen stations in order to focus the training on their individual and organizational needs," said Jason Julius, technical support and training for Terex Utilities.
The Master Mechanic Learning Center is an online training platform covering inspection, dielectric principles, hydraulic troubleshooting, and other service issues.
In addition, Terex's service department regularly issues Tech Tips to answer some of the most frequently asked questions. Tech Tips are designed to address a single repair or replacement topic, with step-by-step instructions and graphics. An archive of all Tech Tips is found online under the Support tab at Terex.com/Utilities.
Here are just a few of the topics released in 2019.
• AC dielectric testing
• Adjusting leveling system tension
• Bleeding a hydraulic foot throttle
• Checking fluid levels in a gearbox
• Changing a high-pressure filter
• Inspecting platform leveling system
The Author: Joe Caywood is the director of marketing for Terex Utilities, a leading manufacturer of equipment and services for the electric utility industry. Caywood holds a B.S. in mechanical engineering and has been with Terex for 16 years in general management, operations, product management, and marketing.