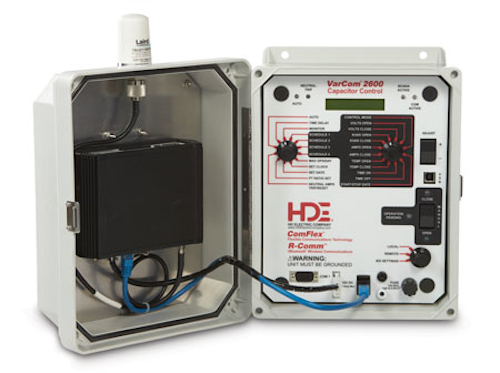 Three Phase Cable Identifier
HD Electric Company's 3ID Three Phase Cable Identifier identifies the correct phases on long lengths of de-energized and discharged overhead and underground cables. It includes a sender and receiver that are designed to be hand held with or without gloves. Because of its higher test voltage, the 3ID can test long lengths of cable. LEDs on both units indicate the 3ID units are connected to the same phases on each end of a cable.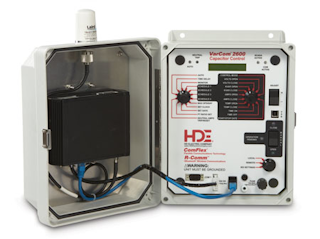 Cable Identifier features:
• Identify all three cable phases simultaneously and any shorted phases;
• Higher test voltage of 36 Vdc allows for longer cable lengths to be tested -has been tested up to seven miles;
• Use in overhead or underground systems;
• Compact, lightweight and easy-to-use;
• Very bright LED indicators;
• Large copper alligator clips with heavy-duty boots;
• Low battery indicator; and
• Made in the USA.
HD Electric Co.
CIRCLE 110 ON READER SERVICE CARD
---
Ultra-rugged Mobile Device for Extreme Operating Conditions
The first in a series of hard-shell mobile devices designed specifically for emergency responders dealing with harsh weather, extreme environments and other grueling conditions that make normal cell phones impractical has been developed by Two Technologies.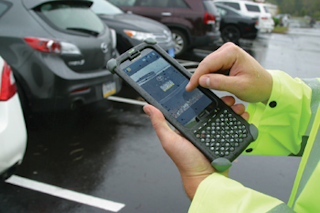 The N4, an Android device housed in an ultra-rugged polycarbonate shell, is water proof and heat-resistant. It features a 5.5-inch diagonal high-resolution 720 X 1280 Super AMOLED display, the Android version 4.3, and a 70-key backlit keypad. Other key features include a hot-swappable battery, optional three-channel magnetic stripe reader, and an 8MP color camera.
During natural catastrophes-wildfires, tornados, earthquakes, floods and landslides-real-time communication is the most critical need, yet many ground responders have to rely on consumer grade cell phones and obsolete walkie-talkies. The N4 is the next step in providing better communications gear for responders in challenging and dangerous environments.
The N4 incorporates the Samsung Galaxy Note series of smart-phones and is rugged to MIL-STD 810 G and operating temperatures of MIL-STD 810F. With a hot swappable battery, operators never have to exit an application, reboot and then re-enter the application to change the battery.
Two Technologies
CIRCLE 112 ON READER SERVICE CARD
---
Engineered Solutions for Power Generation Facilities
Thomas & Betts' (T&B's) brochure, Electrical Solutions for Power Generation, outlines the company's product solutions for the construction, renovation and servicing of electrical systems in power generation facilities. The brochure is organized around product groupings that provide solutions to specific challenges in these environments. It also indicates which T&B product lines are designed to address each of these issues, as well as the services and training T&B offers to support many of these lines.
Current regulations, increased consumer demand and changing industry standards are putting pressure on power generation plants to improve power quality and sustainability, as well as improve safety, it's reported. The Electrical Solutions for Power Generation brochure outlines T&B products that address these challenges.
Electrical Solutions for Power Generation covers product solutions for safety; continuous operation and sustainability; grounding and bonding; power quality, efficiency and reliability; corrosion and harsh environment protection; extreme temperature protection; total project cost reduction; and liquid ingress protection.
Thomas & Betts
CIRCLE 111 ON READER SERVICE CARD
---
The Edge Online Training Course for Insulating Aerial Devices
Terex Utilities has updated its The Edge online training course for insulating aerial devices to provide comprehensive, quality operator safety training. The Edge is a Web-based course, allowing Terex customers to study the safe operation of aerial devices at each individual's own pace, when it is convenient for them.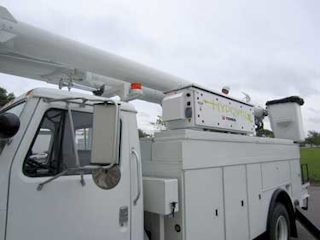 The Edge course for aerial devices provides utility fleet professionals with a cost-effective and efficient training solution for insulating aerial device equipment operators. The course gives Terex the opportunity to supplement its customers' in-house training efforts, providing them with a crucial piece of the training puzzle. It is comparable to attending in-person training with the convenience for participants of completing it as their schedules allow and the cost-saving benefits of using an online tool compared to hiring an instructor.
The Edge course, "Insulating Aerial Device Operator Safety Training," includes all aspects for the safe operation of an aerial device, including general usage guidelines, pre-operation, during operation, post-operation, hand signals and electrical hazards. New to this version of The Edge is a pre-test that all users take before beginning the training-enabling participants to compare their knowledge going into the test to what they gain during the course.
Terex Utilities
CIRCLE 113 ON READER SERVICE CARD
---
Standard, Custom Fiber Optic Trunk Cables for Wireless Infrastructure Applications
Fiber optic cable assemblies are increasingly installed in wireless infrastructure applications replacing copper with fiber to the antenna. RF Industries provides factory terminated fiber optic trunk cables using Corning FREEDM One fiber trunk cable.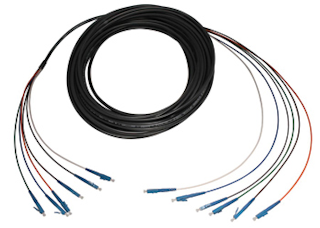 Available with six-strand single mode or multi-mode, 12, 24, or 36 strand single mode configurations, the trunk cables are flame-retardant, UV-resistant and can be used for indoor, outdoor or direct burial applications. Fiber optic trunk cables are terminated with Corning brand LC or SC connectors.
Cables Unlimited Div., RF Industries
CIRCLE 115 ON READER SERVICE CARD
---
XTpc+ is Newest Addition to Line of Cable and Pipe Locators
Hitting buried utilities? Go with the construction and utility contractor's tool of choice-the Schonstedt XTpc+ Multi-Frequency Pipe & Cable Locator. Cited to be a first of its kind, this newest member of the Schonstedt XTpc line features a lightweight, compact receiver coupled with a powerful 5-watt transmitter for accuracy and versatility. The XTpc+ is simple, effective, affordable and carries a three-year warranty.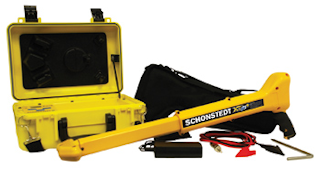 Schonstedt
CIRCLE 114 ON READER SERVICE CARD
---
PC3 Traction Hoist Features UL and CUL Classification
Power Climber, a division of SafeWorks LLC, offers the new and improved PC3-a safer, smarter, stronger traction hoist. With customer-inspired improvements, the PC3 hoists are made in the USA in Power Climber's ISO 9001:2008 certified facility and feature UL and CUL classification. Electrical issues are solved in less than five minutes by changing the motherboard, and annual service takes less than one hour, lowering the total cost of ownership.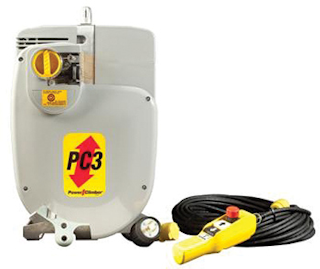 This improved PC3 is designed to improve the customer's bottom line, bringing a durable and high performing traction hoist to the market:
• Easier to operate,
• Longer service life,
• Lowest annual service cost,
• Lowest cost to inventory parts,
• Fewer voltage problems,
• Lowest probability for rope jams,
• Easy to troubleshoot and fix most problems, and
• Longer service life between replacement parts.
Power Climber Div., SafeWorks LLC
CIRCLE 116 ON READER SERVICE CARD
---
Cable Prowler PRO Test Kit Tests and Reports in Full Color
Platinum Tools, a provider of solutions for the preparation, installation and hand termination of wire and cable, has announced the Cable Prowler Pro Test Kit and report management system.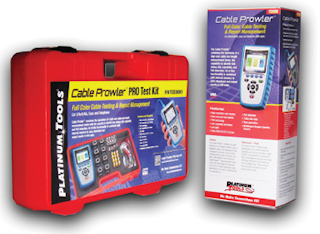 Designed for the custom install and integrator market, the Cable Prowler provides full cable testing on any category network, coax or telephone cable, combining the functions of a high-end cable tester and length measurement tester with the capability to identify link status, link capability and PoE detection.
The Cable Prowler provides full cable testing, displaying wire map, numbered ID remotes and any faults, including shorts, opens, miswires, split pairs and reverses. It also enables quick identification of a network drops link capability and current link status-all in full color and with internal memory to save results, as well as the ability to export to a computer through micro USB cable for record keeping and printing.
The Cable Prowler measures cable length (using TDR technology) and generates tone levels for signal tracing and cable identification on all pairs, a selected pair or a selected pin.
Platinum Tools
CIRCLE 117 ON READER SERVICE CARD
---
Work Box Survives 1,000 drops With 50-lb. Load
Milwaukee Tool's 26-in. Jobsite Work Box is built for extreme durability and can survive over 1,000 drops with a 50-lb. load.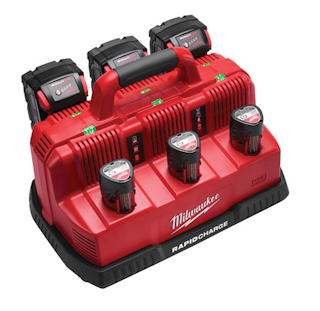 Features that add to the durability of the box include reinforced corners for impact resistance, recessed latches that are positioned for protection against jobsite abuse, and buttressed hinges that allow falling debris to deflect off the hinge rather than break it on impact. In addition, the work box is made with a proprietary high impact resistant polymer and is weather sealed to protect the user's tools from debris and contamination.
More than a tool box, the storage solution also delivers features that will increase productivity including corner pockets to securely organize tools upright in the corners of the work box, as well as mounting bosses in the lid that allow the user to hang items with a simple screw, for easy, organized storage.
Milwaukee Tool
CIRCLE 119 ON READER SERVICE CARD
---
Toughpad FZ-M1 Tablet Meets Demand for Affordable Enterprise Mobility
Panasonic offers its Toughpad FZ-M1 rugged 7-in. tablet PC powered by the Intel Celeron Processor. As a more affordable model of the standard Toughpad FZ-M1 announced earlier this year, the tablet is built to serve as a platform for cloud-based applications, delivery routing, email connectivity and other everyday tasks in the field. With its thin, lightweight, rugged and fanless design, Windows 8.1 with Bing operating system and enterprise-grade security features such as Trusted Platform Module (TPM), the Toughpad FZ-M1 is for mobile professionals in field services and more.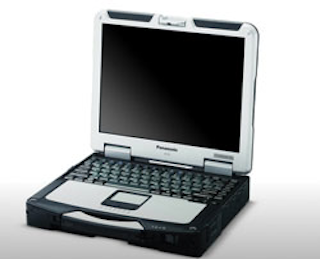 The tablet offers many of the same features as the 4th generation Intel Core i5 Processor powered Toughpad FZ-M1 introduced at International CES 2014. This includes a sunlight-readable, glove-enabled touchscreen; full-shift battery life with a built-in bridge battery enabling users to switch out batteries without powering down the device; and a broad range of configuration options to allow organizations to customize the tool for their workforces.
Panasonic
CIRCLE 118 ON READER SERVICE CARD
---
DoubleShot Wrench Combines Two Wrenches in One
Lowell has added the 8D DoubleShot PLUS wrench to its line of DoubleShot wrenches that combine two wrenches in one for rugged duty in utility, construction, maintenance and pipeline work.
Specific applications include mechanical joints, restraints, repair clamps, service saddles, flange bolts, friction clamps, hydrant break flanges and gas/water industry couplings.
The DoubleShot PLUS features a torque capacity of 200 lb-ft and a ratchet engagement design that improves bite while applying torque. This new design ensures smoother operation and quicker reversing.
There are two models of the DoubleShot PLUS: the DSP1 has a 1 1/4 in. x 1 1/16 in. hex double socket and the DSP2 has a 1 1/8 in. x 15/16 in. hex double socket. Both models are 13 in. long and feature ergonomic handles and high-vis sockets and grips, which make it easy to find the tools on a worksite or in a toolbox. Each wrench weighs 1 3/8 lbs. With both models, ratchets have 36 teeth resulting in a 10-degree handle throw that is especially useful for faster, safer work in tight spots.
Lowell
CIRCLE 120 ON READER SERVICE CARD
---
Bundle Lifter Simplifies Conductor Support
LineWise's Bundle Lifter provides power line and electric utility crews with a faster and more efficient solution for removing, supporting and reconnecting insulator strings during energized work. The bundle lifter enhances safety while optimizing the utilization of equipment and personnel.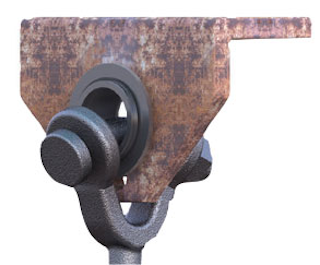 For applications involving bundles held by a yoke plate, the bundle lifter offers linemen the advantage of maintaining the plate in an upright position, rather than having to straighten it up using hot sticks. By making it faster and easier to reconnect the plate to an insulator string, the bundle lifter saves time for line crews while also greatly diminishing lineman fatigue.
Field-tested and approved by transmission and distribution maintenance professionals, the bundle lifter is constructed of high-strength steel and 10-ft. clear span fiberglass. For optimal maneuverability and safety, the unit is designed to allow ample clearance above a crossarm while avoiding interference with an insulator string. Weighing 125 lbs., the lifter has a load capacity of 3,500 lbs. and is rated to 240 kV.
Standard features of the bundle lifter include a pivoting gate that retains the yoke plate within the lifter, as well as an attachment point for linemen to guide the lifter with hot sticks.
LineWise Div., Diversified Products
CIRCLE 121 ON READER SERVICE CARD
---
Uvex Hypershock Safety Eyewear
Honeywell's Uvex Hypershock safety eyewear combines sport-inspired style and high lens performance for maximum appeal and protection. Available in Matte Black, Smoke Brown or Clear Ice, the eyewear's wraparound frame delivers superior coverage, while 10 lens tints offer versatility for both indoor and outdoor applications. High-performance Uvextreme Plus lens coating is cited to deliver longer anti-fog protection and better scratch resistance than other anti-fog coated lenses. The eyewear is suited for rugged work environments including utilities, construction and more.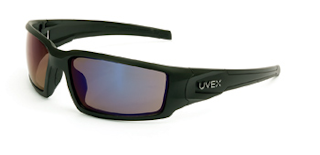 The eyewear's lightweight, wrap-around frame design is engineered to fit a wide range of workers while providing increased coverage, side protection and peripheral vision. Streamlined padded temples and a molded nosepiece deliver a secure, comfortable fit. Integrated hinge mechanisms with dual cam action promote precision operation and durability. In addition, Uvex Hypershock lenses feature proprietary Uvextreme Plus anti-fog coating for superior protection against fog and scratches.
Honeywell
CIRCLE 123 ON READER SERVICE CARD
---
Data Cable Transmission Tester
IDEAL Industries Inc., a provider of quality tools, connectors and testing products for electricians and data communications contractors, has launched the SignalTEK CT, a data cable transmission tester designed for installers and network owners who need to prove that copper cabling has been installed correctly and is capable of supporting Gigabit Ethernet applications to the international standard IEEE802.3ab.
SignalTEK CT is a cost-effective alternative to LAN cable certification. It carries out two primary tests through its Autotest function: a wiremap test and a data transmission test. The wiremap test identifies and locates crossed pairs, opens, shorts and split pairs using its TDR, while the data transmission test performs at 100Mbit/s or 1000Mbit/s, providing 100 percent load on that link from both sides. This offers users a clear reading if the link really can support the desired Ethernet speed. These tests perform to the IEEE802.3ab standard by measuring if all the frames arrive at the other end of the cable, and is achieved by having two handsets that also allow for one person testing.
IDEAL Industries Inc.
CIRCLE 122 ON READER SERVICE CARD
---
Personal Protective Equipment Line Expanded With Journeyman Gloves
Klein Tools has expanded its personal protective equipment product line with the Journeyman Gloves. The Journeyman Series of gloves is made specifically for trade professionals who may encounter cuts, scrapes, impact injuries and vibration injuries on a regular basis.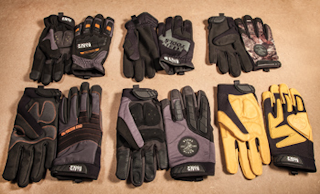 The daily impact that hands take when performing certain tasks can take a toll on health and performance. By wearing gloves, tradespeople can protect hands and joints from excessive abuse; reduce chemical exposure; and prevent blisters, cuts, and impact and vibration injuries. With advanced technology, tougher materials and enhanced features, Klein Tools' high-quality Journeyman Gloves will provide professionals better hand-protection on the job in addition to more comfort and durability.
The Journeyman Gloves consist of six machine-washable models: Journeyman Extreme Gloves (40217/40218/40219), Journeyman Utility Gloves (40205/40206/40207), Journeyman Camouflage Gloves (40208/40209/40210), Journeyman Cold Weather Pro Gloves (40211/40212/40213), Journeyman Grip Gloves (40214/40215/40216), and Journeyman Leather Gloves (40220/40221/40222).
Klein Tools
CIRCLE 124 ON READER SERVICE CARD
---
LaserSoft Measure: A Smartphone App for TruPulse Lasers
Laser Technology Inc. (LTI) offers the LaserSoft Measure App (Measure) for iOS and Android, designed to sync with LTI's TruPulse lasers. Measure is a simple form of data collection, using a smartphone or tablet, that gets professionals in the electric utilities field one step closer to going electronic and eliminating the need for a pen and paper.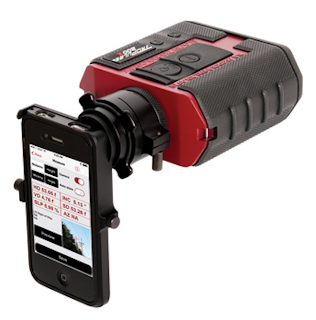 The app integrates with Bluetooth-enabled TruPulse lasers, including TruPulse 200X, 200B, 360B and 360R. To fully use the app's capabilities, LTI offers smartphone and tablet mounting brackets that align the laser's scope to the device's camera, allowing you to take an image of each measurement. Measure users can create and review multiple projects and save data from up to four different measurement modes: horizontal distance, height, 2-D (or 3-D) missing line and angle.
You can upload and share projects, customize shot categories and notations, and have an image included with each shot. Now professionals performing pole inventory, vegetation management, sag profile and GIS mapping can produce defensible results for all their field measurements.
Laser Technology Inc.
CIRCLE 125 ON READER SERVICE CARD
---
New Adjustable Cablz Monoz Eyewear Retainers
Cablz are cited to be the only eyewear retainers on the market with patented ball bearing technology. Cablz has announced its new line of adjustable eyewear retainers called Cablz Monoz. The original Cablz were designed with a non-adjustable, coated, surgical-grade stainless steel cable.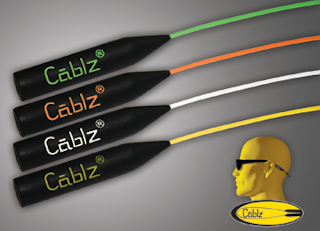 For their latest product, the cable is replaced with fluorescent yellow, fluorescent orange, fluorescent green or white non-conductive monofilament and it's adjustable. Cablz Monoz are designed to be worn extended at regular length or adjusted for a closer fit to the back of the head to make your eyewear more secure.
• Available in 14 in. lengths,
• Available with new Universal rubber ends that fit most frames on the market, and
• Perfect for utility workers because they are non-conductive.
Cablz
CIRCLE 127 ON READER SERVICE CARD
---
Streamline Compression Tool With "C" Head
The new SL-C510 compression tool has all the same features as the SL-510 but replaces the latched head design with a "C" head. The capacity of the tool is the same as the pistol grip REC- 6510, capable of accepting lugs up to 750MCM, and splices up to 600 MCM.

The new housing design incorporates a rubber over-mold handle grip area, allowing the operator better tool control. If you are looking for a streamline tool that incorporates the "C" head design, the SL-C510 is a good addition to any utility truck.
Huskie Tools
CIRCLE 126 ON READER SERVICE CARD
---
Coiled Tool Lanyards Line Expanded
Ergodyne has announced the expansion of its Squids Tool Lanyard Line to include the Squids 3130 Coiled Cable Lanyard available in both small and medium sizes. By using a compact system that keeps the length of the lanyard close to the anchoring point, the coiled lanyard reduces snags, trip hazards and ensures the utmost in heights safety.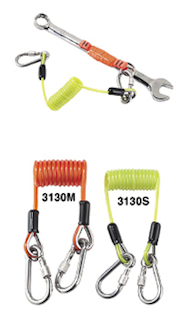 Key features include:
• Coil design reduces lanyard length and prevents snag and tangle hazards;
• Constructed with PU covered aircraft cable for high strength and durability;
• Stainless steel carabiners (#304) for corrosion resistance;
• Captive eye carabiner with screw gate for locking connection; and
• Maximum safe working capacity: 2 lbs.
Especially useful for those working at heights and those in tight areas where snag hazard is a concern, the Squids 3130S and Squids 3130M Coiled Cable Lanyards are available at all authorized Ergodyne distributors.
Ergodyne
CIRCLE 128 ON READER SERVICE CARD
---
Wedge Lock Coupler Attachment Expands Mounting System Lineup
Doosan has released the wedge lock coupler for use with the company's 6- to 53-metric-ton crawler excavators. This attachment expands the Doosan coupler line, which currently includes the hydraulic quick coupler.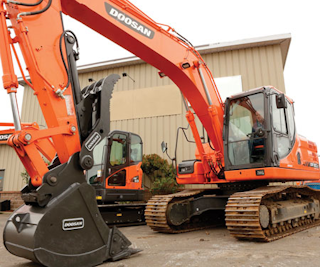 The wedge lock coupler manual mounting system is approved for use with 13 crawler-excavator models including the DX63-3, DX85R-3, DX140LC-3, DX140LCR-3, DX180LC-3, DX225LC-3, DX235LCR, DX255LC-3, DX300LC-3, DX350LC-3, DX420LC-3, DX490LC-3 and DX530LC-3.
The wedge lock coupler allows operators to change their excavator attachments without the need for additional hydraulics but does not decrease a machine's breakout force. The coupler has a limited increase in tip radius over pin-on mounting.
The versatile wedge lock coupler is designed to allow for the use of multiple attachments, such as Doosan's line of heavy-duty digging buckets. It also mounts the company's current offering of trenching buckets and is capable of efficiently releasing high-capacity bucket models. The new coupler will also pair with Doosan's excavator clamp attachments.
In an effort to increase jobsite safety, the wedge lock coupler's swing ear design and the use of a bolt retainer safety plate helps prevent attachments from falling.
Doosan
CIRCLE 130 ON READER SERVICE CARD
---
Metal-enclosed Capacitor Banks Offer Increased Quality, Efficiency, Reliability
Eaton has announced an expanded product and services offering of metal-enclosed capacitor banks from its Cooper Power Systems business. This offering increases its existing pad-mount capacitor bank platform to include all metal enclosed capacitor bank applications such as standard shunt banks, harmonic filter banks and multi-step banks. Capacitor banks are designed to improve overall power efficiency and quality of electrical distribution systems in utility, commercial and industrial applications such as substations, industrial parks and more.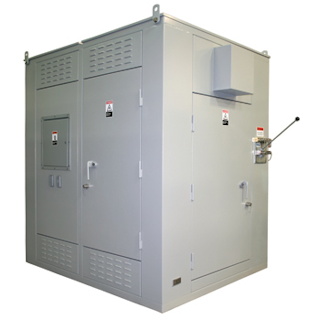 The demand for metal enclosed capacitor solutions is increasing as utilities strive for increased safety, a smaller footprint and lower maintenance costs. Beyond the capacitor banks, the company is able to provide customers with an integrated approach, including a single point of responsibility, field-based application and engineering expertise.
Designed to help improve overall efficiency, the expanded product line has the potential to save a utility millions of kilowatt hours annually. In addition, commercial and industrial customers can potentially save thousands of dollars on utility usage and demand charges. Capacitor products also help improve power quality by supporting voltage and mitigating harmonic issues when applied as harmonic filters.
Eaton
CIRCLE 129 ON READER SERVICE CARD
---
Smart Grid Visualization Solution for the Utility Industry
Clevest Solutions Inc., a provider of mobile workforce automation software including smart grid mobile technology, has introduced the utility industry to a new way to visualize, assess and respond to AMI data with the launch of its Smart Grid Visualization software product. Co-developed with North Carolina's Brunswick Electric Membership Corporation (BEMC), the solution overlays near real-time smart meter data on top of Clevest's comprehensive, map-based view of field operations to provide utilities with timely, relevant AMI information displayed within the visual context of their power distribution system.
After deploying smart meters and AMI communications networks, utilities face a substantial increase in meter data. Unless it can be turned into meaningful, actionable information, however, this data provides little value. By overlaying the location and status of AMI meters on top of Clevest's mobile platform that already incorporates street, satellite, asset, vehicle and service order layers, Clevest Smart Grid Visualization presents AMI data in a more intelligent, consumable format. The ability to view AMI information in context provides utilities with much better visibility into what's actually happening in the distribution system and with the ability to efficiently manage corrective service work in the field.
In this way, Clevest Smart Grid Visualization creates opportunities for utility system operators to quickly and accurately identify problems, resolve issues and improve reliability. More meaningful and timely information about trouble events such as outage, voltage and suspected tamper situations will help utilities increase the ROI on their AMI investment; enhance customer satisfaction because of outage prevention, reduced outage duration and improved service reliability; and provide enhanced levels of safety for mobile workers and the public.
Clevest Solutions Inc.
CIRCLE 131 ON READER SERVICE CARD