Nano-Lok edge Self-retracting Lifeline With Foot Level Tie-off
Capital Safety introduces the Nano-Lok edge, cited to be the first personal self-retracting lifeline (SRL) engineered for both foot level tie-off and sharp edge applications. While traditional general purpose products anchored at foot level and used in sharp edge environments may increase the risk of injury and create a false sense of security at height, the Nano-Lok edge is designed specifically for use in sharp edge applications and retracts its unused lifeline so workers can anchor at their feet and move freely and with confidence at height. The Nano-Lok edge includes an 8-ft. working length, ergonomic design and is available in single or twin 100 percent tie-off units.
The Nano-Lok edge SRL passes the most stringent leading edge standard set by ANSI Z359.14. Its tough lifeline material, patent pending energy absorber, and durable harness connector work together to absorb and limit the arresting forces in the event of a fall and to mitigate the effect of a sharp edge on the lifeline even under harsh conditions.
The Nano-Lok edge personal SRL includes an integrated backpack style energy absorber, tough and flexible galvanized cable lifeline, various hook options, an easy-to-install connector, and can be safely used in fall clearance environments as low as 16 ft.
Capital Safety
CIRCLE 117 ON READER SERVICE CARD
---
Video and Workbook-based Lineman Training Program
T&D PowerSkills is a video and workbook-based lineman training program that focuses on safety-related work practices that lineworkers need to know. It is designed to help lineworkers be efficient and safe on the job whether they are doing overhead, underground, meter, transmission or substation work.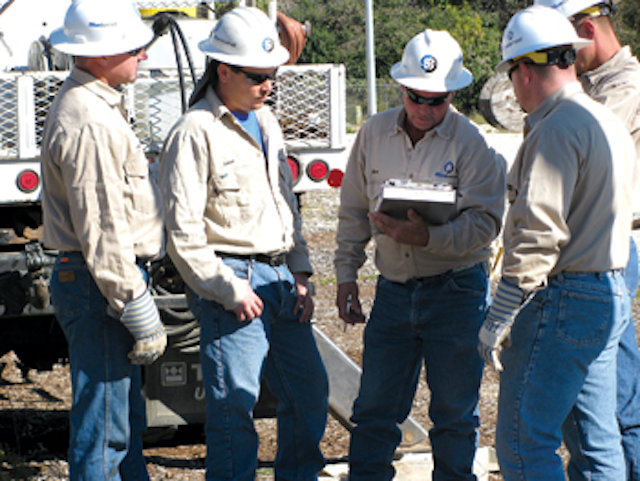 All T&D PowerSkills course units are arranged in a comprehensive curriculum. The curriculum is divided into 78 units that represent major components of lineworker career tracks. Important fundamentals are covered in Maintenance Basics, such as electrical safety and basic climbing skills, moving on to more advanced topics in Overhead Distribution, such as pole top equipment replacement and transformer troubleshooting. Specialized training is offered in Underground, Transmission and Substations.
Each course unit includes one DVD or access to the video on-line, through computer or mobile device, one Instructor's Guide and one Student Workbook. Single courses, group-packs or the entire program can be purchased. Customization is available.
T&D PowerSkills LLC
CIRCLE 118 ON READER SERVICE CARD
---
Proper Use of Fish Tape Assures Safety, Productivity
Electricians use IDEAL fish tapes on a daily basis to snake electrical wires and communications cables through conduit, finished walls and hard-to-reach spaces above ceilings and below flooring.
When handled correctly, these indispensable tools pull wires fast and conveniently, while eliminating the need to demolish structural elements. Simple guidelines, however, need to be followed to assure safe operation and to maintain equipment in top shape for years of service.
• Wear heavy-duty gloves when fishing tape. Sharp edges or burrs can cut bare hands.
• While feeding wire, coordinate with the worker pulling the wire so you can develop a steady tempo of pulling just a few feet at a time.
• Keep fish tape clean of dirt and built-up lubricant by washing it with a gentle detergent and warm water. Dirty tape can be difficult to play out and retrieve. Inspect fish tapes and leaders for corrosion, cracks or other wear that may lead to it breaking during pulling.
• Cut down on friction during long or multiple-bend conduit runs with IDEAL wire pulling lubricant.
• Steel tapes are the most widely used fish tapes, but for jobs near live circuits or in wet conditions, non-conductive, non-corrosion fiberglass tapes are a better choice.
• If you encounter insulation, try to not go through it, but around it with the fish tape. You can also substitute fish tape with an IDEAL Tuff-Rod flex fishing pole for added strength and control.
• Before running fish tape in conduit that contains wires, disconnect the power.
• Practice correct lockout/tagout procedures while working around energized electrical circuits. It may save your life.
IDEAL industries Inc.
CIRCLE 119 ON READER SERVICE CARD
---
Up to 20 Percent of Outages are Caused by Birds and Animals
Cantega Technologies specializes in using technology to design precise fit covers to prevent animal and bird outages. Greenjacket is Cantega's precise fit cover-up product line. A precise fit means that all risk points are covered and field modifications are unnecessary-taping is eliminated.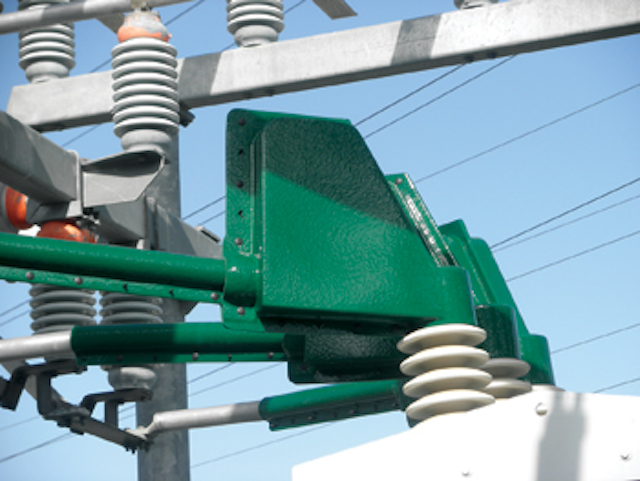 Cantega has more than 700 existing molds and can provide coverage for any type of equipment or configuration. Where outages are not possible, Cantega has tools and work methods for installing Greenjacket on energized equipment.
Cantega Technologies
CIRCLE 120 ON READER SERVICE CARD
---
New, Innovative Way to Access Underground Utilities
USF Fabrication is adding the UEZ 180 to its full line of utility access hatches. Designed with stainless steel compression springs so no more than 35 lbs. of lift is required to open or close from any position, it is an alternative to heavy steel hatches that rely on ineffective torsion type lift assist.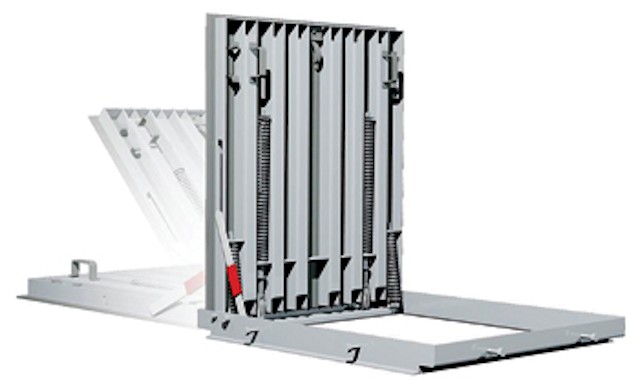 Designed for safe, simple and secure operations, USF Fabrication is cited to offer the industry's most extensive line of engineered metal doors for underground utilities access, including the industry's best five-year warranty.
USF Fabrication Inc.
CIRCLE 121 ON READER SERVICE CARD
---
Get Hatch Drawings on Website With New and Improved Drawing Wizard
Create and download drawings for all eight of USF Fabrication's main product lines on the Drawing Wizard and Design Form. You can use this tool to instantly create drawings in PDF and AutoCad formats for aluminum Angle Frame, Trough Frame, Pedestrian and H20 doors and download them for immediate review and submittal.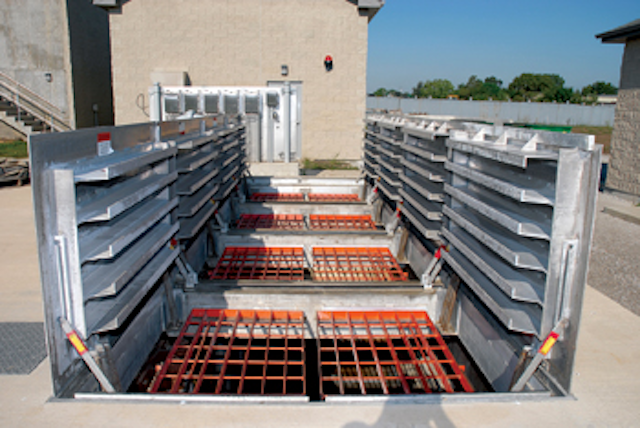 USF Fabrication offers standard and custom quality products including floor, fire rated and utility access doors; metal grating; pump tubes; airport products; fall through prevention products; and pump station accessories.
USF Fabrication Inc.
CIRCLE 122 ON READER SERVICE CARD
---
Unbreakable Wide Area, Portable Lighting System With LED Quad Light
KH Industries, a US manufacturer of industrial grade lighting and power products, has introduced new 3,200 and 7,200 Lumen LED Quad models.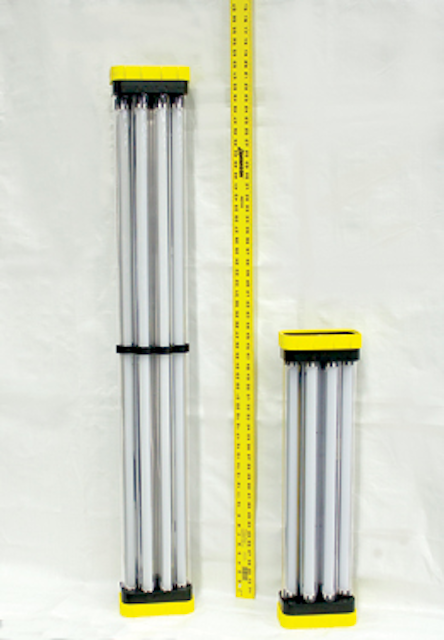 The Quad Light is known for its durability and provides rugged, wide area lighting in large-scale manufacturing and in the overhaul, maintenance and repair industries. Now with the recent dual cUS/CSA certification for the 3,200 Lumen and the 7,200 Lumen models, the LED Quad Light will deliver more durability because the LEDs are virtually unbreakable.
KH Industries
CIRCLE 123 ON READER SERVICE CARD