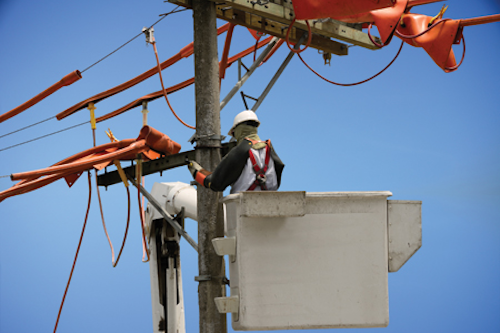 Protective Clothing for Utility Workers Keeps Getting Better
By Paul Hull
In my conversations with utility workers, two important points about protective clothing are frequently made. The apparel has to work, and the apparel has to be at least reasonably comfortable to work in. There are many products that meet those demands, so you should have no difficulty finding the correct ones for your crews. One of the leaders in this field, National Safety Apparel, recently introduced its line known as CarbonComfort FR. It is work clothes for men and women, and made from an unusually soft flame-resistant fabric that will not ignite, melt or drip. It has been praised for its moisture-management ability. All the styles in the line are hazard risk category (HRC), meet Occupational Safety and Health Administration (OSHA) 1910.269, and comply with National Fire Protection Association (NFPA) 70E. They are Underwriters Laboratories (UL) certified to NFPA 2112.
Another leading name is PRO-SAFE, distributed by MSC. From a list of their products, you can see the range of protective equipment available. In addition to hard hats and bumps caps, gloves and hand protection, the company provides eye and face protection, fall protection (essential for many utility projects), protective clothing, and protection for breathing and hearing. All PRO-SAFE products meet or exceed American National Standards Institute (ANSI) and/or industry standards. That's important to know and find out. The safety of our employees is what protective equipment is about, and it is an aspect of our work that is ruled nationwide by practical and sensible guidelines. We must consider only approved clothing, for example, for the workers in specific projects.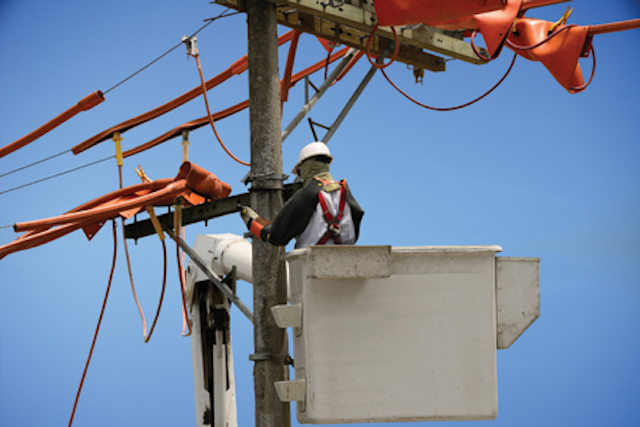 Hands-on Protection
Many people have asked me how those who work outside in the winter months can tolerate the cold weather here and in many parts of North America. Much of a utility worker's job involves using the hands. To do a good job, they must be comfortable. I saw a report recently, from the Electrical and Utilities Safety Association and the University of Waterloo (both in Canada), about the effectiveness of different types of gloves and liners in keeping the workers' hands warm. The study took 10 experienced electrical utility employees-they were all male-to work in a walk-in chamber at -4F for 45 minutes for each of five glove conditions: standard five-finger rubber gloves with cotton liners and gauntlets, mitten style gloves, a prototype wool liner, and two heating options (glove or torso). The researchers were looking at maximum grip force, skin temperatures, finger dexterity, sensitivity to touch, ratings of perceived effort and a rating of thermal sensation.
The worker participants in the study noticed that their hand skin temperatures decreased; they noticed their hands were much colder. Their finger dexterity decreased and their ratings of perceived exertion increased. Their performance, however, did not go down during the 45-minute trials. The mitten style gloves showed a smaller drop in skin temperature for the third and fifth digits then the other glove conditions. It was concluded that mitten style gloves kept the workers' hands warmer than the standard five-finger gloves. This is not a commercial or advertisement. It shows us we should do research before purchasing gloves for our employees. Our suppliers have several kinds of gloves available. Perhaps we should try different makes and models before the purchase of such essential safety devices for our employees.
One of the best known sources for gloves is Galeton; they've been making them for more than a century. You can see by one of their recent products-and they have dozens of types-how they have kept up with customers' needs. Galeton maX Contact Touchscreen Mechanics Gloves are helpful to the increasing number of workers who use smart phones and touchscreen equipment, but don't want to take their gloves off every time they touch the screen. There is appropriate touchscreen material on the tips of the gloves, not just on the flatter part of the fingers. That makes usage easier and more accurate. Also in Galeton's range of gloves you'll find some that are suitable for your projects and some that are probably better for other work-which brings up the thought that a utility worker could use more than one pair of gloves, different styles for different jobs.
Salisbury and Novax are other names familiar to utility workers, while companies such as Grainger have large selections, too. Novax offers several types that are specifically for linemen. The Novax Electrical Safety Linemen's Class 00 Rubber Insulating 11-inch gloves speak for themselves; there's also Class 0. The company also offers Class 00 and 0 Industrial 10-inch Goatskin Leather Protector gloves and safety canvas bags to carry the various gloves. Salisbury offers 11-inch Rubber Linemen's gloves Class 0, as well as 12-inch and 10-inch Linemen's leather protectors. Why do our employees need gloves? Is it the weather? The risks inherent in the job? Do they need a better grip on their tools throughout the year? Whatever the reasons-and there is always more than one-the hand protection available is almost limitless. Your regular vendor may have exactly what you want, or you may have to research online or in catalogs. Be confident. The gloves you need are there.
Protection From Heat and Falling
Arc flash is probably the best known heat menace for utility workers. If your crews are not aware of its dangers or probability, they should have immediate training. There are several fabrics readily available for protection against flash fires and electric arcs. This list is found among the offerings of Workrite, a manufacturer that is devoted exclusively to flame-resistant (FR) clothing and whose website is worth a visit from managers and crews. In the list of fabrics used for flame-resistant clothing, Workrite has also given us typical applications, typical weights, common colors available, initial price in a range listed from low to high, and the life cost of the fabric (this determines its value because some fabrics will last a year or more, but others can go to an estimated five years). Not all the fabrics have utility worker applications in their normal work schedule, but they are worth studying. Here are some names to investigate: Nomex (DuPont), Tencate Inc., Westex Inc., and Milliken and Company.
None of these fabrics and other safety products are of any use unless they are worn and used correctly. It reminds us of hardhats. How long was it before everyone started to use a hardhat as a daily safety tool? I wonder how many lives have been saved by them. The correct clothing protection for workers is available and it seems to be getting better every year; it must be worn every time it is needed.
In the same category as protective clothing there is the harness that keeps workers from falling accidents, and there are too many of those each year. A fall from even a few feet can be painful, harmful and even deadly. Most utility workers think of falls during climbing operations rather than falls down holes in the ground. A good harness is the obvious way to protect a worker who has to scale a utility tower. It reminds me of construction workers who work in trenches. Nine times out of 10, the trench will not cave in, but do you want yourself or any of your crew to be the tenth? Agile employees can scale towers and only once in a great while will they fall. Do you want to be responsible for that once?
Miller by Honeywell is a leading source of harnesses. One of its latest is designed for people climbing towers-for utilities, phones, television or radio. The Miller AirCore climbing harness brings safety to those who may be changing out lines and antennas, installing or replacing lights, or building (or decommissioning) towers. This harness is lighter than competitive models and incorporates up to 16 percent less surface area than some other padding so that workers stay cooler and work longer. Such harnesses reinforce the entire concept of protective wear; it makes the worker more safe, comfortable and efficient. There are several harnesses in the AirCore range, with some useful accessories available, too, such as tool loops and Bos'n chairs.
Among other names you could check for harnesses in different styles and costs are Protecta, DBI-Sala, Condor, Falltech, MSA, 3M, Titan, Petzl and those offered by Grainger. Under those names are hundreds of different harnesses, each one suitable for particular projects. As previously mentioned, some will not be right for your applications-but others may offer features and benefits that you have never considered. As with all aspects of protective clothing and equipment, do some homework.