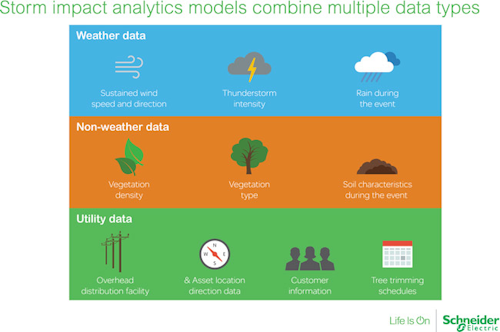 By Shylesh Muralidharan
More than ever before, utilities are under rapidly increasing pressure to address the threats that severe and volatile weather pose to their operations. Knowing how to execute the proper response is becoming an increasingly coveted skill and using innovative technology through storm impact analytics will prove key to responding to a crisis that affects a utility's functionality. Predictive data across the gamut, no matter how seemingly minor, can significantly impact the damage done across the entire asset network and contribute to the operational resilience of the utility, especially as the storm passes through the utility's service territory.
Now seen as the "new norm," major outages from coast to coast due to severe weather have increased six-fold in the past 20 years. Increasingly volatile and extreme weather conditions have caused nationwide uncertainty with the safety of utilities and the communities they are located. Staying informed through real-time predictive information presents extreme value.
Statistics report that more than 60 percent of utilities in the U.S. lose an average of more than $100,000 per year in revenue because of power outages. Utilities have to recover unplanned funds lost during recovery and restoration efforts, putting a heavy burden on operations and their bottom lines. In addition, they have to consider other complicating matters:
Aging infrastructures - especially when talking about electric utilities - pose a significant problem. The industry is lagging financially and utilities are working with leaner organizational structures. This forces the contracting and/or sharing of resources between other utilities using an industry-wide mutual assistance framework to manage significant weather events.
Savvy, technology-driven customers constantly advance the forefront of all social interaction. As social media continues to present itself as a driving force of communication, these platforms expose utilities to immediate distrust or disapproval when an outage occurs. As media attention surrounding volatile weather increases, social media allows people to follow events more closely. It's imperative for utilities to have a strong customer communication strategy that is backed by as much data as possible. Sometimes it's not so much about what a utility is doing as it is about what they plan to do. Predictive information, no matter how small, can be extremely valuable.
Increased regulatory demands are con-stantly challenging utilities. Utilities are constantly scrutinized, needing to justify all of their operational decisions during significant weather events. As public tolerance for major outages decreases, growing regulatory and political scrutiny leads to fines and denied costs when recovery rates increase.
As an example, Superstorm Sandy caused $65 billion in economic damages. These damages, whether residential, commercial or industrial, all caused extensive financial liabilities. While this natural disaster could not have been avoided, it is important to note that trends suggest that volatile weather will undeniably continue into the future. Identifying historic storm-related outages is important to apply to current day tendencies. Because this is an unavoidable phenomenon, it is something utilities need to consider.
Both obsolete grid assets and a lack of automation make it difficult to predict and prepare for the underlying impact volatile weather can cause. Utilities' infrastructures are crumbling. By 2020, the distribution investment gap will grow to $57 billion and the transmission gap will widen to $37 billion. In addition, a 2013 American Society of Civil Engineers report showed that overall electric grid investments are not on track to meet their 2020 goals. Aging infrastructures paired with the superstorms of recent years have caused thousands of outages with the key damage listed as follows:
Outages due to weather: 44 percent;
Major grid disruptions related to weather: 78 percent;
The frequency of major outages has increased six-fold in the past 20 years; and
In the past decade, extreme weather losses have totaled $476 billion.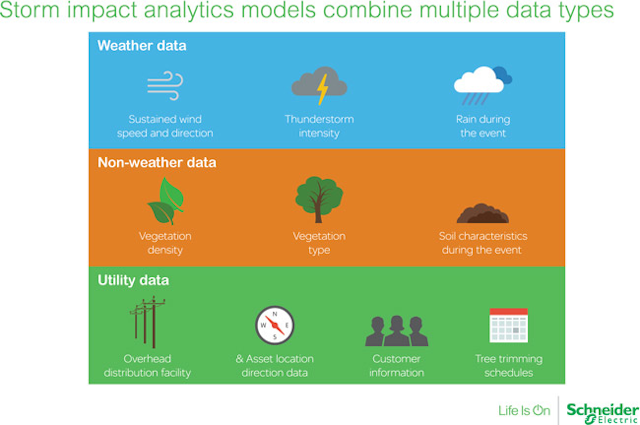 Storm Impact Analytics Models Combine Multiple Data Types
How can Utilities Help Themselves and Their Communities?
Storm impact analytics are able to turn weather forecasts into actionable data that deliver effective results. In short, any predictive information that can be provided immediately and give utility operations teams an initial estimate of the impact of an incoming storm is beneficial. This process helps reduce time and resources once a storm hits. Knowing the steps needed to successfully prepare for an incoming storm - before, during and after - has multiple benefits, including:
Reducing restoration times: With minimal damage comes minimal rebuilding. In terms of outages, if a utility service area can be restored in a timely manner, a large sector benefits.
Cutting costs: While any act of severe weather has the potential to leave a trail of devastating damage and outages, if there is proper preparation, costs can be reduced by knowing what to expect and how to prevent extensive damage.
Minimizing impact on customers: A utility that is not functioning properly can negatively impact customers. It is important that communities do not suffer setbacks because of less than ideal weather conditions.
To do this successfully, weather and non-weather utility data are all analyzed as part of a predictive damage model. Impact statistics are then produced, and this results in an approximate estimate of damage and/or restoration. Companies such as Schneider Electric are dedicating resources to this technology. While diligently working to stay ahead of this curve, the company has developed a new interface specifically for advanced storm impact analytics. Presenting itself as an application, WeatherSentry is an online platform that can map all parts of a service territory impacted by forecasted severe weather. This predictive data has the ability to:
Improve the speed of service restoration;
Reduce associated costs;
Enhance customer communication;
Help a utility better prepare for future storms while also identifying at-risk areas within a service territory; and
Help utilities work with multiple scenarios (through stimulating how different conditions can evolve during a severe weather event).
As we look to the future, this method of using analytics can help utilities optimize their overall response times and restoration strategies. Turning weather forecasts into actionable data for asset damage prediction can improve operational efficiencies as well as short-term and long-term planning. It's vital that utilities move beyond simply looking at a weather forecast and move to deriving the weather's real-life impact and predicting the damage it will most likely cause. Implementing decision-support technologies that have the ability to gage incoming weather's impact and then projecting potential damage from these impacts can provide predictions that will have a positive and lasting result.
---
About the author: Shylesh Muralidharan is the Global Product Manager at Schneider Electric, focused on building products for real-time weather data analytics integration into energy industry applications. Muralidharan has more than 14 years of worldwide experience in product management, consulting and generating thought leadership in the field of new energy systems and sustainability. A System Design and Management fellow from MIT, Muralidharan has a bachelor's degree in Mechanical Engineering and a MBA from University of Mumbai, India.
More Utility Products Current Issue Articles
More Utility Products Archives Issue Articles