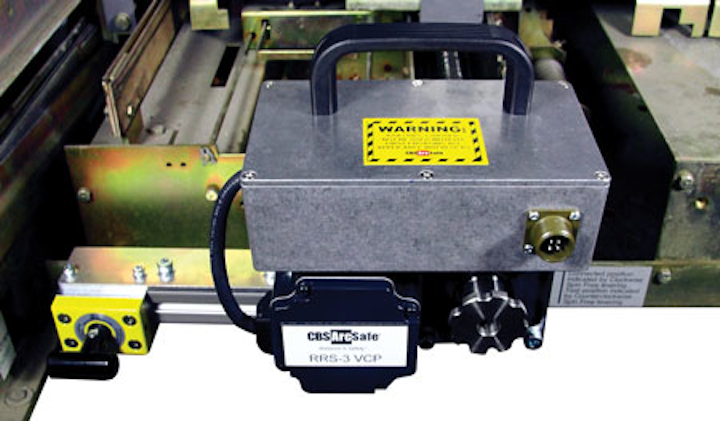 Remote Racking Solution for VCP-Style Circuit Breakers
CBS ArcSafe, a manufacturer of remote racking and switching solutions for low-voltage and medium-voltage switchgear, introduces the CBS ArcSafe RRS-3 VCP remote racking solution for VCP-style circuit breakers manufactured by Westinghouse. The RRS-3 VCP is compatible with all VCP-style circuit breakers with current ratings of 1200A-3000A and voltage ratings of 5kV-15kV (includes 50VCP, 75VCP and 150VCP). This racking solution allows technicians to remotely rack in or out the VCP-style medium-voltage vacuum circuit breaker from a safe distance while remaining stationed outside of the arc-flash boundary.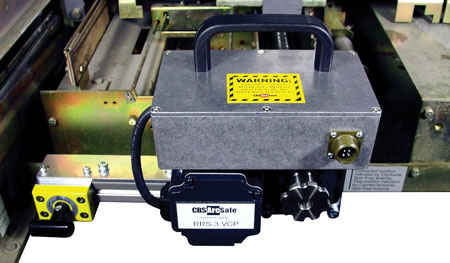 Installation and operation of the CBS ArcSafe RRS-3 VCP is quick and simple, and does not require any modifications to the existing equipment. VCP-style circuit breakers typically may be found in industrial plants, utility and co-generation facilities, and commercial and residential buildings. By automating the racking procedure, the CBS ArcSafe RRS-3 VCP reduces operator fatigue and increases operator safety.
When accompanied by a CBS ArcSafe remote switch operator (RSO) control unit, the RRS-3 VCP reduces the need for arc-flash suits and eliminates all hazardous manual contact with gear during operation from up to 300 ft. away. The system is lightweight and portable for hard-to-access areas.
CBS ArcSafe
Service Networks for Contractors Deliver Real-time Visibility, Control
Utility equipment: ClickSoftware Technologies Ltd. has announced Service Networks for Contractors, a mobile field service management solution that synchronizes the scheduling, dispatch and work completion between businesses and their contractors. Enterprises can optimally manage their network of contractors to adhere to service level agreements and have better visibility and control of the service delivery process. Simultaneously, contractors maintain their autonomy in running their own businesses. Customer benefit from harmonious service delivery with minimal discontinuities or surprises.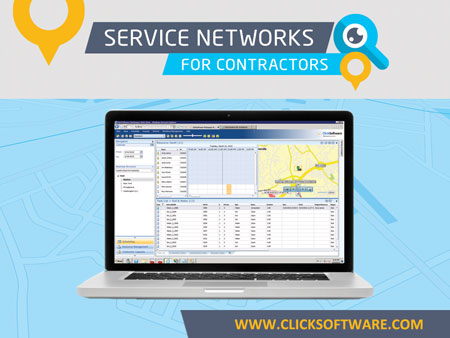 Using the solution, contractors are better equipped to efficiently plan and execute the delivery of service, enabling them to book and complete more jobs overall. The streamlined operations will enable contractors to collect payment faster because of the ability to provide proof of service in real-time, at the time of job completion. The solution ultimately shortens invoicing and payment cycles to increase reimbursement rates and help drive revenues.
ClickSoftware Technologies
Wedge Lock Clamps Expand Attachment Offering, Increase Excavator Versatility
Construction Equipment: Doosan has expanded the versatility of its excavators with the addition of eight main pin clamps and seven pro-link wedge lock clamps that are compatible with wedge lock attachments. The Doosan clamp attachments are compatible with the wedge lock buckets and quick couplers, and give more flexibility to operators who use the wedge lock couplers.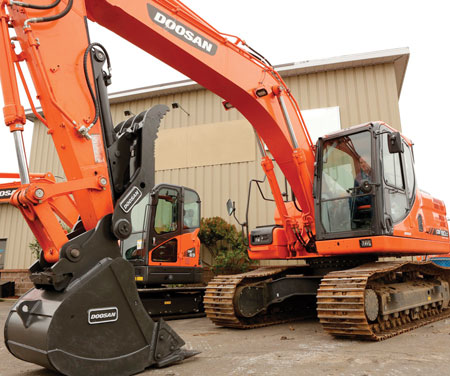 The Doosan clamp attachments work with multiple bucket widths ranging from 24 inches to 60 inches, depending on the clamp type, to help maintain the load when operating Doosan DX63-3 to DX255LC-5 excavators.
The hydraulic and pro-link wedge lock clamps have the same characteristics as the non-wedge lock style clamp, enabling precise movement and positioning. When not in use, the clamps retract, making the attachments excellent for demolition, site preparation and land-clearing applications.
Doosan
Polyester Enclosures and Junction Boxes
Utility safety: Emerson Industrial Automation has designed a dependable yet highly versatile solution for customers to protect instrumentation, terminals and other electrical equipment with its Appleton JBEP polyester enclosures and junction boxes.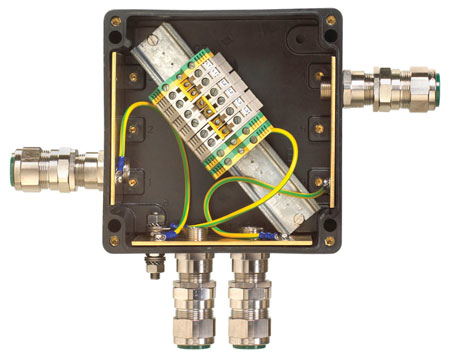 Providing durability, impact-resistance and an IP66 rating to prevent water ingress, Appleton JBEP enclosures and junction boxes can be deployed with confidence in hazardous or highly corrosive environments.
An advantage of Appleton JBEP enclosures and junction boxes is their fully non-metallic housings that deliver optimum performance in weather-exposed and corrosive locations. The 5mm fiberglass reinforced polyester also provides extreme durability with an IK10 impact rating of 20 joules. In addition, because the material is carbon-filled, it resists static buildup, practically eliminating the risk of electrical discharge.
JBEP nonmetallic enclosures and power junction boxes are impervious to the galvanic reactions and oxidation that can attack improperly specified metals. They are also lightweight and made strong.
Appleton JBEP Series enclosures and junction boxes are simple to specify with worldwide certifications and no need to recertify after field modifications. Modular in design, the boxes can be easily coupled together to suit application and footprint requirements.
Emerson Industrial Automation
NewPRODUCTSShowcase
LED Work Light ProBuilt XLE 5000
ProBuilt Professional Lighting's ProBuilt XLE 5000 LED Work Light is a 50-watt LED work light that produces 5,000 lumens because of the extreme energy efficiency and concentrated high-output LEDs use. The LEDs are temperature rated at 5,000 Kelvins and produce a clean white light that is easy to work next to. The LEDS are rated for more than 50,000 hours of lamp life so you will never need to change a light bulb again.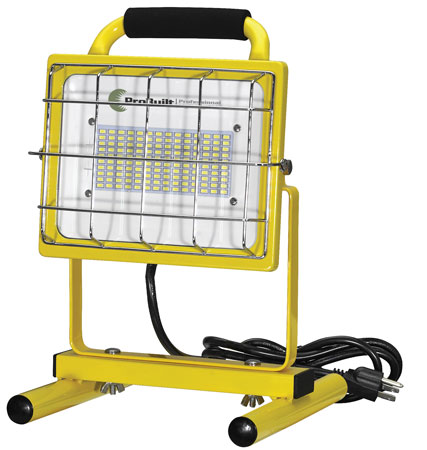 With no hot surfaces, the ProBuilt XLE 5000 can keep the job site safe and bright while only drawing 1.4 Amps, providing high energy savings. Tested and rated to the highest standards, the ProBuilt XLE 5000 is cUL listed for wet locations and has an IP65 rated housing. The aluminum and steel construction make the ProBuilt XLE 5000 durable enough for the harshest conditions.
ProBuilt Professional Lighting
Battery Charging Station is Fast
Stored energy: Milwaukee Tool's charging station has the ability to charge six packs four times faster than previous offerings. The M18 and M12 Rapid Charge Station (48-59-1807) can charge three batteries simultaneously, each individual pack charging up to 40 percent faster.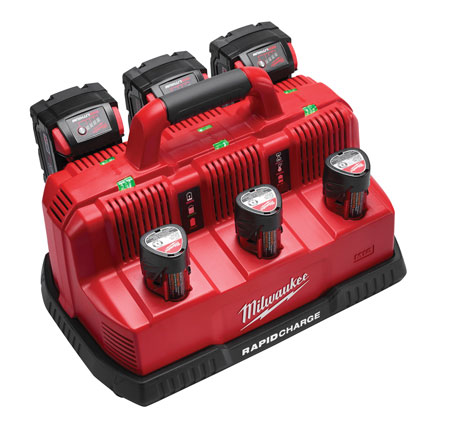 As pack capacities continue to increase and more users migrate from corded to high powered cordless tools, the M18 and M12 Rapid Charge Station is built to supply ample power to even the most demanding worksite. With a growing customer base using both M18 and M12 tools, the unit has the capacity to hold up to three M18 batteries and three M12 batteries. This allows multiple users to charge off the one station, freeing up remaining outlets, and will reduce the amount of time spent changing out batteries, increasing productivity on the jobsite.
Featuring REDLINK Intelligence hardware and software, the station is equipped with an advanced electronic system. REDLINK monitors the health of the battery packs, protecting against over charge and over discharge. Each pack has a charging profile, fully optimizing its speed and life.
Milwaukee Tool
Universal Tailgate Lock for Tailgate Security
Safety products: For tailgate security, Pop & Lock LLC offers THE GATEKEEPER (part no. PL9900), a universal model that locks the tailgate to the truck. Designed to fit all truck platforms, the PL9900 is designed similar to a padlock that fits around the tailgate hinge and locks the tailgate to the truck. Once locked into place, the tailgate can easily open and close but cannot be removed without the included key. The Gatekeeper is a low-cost option to help prevent tailgates from being stolen. It installs in seconds with no special tools required.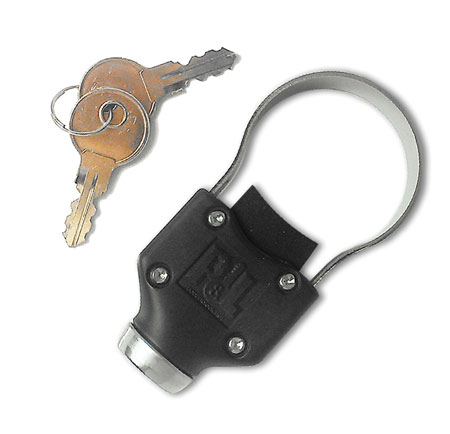 Pop & Lock
AirStream Cable Blowing Machine Makes Micro Fiber Cable Installation Fast, Efficient
General Machine Products Co. Inc. (GMP) offers the AirStream Cable Blowing Machine to its line of fiber optic cable placing equipment. Specifically designed to safely install micro fiber cable into pre-installed 0.196 in. to 0.708 in. OD micro duct, the AirStream will place 0.098 in. to 0.433 in. OD cable at speeds up to 260 ft. per minute. This, along with its low maintenance and high reliability, makes the AirStream an excellent value.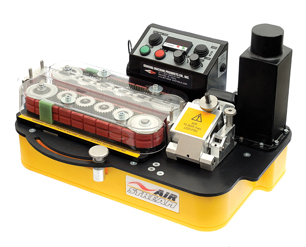 The AirStream incorporates a tabletop design with easy-to-use ergonomic controls for one-person operation. The unit uses a double belt drive concept, backed by the latest in servo control technology, to provide a secure cable grip with precise torque and speed control. The pushing force, up to 44 lbs. maximum, can be adjusted to suit the cable stiffness.
The AirStream uses compressed air to install micro fiber cable into micro duct in both indoor and outdoor environments. Its electrically operated, double belt drive can be operated in forward and reverse to propel the cable through the micro duct. An electronic monitoring system provides read-outs of speed and distance, and includes an emergency stop capability.
With the purchase of any GMP fiber cable blowing machine, onsite training is provided at no additional cost.
GMP
Compact Grundodrill 4X Drill is Less Intrusive
Line construction: TT Technologies' compact Grundodrill 4X drill is designed for residential service, small diameter water main installations, last mile operations and gas pipeline applications, offering 9,800 lbs. of thrust and pullback. Using the compact drill is less intrusive and is useful for areas where larger units are not an option.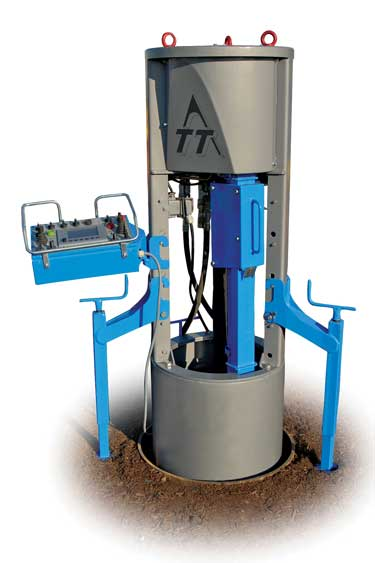 The drill features a dual hydrostatic pump system and a four-auger stake down system that provides greater stability. The Grundodrill 4X also comes with the exclusive Smart Vice system that performs vice cycling operations automatically.
TT Technologies
Communicating Capacitor Controls VarCom
Utility supplies: HD Electric Company's (HDE's) VarCom 2600 Communicating Capacitor Controls provide remote control from central Volt-VAR, CVR, DMS or SCADA systems and can control capacitor banks using combinations of ambient temperature, time, voltage, current and kVAR.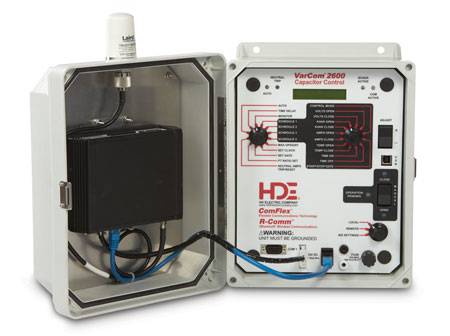 Based on existing field proven design, VarCom controls have an easy to use, field friendly control panel and work with any DNP 3.0 application. Communications can be provided from the HDE factory or added to any VarCom control in the field.
For more than 80 years, HDE has provided products serving the diverse needs of the electrical power industry and its related industries worldwide. HDE's continuous improvement and innovation in the areas of controlling, testing, measuring and recording of electric power has resulted in the development of products designed to help deliver electric power to customers safely and efficiently.
HD Electric Co.
Tier 4 Final Compact Wheel Loaders Increase Jobsite Versatility
Construction equipment: Featuring a robust design and high maneuverability, Terex compact wheel loaders, ranging from 50 hp to 101 hp, are built for the most challenging applications. Equipped with Tier 4 Final Deutz engines, these compact wheel loaders offer North American contractors maximum productivity on many jobsites because of their steering and hydrostatic drive systems, parallel kinematics and Terex Smart Control System.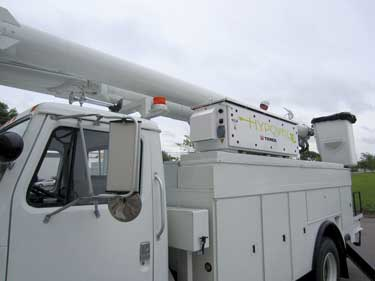 Four models make up the Terex Tier 4 Final compact wheel loader line: The 50-hp TL65 unit offers bucket capacities from 0.65-1.31 yd3, the 60-hp TL80 features bucket capacities of 1.05-1.57 yd3, the 74-hp TL100 has bucket capacities ranging from 1.31-2.03 yd3, and the 101-hp TL120 model provides bucket capacities from 1.57-2.36 yd3. This range of models ensures that Terex has the right size of compact wheel loader to meet customers' unique business needs.
Terex
Work Light on Quadpod Sixty-watt LED Features Retractable Cord Reel
Larson Electronics' 60-watt base stand LED work area light is mounted on top of an extendable quadpod equipped with a retractable cord reel. The WAL-QP8-WP60PM-GRC50 is an aluminum quadpod mounted work area LED light that provides 3,750 square feet of work area coverage with 5,400 lumens of light output. This adjustable LED light tower provides portability and durable operation, comes with a self-ratcheting cord reel equipped with 50 ft. of SOOW cable, and is for use in demanding conditions.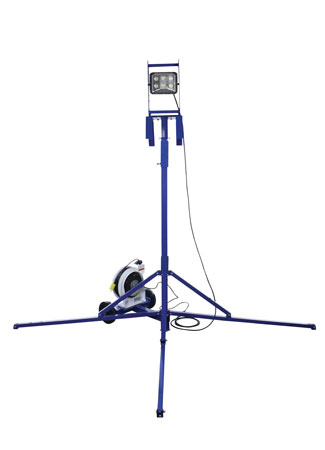 The LED light head on this unit produces a wide flood pattern of light that is useful for illuminating large workspaces and job sites. The light assembly is constructed of three angled boards that help provide a wider spread. The boards and reflectors are protected by a scratch and shatter resistant polycarbonate lens attached to the aluminum housing, allowing this unit to withstand the abuse that traditional halogen work lamps cannot. This light is a direct replacement for 500-watt quartz lights and is for heavy-duty use in demanding conditions.
Larson Electronics
High Visibility Garment Line Features UltraSoft Flame and Arc Resistant Fabric
Safety clothing: National Safety Apparel's (NSA's) high visibility product line features UltraSoft flame and arc resistant fabric by Westex. Available in hi-vis yellow, constructed from 7-oz. UltraSoft, and offering 360 degrees of visibility, these garments are ready to work.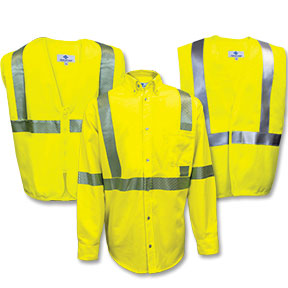 Durable, lightweight and offering features that include flame resistant 3M Scotchlite reflective trim in both solid and segmented styles, this line is available in a variety of styles and available in 9.2 cal HRC Level 2. Garments meet ANSI/ISEA 107-2010 Class 2, OSHA 1910.269, are NFPA 70E Compliant and are UL Certified to NFPA 2112.
NSA is a USA manufacturer of protective apparel for the electrical utility, oil, natural gas, steel, glass, construction, manufacturing and other industries. Using the latest fabrics and technologies, NSA regularly introduces new products to enhance the safety apparel options available to workers.
National Safety Apparel (NSA)
Single Reel Bullwheel Puller P-2000X
Line construction: Sherman + Reilly, a Textron Inc. company and manufacturer of power line stringing and installation equipment, offers the P-2000X Single Reel Bullwheel puller with its Revolution Series. This transmission class puller is equipped with a 175-hp industrial diesel engine capable of delivering an even 20,000 lbs. of pulling power from the start of the pull to the end and also comes with a fully hydraulic direct drive system.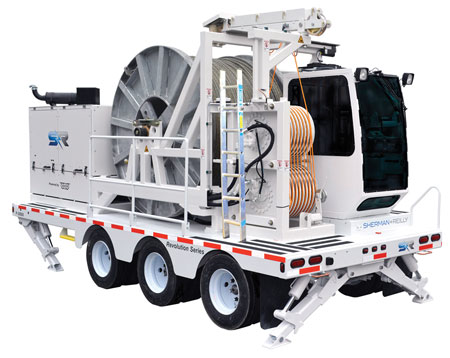 The P-2000X uses an automatic horizontal levelwind that permits overhead rope retrieval with precision control. The puller is equipped with an advanced control group (ACG) that allows for a single operator at a protected central console to control payout speed, pulling speed, levelwind controls and jack position. The operator controls use electronic (CAN-bus)- controller area network communication bus technology, providing for accurate to-the-second display readouts of the machine system status.
The fully hydraulic direct drive system provides the operator with precise and intuitive automatic drive/drum braking. The P-2000X's tandem electric brake axle trailer is equipped with four hydraulic jacks, an adjustable pintle eye, safety chains/hooks, emergency brake away switch, and U.S. DOT-approved LED lighting.
Sherman+Reilly Inc.
Ladder Shrink Tube Organizes Cables, Wires
Utility safety: Graphic Products has released a line of ladder shrink tube, streamlining wire and cable wrapping. The cable markers come in five sizes and can easily slip over the end of wires or tubes, and shrink tight with the application of a heat gun. Shrink tube is commonly used in component manufacturing and by electricians and foremen to identify and organize materials on the job site or in the office. The ladder-style tubing was created for the DuraLabel Toro labeler and printer, which allows users to customize and print messages directly on the shrink tube.
The ladder format allows you to print dozens of separate markers at once and then place them one at a time without losing track of your progress, making it easier to organize and label components in sequential order.
The shrink tube is constructed from a cross-linked halogen-free polyolefin, providing environmentally-friendly wire marking solutions, with tough durability. The cross-linked material can withstand the harshest thermal, physical and chemical resistance. The products are halogen-free, so no toxic smoke will be released if under fire. In extreme temperatures, the shrink tube won't corrode or become difficult to read.
Graphic Products
More Utility Products Current Issue Articles
More Utility Products Archives Issue Articles