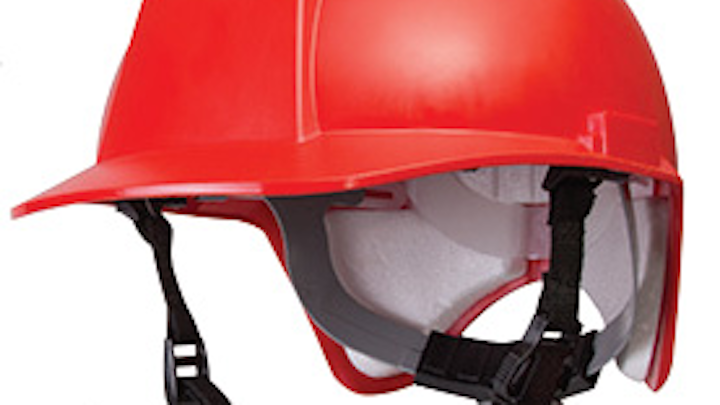 Hard Hat Provides Additional Back-of-Head Protection
Safety equipment: Honeywell's hard hat offers 24 percent more back-of-head coverage than standard Type I hard hats to protect workers from potentially catastrophic head injuries due to slips and falls. The patented shell design of the new North Force hard hat provides increased rear-head coverage without restricting range of motion, while a rear-impact attenuator absorbs force to minimize injuries. The North Force hard hat is suited for workers in other industries where slippery or icy conditions exist.
The North Force hard hat is constructed of a lightweight shell material that offers high-impact resistance and stands up to extreme temperature changes ranging from -30 F to 120 F. Its patented six-point suspension system with five adjustment areas, combined with its robust chin strap, allow for an ultra-customized, comfortable fit and good retention. An ergonomically designed ratchet allows for quick adjustment, even while wearing gloves. The hat is easily worn with other forms of PPE and accessories, and fits comfortably with thermal liners and bulky winter gear.

Honeywell Safety Products


---
Nano-Lok Arc Flash Self-retracting Lifeline With Anchor Hook
Capital Safety's Nano-Lok Arc Flash Self-retracting Lifeline is ergonomically designed for ease-of-use and is for direct connection to most harnesses. The compact and lightweight design is unnoticeable on your back, staying out of the worker's way and making it useful as a lanyard replacement.
Whether your application requires single or twin leg configurations, mounting to an overhead anchor or for connection directly to harness, there are dozens of models to choose from to suit almost any application. Nano-Lok locks quickly—stopping a fall within inches—providing more protection at low heights. In addition, tension is always kept on the lifeline, which reduces dragging, snapping and trip falls. Both features are key safety improvements.

Capital Safety
---
More Utility Products Current Issue Articles
More Utility Products Archives Issue Articles